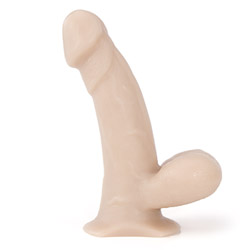 Yep, it's the Goodfella from Vixen Creation's Vixskin line. I have yet to come across any cock that is superior to the texture, feel, realistic-ness, and quality of the Vixskin.
(Is it just me, or does the Goodfella always remind you of The Godfather? It's just the g-f- thing, I know, but every time I read it or write it I think of Brando's famous scratchy voice.)
The Goodfella really should've been included in my write-up on packing cocks 101, and would have been in tight competition with the Silky as The Best And Most Superior And Most Comfortable Cock That You Can Pack AND PLAY With On The Market Today.
Just to be clear, I still think the Silky is the best it is more comfortable to pack with. The Goodfella can be a little pokey in the pants, in my expeirence. There was some question about which one was larger, and they are nearly identical in size. The difference is that the insertable length of the Goodfella is shorter than the Silky, because the Goodfella has balls and Silky does not. But, on the other hand, the Goodfella has balls and that is pretty damn cool.
Have you noticed that Eden now has a few new categories that rate their dildos – rating (number of stars out of five, based on the customer reviews), popularity, and material safety. Material safety, this is a big one. If you take anything away from my reviews of sex toys, it's to be careful about the materials that you are inserting into your precious parts! They are not all the same, and some of them are harmful to you. That's bad! So I love that Eden's got some more visibility about safe materials in the products they sell.
Silicone, glass, metal – those are completely sterilizable, and the best. Then watch out for things with phthalates, that's the really bad material.
You can also read my review of the Silky over on Eden, or hey, skip the review and just check it out.