I still remember the day I had an awakening about my underwear, much like my butch breasts / bras moment a few weeks back, where I found some girly undies in my drawer and wondered why I even owned any like this anymore.
This was years ago, now, and any time I bought new undies, they were always briefs – not "boy briefs" from the girl's section, but men's briefs. And pretty soon I had a whole drawer full of 'em, save a few that were my favorites. But then I discovered those few favorite pairs, back in the back, lacy or silky or whatever they were, and I realized I hadn't worn them in years, and that I couldn't forsee myself wearing them in the future.
So I got rid of them. I haven't missed them once.
These days, I'm a briefs kind of guy. Yes, sometimes it's awkward to be the only girl ("girl") shopping in the men's section, and I do get looks or stares or scoffs from both other male shoppers and the sales people. That used to bother me, but I've come to the realization that I have just as much right as they do to be there, to be shopping there, to buy clothes that I like on my body, and as I've developed more and more comfort in this gender-bending space, I see their responses as their issue, not mine.
I do like boxers, but generally I wear them as pajamas or kick around the house kind of wear, not so much underneath slacks or jeans, I find them too bulky. And perhaps because I'm not particularly thin, the hybrid boxer-briefs aren't really comfortable either, they tend to ride up and I notice them, I tug at them, they itch, they annoy me. And I don't know about you, but really, my main goal for most of my clothing is that, once I put it on, I don't really notice it again. I'm not so into fashion, though, that I want people to notice my clothing – I would rather someone look at me and think, "Hey, Sinclair, you look great today," rather than, "oh wow, Sinclair I love your shirt." KnowutImean?
So, these are some of my favorite briefs that I've found in recent years. Comfortable, cute styles, affordable – briefs I wouldn't mind wearing on a date. I've had a few questions about where I shop for my underthings lately, so here's the rundown.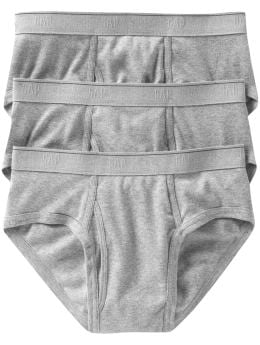 Gap basic briefs
$16 for a 3-pack
White, grey, or black
I don't remember them being this cheap, but that's what the website says – the ones I have are slightly different, grey and white, and I remember them being more in the $12 each range. I like these three-packs, I may have to go pick some up.
Their fabric is very, very soft, that's the best thing about the Gap over other brands.
(Real men wear pink.)
American Apparel Baby Rib Men's Brief
$12 each, 30 colors, XS-XL
Forgive the (cis) boy shot, you know I don't generally do that. But the awesome colors and white lines of the American Apparel briefs make them still some of my very favorites.
Plus, you can get matching tee shirts for pretty much any of the colors that the briefs come in. Once upon a time, I read an article that claimed that these matching briefs-and-tee-shirt combos from AA are pretty much the lingerie of boy wear, meaning that girls kinda go nuts for it.
And I have to say, in my experience? This has pretty much been true.
H&M's men's briefs
Various colors & styles
(photo from andreasmarx on flickr)
H&M is the third store that has my favorite briefs. Unfortunately, they don't have an online store, and they are pretty limited in their stores around the country (I don't think they're on the West Coast at all).
They've got some really excellent patterns, great solids, really cute stuff. The fabric is a bit thinner and feels more synthetic than the other two, but they are still smooth and fit well. They carry a lot of boxer-briefs too, actually many more boxer-briefs than regular briefs, so those of you who dig that style might be particularly fond of this place.
Men's underwear guy has a review of H&M briefs with some decent photos.
So that concludes my brief post (hah) on butch style.
Alright, butches (and other masculine gals) out there: How about you? Boxers or briefs? Where do you buy your undies? Favorite brands or styles?
Femmes (and other folks who date masculine gals), what are your favorite undies to see your boi in? What do you love, what do you hate? What do you always buy your butch for holidays that she never wears? What do you wish she wore? What do you love that she wears?