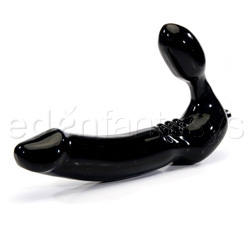 Finally finished my review for Eden Fantasys of the Feeldoe stout double dildo … perhaps you would guess, but I'm actually not quite as impressed as I expected. It's missing a) control b) precision c) did I mention control?
There's just nothing sexy about wondering where my cock is going, how it's behaving, what angle it's at … even on the cocks that I know really well, I still often keep my hand on it (or under it, or next to it) in order to continue to feel precisely how and where it's moving. For the same reasons, I keep my harnesses quite tight: much more control that way.
Still, on occasion, I could see the Feeldoe having a very welcome place in my tool box. Pulling it out on a lazy morning in bed, slipping it in and rolling her on top of me … yeah, I'll have one of those, thanks.
Well, until that happens, I've got a few new products to review to keep me busy. Did I mention Eden just got some packing cocks? Aw yeah.