The envelope please:
Thanks to the random number generator, the winner of the DVD of Good Dyke Porn is … samantha!
Bevin Branlandingham, fabulous host of the FemmeCast: Queer Fat Femme's Podcast Guide to Life, came up with the idea of asking y'all what your 2009 sex goals were, and as all the responses (54 of them!) came in, she and I kept talking about how increasingly moved we were. "I was overwhelmed at their commitment to visualizing and actualizing their sexual goals," Bevin just chatted to me. "The first step to good sex is to know what you want, or at least know what you want to try. Then to communicate that."
And she wanted to throw in a little extra sumthin-sumthin: a fabulous comedy CD Almost Pretty by butch comic Kelli Dumham! Kelli is the Butch Dyke Comedian in Residence for the FemmeCast and performs all over the country.
Hope you enjoy them both, Samantha!
Samantha's shared with us her Goals for 2009:
1.) Do NOT fuck any clingy/needy people. This is an absolute, and must be followed. More of a rule, actually.

2.) Fuck a girl that actually knows how to top. You might think this would be simple, but D.C. is severely lacking in the dykey, top department.

3.) Get restrained. I've done the whole multiple-uses-of-a-handcuff thing. Now im extremely interested in being tied up with rope, and being a complete submissive. Pushing the pain/pleasure bounds.

4.) Lastly, watching more porn….preferably with a partner. I normally don't watch porn, nor do I own any….this is where this whole video thing would come in handy Mr. Sexsmith ;)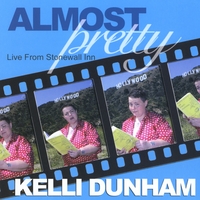 Damn good goals, if you ask me.
Samantha, I hope you very much enjoy the Good Dyke Porn and the fun dyke comedy. If you feel like writing up a paragraph of your review of it, I'm sure other Sugarbutch visitors would love to know how you find it!
December is now unofficially the give-away month, and I've got a few more things for y'all in the next few weeks. Hey, it's a dark time of year, we need a little extra lovin'! Keep an eye out for locking sex toy cases from For Your Nymphomation, two subscriptions to the Crash Pad Series website, minutes for video-on-demand downloads at Hot Movies for Her, and Come Together Gift Baskets!