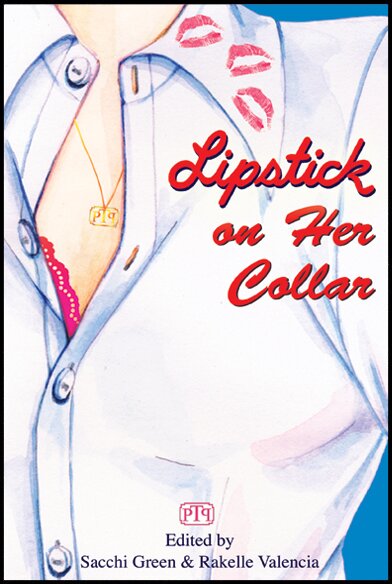 The most recent Pretty Things Press anthology called Lipstick on Her Collar and Other Tales of Lesbian Lust
landed on my desk recently, and I took my time reading through it.
I love lesbian erotica books … I think for many queer women, it's one of the first places where we begin to access the languages of lesbian desire and sexuality, and as such they can be very powerful, transformative books, not just jerk-off material but also an introduction to entirely new concepts and ideas. I'll never forget some of the early books that did that for me, like Breathless: Erotica
by Kitty Tsui and Best Lesbian Erotica 1998
, which became roadmaps and secret-tellers.
I'm a bit picky about my erotica these days, though. There's more and more of it out there, and what turns me on is butchtop/femmebottom aligned writings, fairly exclusively. I can read through other anthologies and appreciate the writing, the characterization, the plot lines (no, seriously!), but I don't tend to find myself putting the book down to go jack off.
This book, though, has an impressive number of butch/femme scenes. This is partially because, I imagine, the anthology includes "lipstick" in its very title, thereby encouraging more of the gendered play than many lesbian erotica anthologies usually include.
Three, in particular, stand out: Kingdom Cum by Scarlett French, about a femme seducing a drag king after a drag show; Femme Princess by Ellen Tevault, about a femme in a bed death relationship who answers a butch's personal ad and reawakens her sexual desire, seeming to uncover her own gender fetish at the same time; and Now and Then by Barrett Bonden, about a butch's return to her long-term femme lover, which ranges from quite smutty and dirty (especially in the dialogue – "Get up on the bed, slut. Hands and knees, ass in the air.") to very sweet and long-term lesbionic.
Don't get me wrong, the whole book is not butch/femme oriented stories. But there are a few great ones, as well as some femme-femme scenes, a decent story dealing with body ability where one of the characters is in a wheelchair (its inclusion made me realize how very little body-ability diversity there is in these types of anthologies, in general), some strangers, some long-term lovers, and a couple of my favorite lesbian authors, including Skian McGuire and Rachel Kramer Bussel.
It seems Alison Tyler is doing some great books with Pretty Things Press, and I'm glad to see a lesbian anthology with more gender included in their catalog.