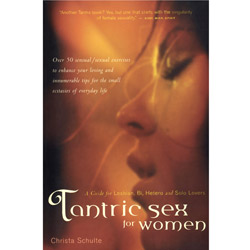 My Tantric Sex for Women book review went up over at Eden Fantasys today.
I really wanted to like this book, I did – I want to know more about tantra and I'm even open to the woo-woo new agey aspects of it, but I just couldn't get over the ridiculous aspects used in the exercises in this book (which is what makes up the majority of the content). There are some interesting things, but ultimately it's not worth it.
Read my full review, and, if you feel like helping me out by upping my "reviewer rating" by commenting on or rating my reviews, I certainly wouldn't mind.