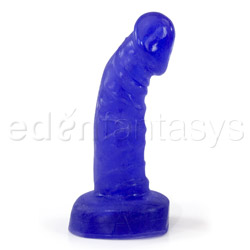 My very first sex toy review is up Eden Fantasys (whose name makes me want to get out my red English Major pen and correctly pluralize the noun), and what other toy to start with than my beloved packing cock.Apparently, though Babeland calls it Mr. Bendy, it is actually known by the manufacturer as Silky, and comes in blue and purple as well as pink (which is the only color I've ever seen at Babeland).
I really do love this cock – and, while I am absolutely man enough for pink, I am quite excited about my new blue one.
Actually, I feel kind of selfish about this cock. I don't want to tell you where to buy it or how awesome it is, because it's mine. But, in the spirit of spreading the love, I am resolving to get over that possessiveness …
From the review:
I have spent years – since I first came out and began having sex with women, since I first started honing my butch identity and wanting a cock to be part of my sex life – searching for a cock I could not only pack with, but also play with.
And? Here's the secret: this is that cock.I have a special place in my heart for Babeland – clearly, since I'm mentioning it in my plug for my Eden review – particularly because they are built on queer politics, community, and culture. Their staff members are primarily queer and absolutely queer friendly, they know all about gender and gender expression, and I never feel out of place in that store. It was the first non-skeevy sex toy store I'd ever been in, and for that reason, I just love it. Support the dykes, yay.
But despite my love for Babeland, sometimes their product selection falls a bit short. By which I mean, sometimes they just don't have what I need.
And that's a place where Eden is fantastic. They have a really great selection of toys – not only cocks & harnesses, but also slappy and stingy toys, lube, condoms, books, DVDs, all sorts of things. Their queer content is not perfect, but it's there, and they are working on building it further, which I think is fantastic.