Archive for February, 2008
Guest post from my best friend The Muse. We were discussing a post I found earlier today called "an argument against butch/femme," which I may discuss more later, and she, brilliantly, sent me this.
That rhetoric is so frustrating. Why is it so hard for people to understand that for some, defining yourself can be liberating, not limiting. There's so often a snobbery in queer women who feel they've transcended the societal expectations placed on them by rejecting femininity. Anyone who does it another way is clearly still oppressed, unenlightened.
I rejected my femininity too, for ten plus years, but that was mainly a rebellion against my hetero lifestyle. I was like, if men want me, they're going to have to want me in spite of all this. I'm not doing them any favors, making it easy for them.
Realizing I was gay helped me back out of that contrary corner, but I still wasn't sure where to go next. My first girlfriend was an andro dykey sort who really dug masculinity, and was a total bottom, so she often encouraged me to be more toppy, more masculine. "I like you so much better without makeup." "Clearly you look femme, but your energy is very butch." Haha.
After her, I knew I wanted a masculine girl. It turned me on. But I ended up with someone who rejected her masculinity, her butchness, and was deeply ambivalent about how she was perceived. One early morning she was going out for coffee, but first put on these dangly earrings. I remarked something like, "oh, aren't you fancy, adding jewelry to your hoodie and jeans ensemble." She looked at me, dead serious and a little sad, and said, "If I don't wear them, sometimes people mistake me for a guy."
So I was constantly conflicted about who I in was her context, since I was made to feel guilty for the very reasons I was interested in her. In turn, she gave me mixed messages about my femininity, sometimes rewarding it, sometimes rejecting it. Fairly often I was left hanging, frustrated and confused in the lingerie I'd bought for her amusement, feeling costumed and stupid.
After that one, I knew I wanted a self-identified butch, but I didn't know how femme I was. Was I femme enough to get into the club? Would a real butch be satisfied with my level of overt femininity? I couldn't really walk in heels and I defaulted to jeans 80% of the time, and I felt the need to apologize for that. I put up personal ads describing myself a "tomboy femme" or a "low-maintenance low femme," which the butches I went out with tended to eschew. In spite of my ever-present jeans and my aversion to the huge collection of skirts in my closet, they thought I was femme. Definitely. "Just look at your perfect red toenails, and your cute little sandals," one said. "That's certainly not butch."
But even dressing up for your reading at the Stain Bar that Sunday in September, I felt a little costumed. I had been in jeans at work and changed there, and walking down fifth avenue to the L train, I got lots of looks from people I passed. My gut reaction was to think, "oh, they think I look stupid, or like a slut, or maybe the tops of my stockings are showing…" It didn't really occur to me that I might just look hot. It's so much easier being under the radar in jeans, wow.
Two days later, though, I went on a date with a butch named Lee. For some reason, I decided to ditch the jeans and wear a skirt, tight busty sweater, fishnets, heels. I normally wouldn't do that for a first date, preferring to set expectations low and give full disclosure that I'd usually be in jeans, that the dressing up was occasional. She even asked me, "so, do you normally dress like this?" and I responded, "no, I just wanted to look nice for you."
Four hours later. After seeing the toppy look on her face that gets me instantly wet, makes me tilt my chin down and look at her wide and expectant through my eyelashes, my mouth dropping open a little, just before she leaned over and kissed me hard, interrupting whatever I was saying. After making out wildly in an overpillowed winebar, her hands running up my skirt and finding the baby pink band of my thigh-highs, looking at me surprised and saying, "oh, that's nice." After a shameless PDA marathon along 14th street, grinding up against brick walls and in the middle of the sidewalk and in dark corners and on subway platforms.
After all that, I was convinced of the utility of skirts. And heels, two and a half inches or more, that put her cock just below my clit when I'm up against a wall. Fuck yeah. A (high-minus? medium-plus?) femme was born.
So, it very much arose out of sex for me, this butch-femme thing. I finally had a context in which I made sense and felt hot, and I loved it. Still working out the details, but I feel more me than ever. And I got there without help from societal norms or heterosexual paradigms, which of course had been with me all along, and of no use whatsoever.
We definitely need to explain to these anti-butch-femme ranters that this is a subversion of the hetero masculine-feminine spectrum, not an emulation of it. The butch-femme identity is as queer as all get out, and other queers should respect that, and not hierarchize the "best ways" to be queer.
February 29, 2008 |
journal entries
| Enter your password to view comments.
I've added a Definitions page, for a brief introduction to some definitions of terms I often use in my analytical/theoretical discussions of sex, gender, & relationships:
"Butch flight" – The concept refers to the dwindling number of butches in the queer communities, specifically in regards to that butches are now transitioning to be men, FTMs, transgender, or genderqueer. This is actually highly controversial and many people say "there's no such thing as butch flight." The concept can become quickly transphobic, and I think that is generally why the denial enters in. In my observation, it's quite obvious how few butches there are in the community, and how even fewer masculine-looking lesbians identify as butch. It's hard for me to say accurately, since I an ten years young in this community, but from my understanding, these numbers are decreasing. That's the only thing I really mean by butch flight.

Dress-up Test – I've written about this in the past. For many years I had no way to define butch & femme, and relied upon what I called the Dress-up Test to gague whether which way someone leaned: if, when you dress up, you opt toward button-downs and slacks, you probably lean butch. If, when you dress up, you opt for heels and skirts, you probably lean femme. Yes, gender is more than just your clothes – it's also your physical communication, the way your body interacts with the world. But the dress-up test is a good place to start.

Gender Galaxy – People often talk about the "gender spectrum" – mostly as in, "I'm not man or woman, I'm somewhere in between on the gender spectrum." Looking at gender linearly, with male and female on either end, still leaves gender operating within a binary, with a grey area in between. The idea of a gender galaxy gives much more room to many more identifications. I heard this term kicked around by a few friends in college, but was reminded by Red and looked it up for myself; it appears that the term originated from the article Expanding Gender and Expanding the Law: Toward a Social and Legal Conceptualization of Gender that is More Inclusive of Transgender People by Dylan Vade, published in 2005 in the Michigan Journal of Gender and Law. Actually, just a few months ago, when I was doing reasearch on this, there were less than 10 results on Google – now there are 200. Glad to see this term being picked up!

GGG – A term Dan Savage uses in his sex advice column (and brilliant podcast) Savage Love. Highly highly recommended. As I've mentioned before, GGG "stands for 'good, giving, and game,' which is what we should all strive to be for our sex partners. Think 'good in bed,' 'giving equal time and equal pleasure,' and 'game for anything — within reason.'"
Head on over to that Definitions page to make comments, add your own definitions, or request any terms that you'd like to see defined.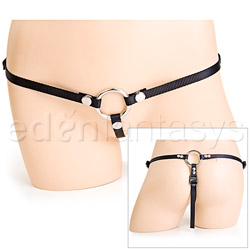 My
very favorite
strap-on harness, reviewed over at
Eden Fantasys
. It meets my three major requirements for harnesses:
interchangeable O-rings,
thin harness straps that hit my clit, and 
g-string style, also so it hits my clit
I love how small it is, it's easy to conceal and comfortable under clothing, and it's nylon so it washes so easily. Plus? It's only $16.
Have you used this harness, or one similar? What's your favorite harness style, & why? Leave a comment here or, better yet, over at the Eden review.
My other reviews for Eden:
Sometimes I hear people say they wish they lived in the 50s and 60s so they could experience the butch/femme dynamic, or they "miss" it even. Team Gina has that line in their song: "Sometimes I miss the butch/femme dynamic / 'cause only girls in carharts make me panic." When I think about it, it's kind of odd, coming from a couple of twenty-something girls. It's an interesting sort of nostalgic feeling for a time that we didn't actually witness.
Can you really miss something you didn't actually live through? Seems like there's a better word for it than "miss" or "nostalgia," because it's actually longing for another time. But it's deeper than that – it's a historical connection to that time, an inhereted lineage that I really do miss and sometimes long for.
Though the gender revolution/s that are currently happening – especially around butch/femme – are a resurrection of something of the past, maybe it's actually more more accurate to call it something new – a similar idea resurfacing in a new way.
I certainly didn't grow up with any sort of model of the butch/femme dynamic, not in my own family – where actually there was a strong rejection of gender roles, falling on the not-rare 70s feminist argument that gender inequality is based on gender difference and gender expression. And yet, I feel connected to the butch/femme dynamic, I feel like a part of it, both currently and along some sort of historical axis.
I've been reading Riki Wilchin's book Queer Theory, Gender Theory lately, and one of her major arguments (so far) is that gender activism got pushed out of both the feminist and gay liberation movements of the mid-1900s because of the ways that the conservative right backlash was using gender deviation as personal attacks against the people in the movements. Now that both of those movements have come so far, and been so successful, we are finally able to unearth this genderphobia that has been prevalent all along and attempt some activism around that.
What's interesting about that to me is the ways that genderqueerness had to go underground, hidden, shameful, through these liberation movements, and now we – quite often it's the folks like me, twenty-something, queer, children of the revolution movements of the 60s and 70s – are picking up the torch in our own, new way. And hell, the gender revolution happening seems more radical now than that butch/femme nostalgic time for which some of us long – look at the trans movement, the trans rights, the genderqueer and intersexual activism and knowledge that is getting more and more mainstreamed.
I've been reworking this site a bit, as you can probably tell (assuming you're not reading this via RSS) and I've tightened up the categories especially. I've written out explanations for them here in the new archive section if you're interested in a little more details on the girls & the ways I'm organizing things.
Also, you can subscribe to Sugarbutch Chronicles via any RSS feeder, and if you're a regular blog reader (not just of me, but of various blogs) and you don't use a RSS feeder, I gotta say, you are really missing out. This is THE most handy blog tool that's come along in a long time. You can also subscribe to the comments made on SBC, if you're interested in how the community responds. I imagine the comments are mostly just useful to me, but sometimes the comments on the theory and gender stuff are really fantastic and add a lot to the discussion.
I'm trying to mimic Figleaf and edit comments to reply instead of adding new comments, so if you don't see "Sinclair on ____" over in the comment sidebar, I still may've replied to you. Would it be best if I sent you an email reply too? Hmm. I'm still strategizing.
One of the first things I thought, really, was, why the fuck does it have glitter and little hearts all over it? Doesn't that seems a little ridiculous? Maybe it's because generally I don't buy vibrators (I have a few, ranging from a tiny Pocket Rocket to the grandmother of all vibrators, the Magic Wand, and honestly I don't have any desire to add more to my arsenal of sex toys. Cocks, on the other hand … ) so I am unused to the stereotypical femininity of flowers and hearts.
Well, for that matter, why is this clit pump a vibrator?
But I'm getting ahead of myself.
Shasta at Stiletto Diaries also has a review of this Vibrating Clitoral Pump, and her review was fairly negative – only one O out of a possible five. I suppose really it depends on what you're looking to this clit pump for – if you want it as a sex toy, to aid in masturbation, it seems like there are quite a few superior things out there, I'm not sure why you'd want this. The vibration is semi-powerful, but the ring is made to go around your clit – maybe some people like that, but I tend to like things actually touching mine. When I'm getting off, that is.
But clit pumping … this little device has a particular purpose: to enhance bloodflow, and, ultimately, elongate the ligaments, in and surrounding your clit, making it – you guessed it – bigger.
When I went to Seattle in December, I came back in a mini-masculinity-crisis, perhaps you remember? One of the things that happened while I was there was that I got the updates from the trans conference Gender Odyssey that some of my friends had attended, and at which one had run a great workshop. Apparently the big buzz around the conference this year was pumping for trans men – enhancing your dick (i.e., clit on T, not necessarily a constructed penis) with pumping, which purportedly works, and could add an inch or two. Since then I've been vaguely curious about trying out one of those clitoral pumps (which I assumed would work better, for me at least, than an actual penis pump).
So I jumped at the chance to get this one.
Shasta is right, the suction is not all that powerful. In fact, a few times I wasn't even sure it had created a suction – it's a little hard to tell with the labia and such. (My friend & fluffer femme spy (you really need a tag of your own, considering how often I mention you, don't you?) swears by the snake-bite kit, note to self, go get one.) I Googled clitoral pumping for trans guys – because, well, what else do you do when you want to know something? You go to the almighty Google gods – and I found an article from '98 on pumping – Trans Sexuality: Gonna Pump You Up – that had a few interesting things:
About what will happen when you use it:
Growth will depend on how consistent you use the pump, what you had to start with, and genetics don't hurt any either. I polled the mailing lists on the internet and received only one response, so there are basically no figures available as to what you can reasonably expect. I know that I gained a 1/2″ in diameter and near approximately 3/4″ in length before becoming rather lazy about pumping. These changes have been permanent and in my eyes worth the $80.00 that I spent.
Seems like they aren't in the $80 range anymore, though I don't know much about penis pumps, I'm mostly looking at clitoral pumps – they seem to be in the $20-30 range. I wonder if there's better information about pumping now – I should ask my friend who was at the trans conference I guess. Doesn't seem like there's much online, that I could find.
The author goes through how to make a pump, how to buy a premade one, and finally, how to use one:
It is best to be sexually aroused before beginning to pump. You want blood flowing into the erectile tissue so as to enable you to form a seal. Place the cylinder on your erectile tissue. Once the cylinder is in place pump slowly and gradually until you feel pressure. If you feel pain, back off. An intense pinching sensation means that you either need to resituate the cylinder or it's time to move up in size. If there is no pain, leave the cylinder on for so long as it feels comfortable, but do not exceed 5-10 minutes. You can expect to feel pressure or perhaps a very slight pinching sensation on the underside of your member. Release the pressure then rest for 5-10. Repeat once. As you get familiar with the device and the reaction of your body, you can work up to a second repetition … Go slow and easy. Soreness is an indication that you need to take a break for a day or so. It is imperative that you listen to your body. When you are done pumping . . . well, I don't need to tell you how to scratch that itch.
(Quotes reprinted without permission.) Worth a try, or a few tries, I think.
After the first time, I can tell you: 1. it was definitely arousing, and I needed to beat off afterward; 2. I couldn't tell how well the suction was working, and I wanted it to be stronger, but – 3. I'm a little sore afterward, in a way I am usually not after jacking off. I would assume this has to do with the pumping. Maybe it works after all! I'll try to do this just about every day for a while and see if it makes a difference.
Sex In The Public Square Presents:
Sex Work, Trafficking, and Human Rights: A Public Forum
New York, February 20, 2008 – Ten prominent sex worker advocates, writers, researchers will be publicly discussing the issues of sex work and trafficking from a human rights and harm reduction perspective, February 25 – March 3, on SexInThePublicSquare.org. The week-long online conversation will conclude with a summary statement on March 3, International Sex Worker Rights Day.
Sex work and trafficking are two issues that must be discussed as distinct yet intersecting, and we've invited some of the smartest sex worker advocates we know to help sort out the complexities. "This forum is not about debating whether or not we should be using a harm reduction and human rights approach instead of the more mainstream abolitionist and prohibitionist approach to sex work," explains Elizabeth Wood, co-founder of Sex In The Public Square and Assistant Professor of Sociology at Nassau Community College. "Instead our goal is to create a space for nuanced exploration of the human rights and harm reduction approach so that we can use it more persuasively."
Wood explains: "The human rights and harm reduction approach seeks to reduce the dangers that sex workers face and to stop human rights abuses involved in the movement of labor across borders, a movement which occurs in the service of so many industries. We want people to be able to learn about this perspective, and to develop and refine it, without having to dilute that conversation by debating the legitimacy of sex work."
Questions and themes include:
Defining our terms: Is the way that we define "porn" clear? "Prostitution"? "Sex work" in general? What happens when we say "porn" and mean all sexually explicit imagery made for the purpose of generating arousal and others hear "porn" as indicating just the "bad stuff" while reserving "erotica" for everything they find acceptable? When we say sex work is it clear what kinds of jobs we're including?
Understanding our differences: How do inequalities of race, class and gender affect the sex worker rights movement? Are we effective in organizing across those differences?
Identifying common ground: What are the areas of agreement between the abolitionist/prohibitionist perspective and the human rights/harm reduction perspective? For example, we all agree that forced labor is wrong. We all agree that nonconsensual sex is wrong. Is it a helpful strategic move to by highlighting our areas of agreement and then demonstrating why a harm reduction/human rights perspective is better suited to addressing those shared concerns, or are we better served by distancing ourselves from the abolition/prohibition-oriented thinkers?
Evaluating research: What do we think of the actual research generated by prominent abolitionist/prohibitionist scholars like Melissa Farley, Gail Dines, and Robert Jensen? Can we comment on the methods they use to generate the data on which they base their analysis, and then can we comment on the logic of their conclusions based on the data they have?
Framing the issues: What are our biggest frustrations with the way that the human rights/harm reduction perspective is characterized by the abolitionist/prohibitionist folks? How can we effectively respond to or reframe this misrepresentations? What happens when "I oppose human trafficking" becomes a political shield that deflects focus away from issues of migration, labor and human rights?
Exploring broader economic questions: How does the demand for cheap labor undermine human rights-based solutions to exploitation in all industries, including the sex industry?
February 24, 2008 |
journal entries
| Enter your password to view comments.