Rand Leather (on etsy or on follow on tumblr) is a one-man-show out of Maine where Matthias Rand makes all kinds of leather goods from scratch. In addition to these bondage cuffs and bow ties (which I'll tell you more about in a minute), I've also seen chest harnesses, suspenders, and even leather dresses that he's made.
If you liked that Aslan Leather binder harness that I posted recently, but you want something a little differently shaped, check out Rand Leather's binder harnesses. They are custom built and beautiful.
The cuff and bow tie were the items Rand Leather sent to me to check out.
First: the bondage cuff!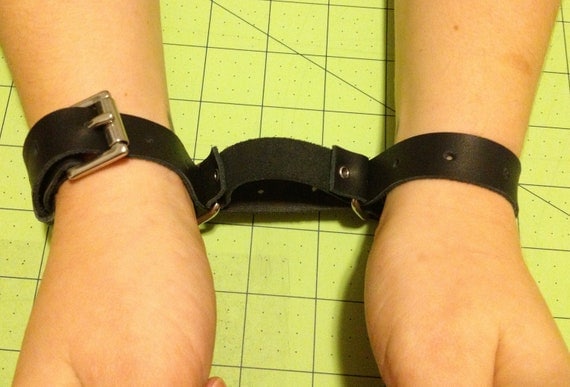 I love it. I wear it often. I love that it is an accessory that is also a toy and tool. See, it unwraps from around the wrist to have two square-rings (what do you call them? Square o-rings? Square metal bits?) along the leather that, when you snake the other end through in an S shape, makes a pair of handcuffs.
It works exactly like a bondage belt, only miniature!
It's become one of my staple outfit pieces at recent leather events and I've worn it at IMsL, Northern Exposure, and Queer Invasion (to name a few this year). (Also, that tells you I've been really behind on reviewing. Sorry!)
Now: the bow tie!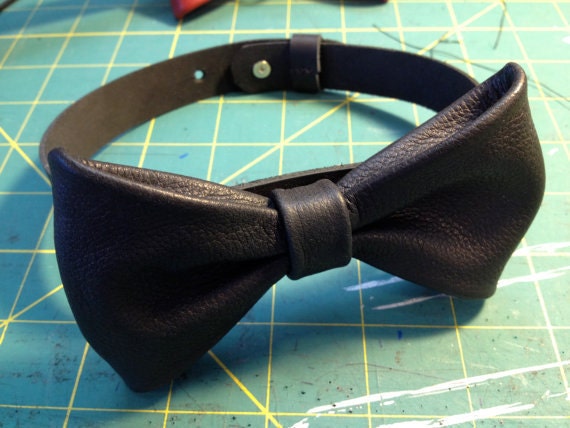 It has not become the staple to my fancy leather dress collection that I would have expected. I think mostly that's because I've discovered that I just don't like wearing bow ties that much. I love the look on other people, and I keep thinking that I could rock it if I just had the right one, but it doesn't quite fit. Too nerdy? I mean, I am pretty nerdy. Maybe it's the proportions.
I think part of it, too, is that I have a pretty large chest and I don't like having things on my neck or upper chest. It's hard enough just binding, which often pushes my breasts up higher in order to flatten them and makes wearing a tie right under my chin really uncomfortable.
The bonus is, it looks really really adorable on rife. So here he is modeling the beautiful leather bow tie.
These pieces are both available on Rand Leather's Etsy store, and both the bondage cuff and the leather bow tie come in other colors!