my favorite harness: review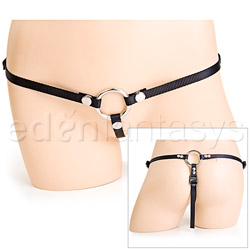 My
very favorite
strap-on harness, reviewed over at
Eden Fantasys
. It meets my three major requirements for harnesses:
interchangeable O-rings,
thin harness straps that hit my clit, and 
g-string style, also so it hits my clit
I love how small it is, it's easy to conceal and comfortable under clothing, and it's nylon so it washes so easily. Plus? It's only $16.
Have you used this harness, or one similar? What's your favorite harness style, & why? Leave a comment here or, better yet, over at the Eden review.
My other reviews for Eden:
comment on this
---
Want more? You're insatiable.
monthly(ish) newsletter
for just the highlights, announcements, workshops, and sometimes even exclusive smut. Plus, get the password for protected posts.
e-mail digest
Do you love following Sugarbutch, but don't check this site regularly, or can't check from work because it's too dirty? Easy! Just subscribe below and receive the new Sugarbutch posts directly to your email inbox once a day.
---
3 Comments
---
Trackbacks
Leave a Reply