Posts Tagged 'silky'
Okay, on a lighter note?
I didn't mention it two weeks ago, when Penny and I had our last date, but we broke my cock that day. My infamous Silky/Mr. Bendy (named differently depending on where you buy it), my very favorite cock – because you can pack with it, and play with it, and it actually works – unfortunately, that's incredibly rare in the world of cocks.
This was the blue one that Penny broke – uh, I mean, that Penny and I broke, together – and it's the third one I've broken. (Remember broken, breaking? That was the second. The first time I broke it, with Callie, I wrote that up, too, but I can't find the link.)
Unfortunately, that's just one of the things about Silky's reality – it doesn't last.
So, Eden has a blue or a purple version of Silky, and Babeland has pink or black – but I've never actually seen the black one in stock. I've ordered it before, only to be sent the pink one. I started thinking it was the unicorn of cocks, a myth, an urban cock legend.
But? It's in stock. And the one I reordered as a replacement came tonight. Man, they sure all nice all new and hard, spine all bendy and supple. Mmm, this weekend's date with Penny is going to be fabulous.
If you want a black one, order it now – who knows how long it'll stick around!
While we're on the subject of things you should order while they're in stock, take note of Bear Bergman's book Butch is a Noun, published by the fantastic Suspect Thoughts – it's gone into a second printing after being out of stock for a long time. I've got plenty to say about this book, I'm very fond of it – remember the video of Bear reading the opening chapter a few months ago? Snag a copy while you can.
… go on, you know you want to.
In celebration of Sugarbutch Chronicle's second anniversary, I'm going to follow one of my favorite blogger's Ask Me Anything thread over at Zen Habits and open up the floor to any questions you might have for me. I can't promise to answer 100 (as Zen Habits's author Leo did) but I will answer as many as I can.
You already know how old I am (29), my favorite cock (Silky), and a whoooole lot about my relationship history in the past few years (see: every "girl" category over there in the sidebar). But what else do you want to know?
To echo Leo once again: You can ask me anything you want, from the personal to the professional to the philosophical and anything else you can think of. I can't claim to have expert answers on anything, but I'll do my best, and will profess ignorance when applicable.
I often get asked about how to start playing with strap-on sex, how to get your partner to stop laughing during strap-on sex, how to take your partner's cock more seriously, how to strap it on and not feel like an idiot.
I've written a lot about my own experiences here, but I haven't written a lot of the more straight(ha)forward advice on it – advice seems so variable based on the individual situation, so it's hard to distill. So, here's some of the ideas about cock-centricity, cock confidence, and taking butch cock seriously.
For the record: there are many femmes who strap on, many genderqueers who strap on, many who have a cock and don't call it "butch." I don't mean to butch-centricize the gender play, but it is my own experience and that's primarily the perspective of this writing project of mine. So, for the purposes of this post I'm writing it from the perspective of the butch as the wearer, and the femme as co-conspirator to this gendered sex play. But hell, some of the most skilled strap-on wearers I've ever seen were femmes – I certainly do not intend to leave anyone out!
Call it a cock, dick, prick, pecker, schlong, johnson, even penis. But don't call it "fake" – it's not. (Calling it a "dildo" or "plastic" aren't really turn-ons, either.)
Touch it. Caress it, taste it, lick it, kiss it, suck it, fuck it. Treat it like it's a part of me – it is.
It's not silly to suck butch cock. (I mean, sure, laughing during sex is fun – but really? If you giggle through the blowjob? I'll probably loose my hard-on, especially if that's what you're laughing at.) I have plenty of nerves in my cunt that I can feel when you press it against me; you have plenty of nerves in your mouth where I can fill you, can slap against your tongue, pop into the back of your throat. And the mental turn-on I get seeing you in that position makes me crazy with desire. Don't underestimate it's power.
As a lesbian, loving butch cock does not make you straight. Let me say that again (and perhaps you should repeat after me): loving butch cock does not make you straight any more than wearing one makes me a 'man.' There's more to an identity than one act. It's okay to be cock-identified! Just because you don't to sleep with (bio/XY/flesh-and-blood-penises) men doesn't mean you have to reject cock from your sex life. Our bodies have holes, and our muscles and nerves respond to them being filled and played with. That's okay, and you're still gay as a three-dollar bill, I promise.
Consider getting a flesh-colored, realistic-looking strap-on cock. I know this is practically the biggest faux-pas of lesbo-land, as we're supposed to reject men and therefore penises, and strap-on cocks are only okay when they're swirly marbled colors or shaped like dolphins, but if you want to play with gendering a cock, consider something more realistic. It will enable you to take it much more seriously. Consider Vixskin (silicone, so you can boil/sterilize it! Feels real – even gives a little in your mouth, mmm), consider a thin leather or barely there harness, consider it yours.
Packing: do it. It's hot. Nothin' like being able to pull your cock out at any time, and I think all y'all know how hot it is to feel it in your pants (or your partner's pants) all night long. Get the right tools for it, though; you can't just strap-on with your thick leather harness with all the buckles and belts with your favorite hard cock. My vote is still the infamous Silky, which bends and will fit comfortably close to the body in briefs, but is still hard enough to fuck with.
If you don't pack, then you will probably have to navigate That Moment of Strapping On. That can be tricky: the making out starts getting all hot and heavy, and I always felt so awkward even bringing up the idea, especially with someone new – let alone someone I knew well. I tend to use the phrase, "so, can I get my cock out yet?" which gives the impression that of course we've both been waiting for it, but it also lets her call the shots if in fact she just wants to make out (or trib, or fingerfuck) a while longer. And! – when it's you've seen that gleam in her eye and it's time for you to strap it on, don't be embarrassed, apologetic, or shy. At that point, she's gotta wait for you to disrobe (possibly) and re-buckle, test the weight between your legs, get comfortable. Don't rush. Take your time. Savor this part; remember that you're both salivating at the idea of what's to come. Let her see you pulling it on and getting it all ready, if you can – that's part of this whole process of your female body becoming able to fuck her. [And for goodness's sake, once you're strapped on, go back to the making out, don't just attempt to slide it in & start goin' to town. You already know that, though, right? Right.]
You don't have to – and shouldn't – apologize for liking it, for wanting it, for craving it, for asking for it.
Muse says: "Femmes who like cock are not unicorns – they're everywhere." Same goes for butches who like cock. There is a bit of stigma around gender play in lesbian communities; it might take some work to find someone who understands how to take butch cock seriously. But don't fret, you will.
Our gender and sexual identities don't exist in a vacuum – especially butch/femme, I think, relies so much on the experience of the other complimentary person to bolster and develop and enhance our own identity. So what do you do if you don't have someone with whom you can play with a cock? You can still play with it and learn to take it seriously – strap-on and learn to jack yourself off. Wear it all day Saturday when you're cleaning your apartment, running errands. Learn to appreciate the weight between your legs, learn how to shift it right or left when it gets sweaty or itchy or uncomfortable. Give yourself permission to play with it, explore it, even if it's on your own. Build your own cock confidence!
This is a particular kink that not everybody likes – and that's okay. When you're selling it to someone, remember that it's an asset of yours, a strength, something fun that you get to experiment with – not a weakness or a bad thing. You'll find somebody who will appreciate you not just in spite of it, but precisely because of it.
Got more tips for building cock confidence, taking butch cock seriously, or re-valuing cock-centricty? Leave 'em in the comments.
---
Donate to RAINN
& let 'em know I sent you – add "GBBMC2008: Mr. Sinclair Sexsmith" in the information box. (Why?)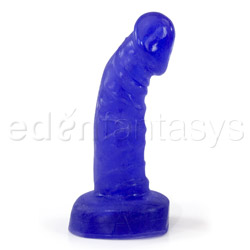 My very first sex toy review is up Eden Fantasys (whose name makes me want to get out my red English Major pen and correctly pluralize the noun), and what other toy to start with than my beloved packing cock.Apparently, though Babeland calls it Mr. Bendy, it is actually known by the manufacturer as Silky, and comes in blue and purple as well as pink (which is the only color I've ever seen at Babeland).
I really do love this cock – and, while I am absolutely man enough for pink, I am quite excited about my new blue one.
Actually, I feel kind of selfish about this cock. I don't want to tell you where to buy it or how awesome it is, because it's mine. But, in the spirit of spreading the love, I am resolving to get over that possessiveness …
From the review:
I have spent years – since I first came out and began having sex with women, since I first started honing my butch identity and wanting a cock to be part of my sex life – searching for a cock I could not only pack with, but also play with.
And? Here's the secret: this is that cock.I have a special place in my heart for Babeland – clearly, since I'm mentioning it in my plug for my Eden review – particularly because they are built on queer politics, community, and culture. Their staff members are primarily queer and absolutely queer friendly, they know all about gender and gender expression, and I never feel out of place in that store. It was the first non-skeevy sex toy store I'd ever been in, and for that reason, I just love it. Support the dykes, yay.
But despite my love for Babeland, sometimes their product selection falls a bit short. By which I mean, sometimes they just don't have what I need.
And that's a place where Eden is fantastic. They have a really great selection of toys – not only cocks & harnesses, but also slappy and stingy toys, lube, condoms, books, DVDs, all sorts of things. Their queer content is not perfect, but it's there, and they are working on building it further, which I think is fantastic.
Buy this cock on Eden Fantasys now!