Posts Tagged 'lesbian'
A big ol' box of Say Please: Lesbian BDSM Erotica edited by ME and published by Cleis Press has arrived on my doorstep! I am so thrilled to hold this book in my hands and pet it and flip through it, after more than a year of working on it behind the scenes, on my computer, alone, jerking off in bed with the manuscript I mean uh, editing and copy editing and re-editing.
And now … comes the exciting part! The birthing it into the world part! The part where I figure out how to get it into your hands and on your nightstands and between your boxspring and mattress and on your kinky bookshelves. So I've got a few things up my sleeve, including six inches a virtual blog book tour and some extra copies for reviewers.
The official promo blurb:
Say Please: Lesbian BDSM Erotica is a fiction anthology edited by Sinclair Sexsmith, to be published by Cleis Press in April 2012. It is available for pre-order at Amazon and will be available for the Kindle and Nook. Email lesbianbdsmerotica at gmail.com if you have any questions; to request a review copy, email Brenda Knight at bknight at cleispress.com. For more information about Say Pleaes series, visit saypleasebook.wordpress.com.
Item the first! Reviewers needed for Amazon
Apparently, book sales on Amazon set the standard for many other buyers these days, and reviews on Amazon (even clicking "like" on Amazon) make a big difference in possible sales. So I've got 20 copies of the book to give to folks who are willing to write a review on Amazon. To do this, you must: have an Amazon.com account you've made a purchase from, have a US mailing address, promise to review it by April 31st and actually follow through. Will send one to the first 20 people to request it. Email lesbianbdsmerotica at gmail.com with "Amazon" in the subject line, your mailing address. I've got more than enough Amazon volunteers! Thank you!
Item the Second! Blog Tour
In April, surrounding the book's official April 10th release date, I'll be conducting a virtual blog tour for the book! That means: If you are a blogger, and you'd like a copy of the book to review on your blog on a particular day of the tour, I'll send you one in exchange for your participation. To participate, you agree to post on your corresponding day; posts can be your thoughts about the book, an excerpt, or an interview with me or another contributor. Email lesbianbdsmerotica at gmail.com with "Blog tour" in the subject line, and include a link to your blog and any pertinent information about the site you run. Deadline is March 31st, but I will fill it as I go, so please email me asap.
Item the Third! Preorder the Book!
If you do plan to buy it, as with all books, pre-ordering them has a dual impact on the book's sales, meaning your sale counts not just for one book, but means that the bookseller your purchasing from will stock extra copies. All sales are great, but pre-orders are extra special, a heads up as a way to support your favorite authors.
Item the Fourth! In Person Tour in Boston, Seattle, San Francisco, NYC, and More to Come (So To Speak)
I am trying to get all over the place to read from this book … I still hope to visit Durham, Chicago, and Portland, and possibly Philadelphia and DC. If you're a coordinator or event producer in any of those places, or in a different place!, and you'd like to help me with a reading, I'd love that. Get in touch.
Here are the current planned dates:
April 1 5pm, San Francisco at GV (with Salacious)
April 13 7pm, NYC at Bluestockings
April 22, Boston at a bar (with The Femme Show)
May 2, Seattle at Babeland
November 29, Toronto TBA (Facebook invite to come)
Item the Last! Get the Word Out, Buy a Copy, Let me Know What You Think!
I am beside myself with curiosity about how this book will be received. What do you think of it? What is your favorite story? Which lines stand out? Which authors were particularly impressive, whether you've read them before or will seek them out to read again? What themes did you love (or hate)? What did you wish there was more of? I would love feedback about this. After all, it's the first anthology that is wholly mine, cover to cover, and I would love to do more of these in the future (hope hope).
I hope you'll find a way to get in touch and tell me your thoughts, I am so very curious.
Don't tell that seriously hot piece of ass, DateDyke, but just between us, my confidence is slipping. She's got double the votes so far, but aside from that … when I get around another top – a particularly skilled top, if discussion so far is any indication – it makes me all the more bottomy, all the more submissive. I become eager to observe her skills, and eager not to fuck up.
This is probably more about my psychology than my sex play.
Don't mistake me; I do enjoy pain, I do enjoy submitting, I always have. I've never wanted to be the one who tops all the time. And in a one-time (or two-time, or maybe five-time) scenario, I would gladly negotiate bottoming. In the longer-term, though, I want to top most of the time.
It's like that theory about relationships – if you talk 30% of the time, and listen 70% of the time, you just gotta find someone who talks 70% of the time, and listens 30% of the time.
Same thing applies to sex play, I think. I don't really know what my topping/bottom ratio is, but probably something like 80/20 or maybe even 90/10. One in ten times, I'll get under the flogger for you. One out of ten times, I'll give you my ass. Sounds about right.
Here's the interesting thing about what DD is doing, though – she knows how to treat me like a boy and a bottom at the same time, and the ways she treats me like a boy are expanding me, and so sexy, and I feel so matched and validated and complimented, that I'm all the more willing and eager to be and do as she wishes. Submitting is not in conflict with my identities when I'm treated boyishly. It totally makes sense – I just never quite realized that most of my submitting and bottoming experience was with the boy I dated for all those high school years. When I started dating women, I got more and more toppy.
I've never bottomed with a cock on, for example. I've never played with gender and submission quite in that way, and I want to.
She's not gonna get away with not bottoming to me, sometime. I am salivating at the idea of that slow, hard fuck she's gonna get. Hopefully it'll be the return flight, though I'm not sure that's guaranteed yet.
The other secret, if I may entrust you with it, is that I'd much rather bottom on the way up, because that means I have a higher chance of topping for the second playdate … though perhaps I shouldn't admit that, quite this early on in negotiations. Never show weakness, right?
Yeah, that's not quite my style. My heart may be newly behind barbed wire, but it's still on my sleeve, regardless.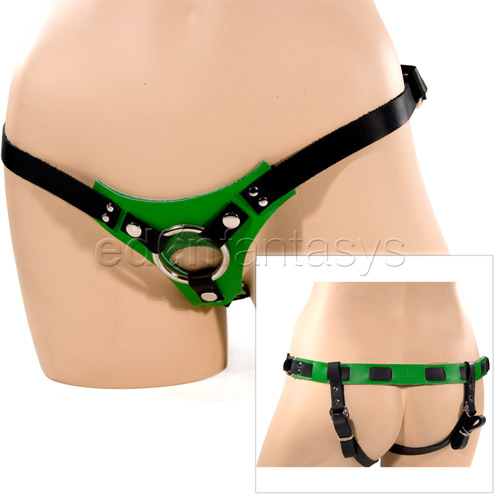 The Mia-Z Harness by Outlaw Leather, out of Seattle.
I'll entice you with the one key little detail here, then you should head on over to Eden Fantasys and read my full review.
Here's the thing about this harness. It's gorgeous & comfortable, and you can strap a cock on, la la la, just like you usually would, but then … then? The way the front leather triangle is built, you can add a second cock that will slip right inside the harness wearer (assuming the wearer is female bodied).
It's like an instant double, with any of the two cocks you choose.
I discount my own penetration pretty easily … but this reminded me how different orgasms are when my own cunt has something to grip.
Take a look at more photos, specs, and my full review …
I'm particularly thinking of women who are out as lesbian (rather than bi – if I counted bisexual celebrity women, that'd be a very different list), and are particularly feminine. Though, again, it's harder to identify the femmes in the celebrity world, because all the women are more feminine than usual.
… the famous femmes are hard to pinpoint! Others that aren't on the list: Michelle Tea, Cynthia Nixon (really femme?), Kristanna Loken … Sure aren't very many of 'em.
Nor are there very many famous butches, really; that's a short list. I can think of Jenny Shimitzu, k.d. lang, Ellen, Melissa Ferrick, Melissa Etheridge, Rosie, Alix Olson, Michelle Rodriguez, Pamela Means … but most of these women probably wouldn't identify as butch. That's still a frightening identity to have in the public eye.
Got any to add?