Posts Tagged 'kd diamond'
"I'm surprised more people don't talk about biting. It's pretty practical – I think it should be a conscious part of a dom's tool kit. When I first apply pressure, her whole body goes tight like a bowstring. It makes me feel like I control every inch of her in that moment, and she's balanced, waiting for my next decision. All this without any equipment, with both hands free? Awesome." —K
I love biting during rough sex. Love it.
It's something I do so automatically that I've learned I need to make sure to explicitly ask anybody I mess around with in a BDSM/play context or a sexytimes context a) whether or not they like to be bit and b) if it's okay for me to leave bite marks. And if it is okay to leave bite marks, to be clear precisely where those marks should or rather should not be left. This negotiation is also about the time that I request that if I do leave marks, that they send me pretty pictures of them the next day. (That's my favorite part. Well, that, and the actual biting part.)
I basically learned all of that the hard way—messing around with girls and starting to bite, then having them stop me mid-bite with some anger or frustration or safeword. Don't do it that way. Ask if you can bite. You don't have to sit them down before you start kissing and say, "So, I really like to bite, preferably somewhere on the fleshy part of your chest or on the top of your shoulder, how do you feel about that?" You can do it while you work your mouth on their neck, shoulders, fingers, mouth. You can do it when you start to go get gloves or condoms or your cock or flip the lights off (or on).
You should ask about hickeys and leaving marks from sucking on someone's skin, too. Don't leave marks unless you know you can. Figure out how to suck to leave marks and how to suck to not leave marks. Practice on someone who will let you practice on them. And remember, each person's skin is different, and marks differently. What marks on one person may not mark the next, and vice versa. So go slowly. Learn to recognize the way skin looks when it starts changing, and be smart about it. Stay within consent.
Okay, enough of that leaving marks / consent PSA. You get the point, right?
Oh! Another thing I love about biting is that I always have the tool with me, my mouth, and I can use it anytime anywhere. I don't need to set it up or get it out or do anything special, it's just right there, and conveniently placed. It's a wonderful tool for a sadist, or for someone who wants to display some possession—either by leaving marks or by making them squeal and squirm and stay in a submissive space through some masochism. A good bite at the right time can tip somebody over the edge and make them come that much harder. But, there are some things to be cautious about.
So, let's say you have a green light of consent, that this person you're messing around with in whatever way loves being bit. How do you do that? What are the safety risks? How do you cause maximum pleasure (or pain)?
Where to Bite
Technically, you can bite anywhere on the body, but some places are more suited for deep bites than others, and some places are pretty dangerous if you bite hard. You can cause internal damage, and nobody wants that. Generally, if you know about impact play and where to hit somebody, you can translate that to biting: The places on the body with big muscles and lots of flesh are best to bite, the places with less flesh and more bone or less padding on the organs are not good to bite.
If you haven't taken a beginner BDSM class that teaches the places on a body to impact, I highly recommend that. Most BDSM groups have a Safety Orientation type of meeting. Go to it! Meet some cool people, while you're at it.
And because I couldn't find a decent image of the Where To Impact Body Map online anywhere, rife made a beautiful drawing and color coded it to indicate where and where not to bite.
Click to make it bigger!

and/or Click here to buy a print!
This is not necessarily meant to be a comprehensive chart, and please consult a BDSM educator AND YOUR PLAY PARTNER for the places their body likes and doesn't like to have heavy impact. Each person is different. Use caution and your best judgment.
Personally, I find the places that my mouth kind of naturally lands to be the best places to bite, and for me that tends to be the upper chest, shoulders, and upper arms, and the inner thighs and butt. I have a tendency to bite when I'm coming while strapped on and fucking someone, so that often means their my mouth is in line with their shoulders, either their upper chest if we're face to face or their upper back if I'm behind them. I know how to gauge my bite in this position, either biting a little recklessly and hard or just a slow close down of my mouth so I have something to do with my jaw while coming.
But, those are all examples of biting for my pleasure. Perhaps you're doing it as part of a display of possession or more from a service topping perspective, which is also awesome. The first thing you want to do there (after the 0 step of CONSENT of course) is to find the bite.
"Finding the bite" is something kd diamond spoke of when we talked about biting tips when I was hanging out with her in New York City last weekend. The idea being that while you explore their body with your mouth, you start upping the impact of your teeth, starting with some nibbles, and if they seem responsive to that you keep going, and you find the spot on their body that yields well, and that they give you a very noticeable response (moaning, sounds of joy and pleasure, leaning in to your mouth). Once they do that, you know you've found a good spot, and rather than moving on, bite deeper right there.
How Hard to Bite
Deeper? How much deeper should you go? As with everything else, it depends on the person, so always listen to them and their body.
I attended Felice Shays's Playing in Dangerous Neighborhoods: Advanced Rough Sex workshop through LSM in New York City when I visited last weekend, and she had some great things to say about biting. We talked about it a bit after, too, and I took notes.
First, she stresses the difference between speed and intensity. Most of us tops or sadists or dominants or D-types want to have maximum impact when we're doing something thrilling like biting, and so often we do that by going really fast, but that actually taps out the receiver much quicker than if we do something slow and deep. Slow and deep can open up new channels and let the s-type bloom into the submissive space. Quick and hard can be shocking, cause flinching and even panic. Felice highly recommends intensity over speed.
Which is not to say that speedy hard bites are never okay to do—they can be, sure. Just know that it'll be a different impact on the person you're biting than if you go slow and deep. Depends on what the purpose of your bite is.
So once you've found the bite, and you want to go slow and deep, what do you do with your mouth?
Different Ways to Bite
Let's distinguish between a couple different kinds of bites:
Slow bite: Close, then sink your teeth slowly. You can go deeper with this kind of bite, because you are slowly upping the intensity and letting the receiver of the bite get used to it. If they start having more of a pulling away reaction than a leaning into it reaction, that's your cue to back off a little (or stay right where you are) and not up the intensity any more.
Dragging teeth: This was a good tip that Felice mentioned specifically about biting genitals. Genitals are amazing sensitive places and some people really like them being bitten, like a lot. A) Consent (duh), and B) every body is different, and C) if you're going to be putting your teeth directly onto someone's genitals, you should have some conversations about being fluid bonded. But after that: Go for it. This is probably not a very good place to chomp, and not a very good place for a deep slow close (though some places, like the inner thighs or the pubic mound, might be okay for that). But delicately clasping their bits in your teeth, and then dragging your teeth, could be immensely pleasurable.
Chomp: That's the speedy hard bite I was just mentioning. With little or no warning, you just open your mouth wide and chomp down on someone's body. This can be lovely and have a wonderful effect, particularly if the person you're biting likes to be surprised, likes the big adrenaline spike of pain, and likes to feel the bruise throb after you remove your mouth. But generally, I wouldn't suggest this with someone you haven't played with much, and with someone that you don't know likes this kind of bite. The people who like it really like it, but I think I'd argue it's the least universally enjoyed type of biting.
Other kinds of bites? I imagine there are many more kinds (like "love nibbles"), but these are three of them. Got more ideas?
As the Receiver of Biting …
You can help the person biting you by being honest about your reactions, not enduring things you don't like (unless enduring something is your fetish, but that's a slightly different conversation), and giving lots of feedback, either verbally or with your body language.
If you can, use the numbers or colors systems to give feedback, by rating a bite 1-10, 1 being "I barely felt that" and 10 being "that is as much as I can take bordering on STOP RIGHT NOW." Remember that what feels like a 6 today might feel like a 3 tomorrow and a 9 next Thursday, and depending on where you are in the scene, and how erotically stimulated and aroused you are, bites (or any kind of body impact) can feel different. Keep your feedback coming, however you can.
The colors system is using the words red-yellow-green to let your biter know how you're doing, like a traffic light: Green means go, yellow means caution (and often means "pause / back off / please stop what you're doing but don't stop the scene") and red means STOP everything now and check in. It'd be very useful to hear "yellow!" if a bite was getting waaay too deep and you needed it to stop, or if you were really enjoying a deep slow bite to hear "green green greengreengreen," as an indicator that you are requesting the biter keep going.
When During Sex to Bite
Depends … people like different things, of course, so check in with the person you're playing with. (I know, I know, that's my constant disclaimer, but it remains true. For that matter, you probably shouldn't ask me when during sex or where on their body they want to be bit—ask them. Ask them. No seriously, ask them. I know it's hard to bring up, but talking about it is so important.)
I'd say there are two main times during the sexytimes act that I'd encourage biting: Toward the beginning, during the ramp-up to bigger, rougher, deeper play, and during orgasms.
In the beginning of the play, biting can be a great way to explore someone's body. Often as we're warming up and making out and getting into more and more foreplay, we do a lot of kissing of the neck and shoulders, sometimes the chest, so that can be a great time to try out some light biting and to slowly ramp it up.
And if you know you have someone who likes moments of sensation or release as a way of tipping them over the edge, you can strategically place a bite on one of those places you found before when they are getting closer and closer to orgasm, and it could sometimes be the thing that sends them over the edge. It probably takes some practice to do this, but the reaction and release (and beautiful bruise you may get to see later or the next day) is an amazing reward.

Bruises from biting on rife. Left: bite marks on his upper chest and upper arm (bruises on his chin are not from biting). Top: Bite marks on his upper back. Bottom: Bruises on his ass from punching and paddling, and one big dark bite mark.
Dangers of Biting & Safety Tips
There are some places on the body you don't want to bite hard, both for safety (like the possibility of damaging an internal organ or tendon) and for pleasure (biting down on the tendons of the neck is not pleasurable for most recipients, for example). Take a Where To Impact On The Body kind of class, ask your local BDSM pervert educator, and know the person you're playing with.
Do not bite arteries or tendons. That is unpleasant, and dangerous. Aim for the fleshy, meaty, bite-able parts of the body.
There is also the risk of breaking the skin if you are a hard biter. Breaking the skin is bad. The human mouth is generally a very dirty place, with all sorts of bacteria, and a human bite can be more easily infected than a dog bite.
Know your mouth. Notice if your teeth are generally completely flat on the bottoms, or if some of them have edges or chips or points. Those teeth are more likely to break skin. For example, I've never full-on broken skin with a deep bite, but I have one particular tooth that is very pointy (my "vampire tooth" canine) and it often leaves more of a red mark than the others and has drawn a teeny tiny bit of blood in a puncture on a rare occasion. Know which teeth are sharp. Do you have braces? That'll change your impact as well.
If you do break the skin, clean it well and monitor it closely. If anything looks out of the ordinary, see a doctor. Get it checked out. It's an easy treatment, but it can be bad if not treated.
What about bruises?
Bruises are not necessarily bad for you, not harmful to you or your muscles, and will heal well on most people without much specific care. But again, know your body. If you're anemic, you may bruise a whole lot easier than someone who is not, for example.
Some people swear by things like Arnica, a homeopathic cream meant to help heal bruises and bumped tissue. After Miss Calico did a bruising and Arnica experiment a few years ago I've been more skeptical of Arnica's value, but as the kid of some hippie parents, I still often take it orally if I'm trying to heal my body from bruising.
Keep an eye on the bruises as they heal. Usually, healthy bruises will go from a slightly red mark at the time of impact to dark purple or black as they bloom, and then fade to shades of lighter blue, sometimes green, yellow, and back to your regular skin color. It's harder to see the fading process on people with darker skin, easier to see the fading process on people with lighter skin. Know your body. Get to know the process of how you bruise and how you heal. If anything looks out of the ordinary, get it checked out (preferably with a kink-friendly doctor so you can say things like "happily consensual!" with a big smile and they will get it). It is normal for a bruise to "travel" a little bit as the tissues and blood vessels slowly repair.
If the bruise gets lumpy or hard, get it checked out. If it stays dark and doesn't seem to be fading, get it checked out. If anything seems out of the ordinary, get it checked out. And share the knowledge that you learn with the people/person you are playing with—it's helpful for them to know your body, too!
In Conclusion ….
Biting is one of my favorites. For control, sadism, possession, sensation, and leaving marks, it's a fantastic tool, and one I use often. Get consent. Know your body, and get to know your play partner's body. Every body is different, but if you get to know each other you can figure out what will cause maximum pleasure (or pain) (or both) and impact and beautiful bruises. Know the risks that you're taking and keep yourself and your partner as safe as you can.
That about covers my thoughts on bruising! What are your thoughts? Do you love it, hate it? Agree with my tips, or think I'm wrong? Did I leave something critical out? Any other types of bites or safety tips or things I'm missing? I'd love to know.
Hi Sinclair,
I'm in a bit of a pickle. I've been out for ages, but for reasons not worth getting into (for instance mostly due to lack of opportunity, not lack of interest or any deep seated issues) I'm still completely inexperienced when it comes to girl-on-girl sex. I have however had a fair amount of boy-girl sexcapades.
But now I have the opportunity to get some girl-on-girl action and I don't want to tell her it's my first time. I know I should, but I'm too embarrassed to admit that despite years of being out I'm a 28 year old queer virgin. I want to be a good partner and please her in bed but I need some direction. Will she expect me to go down on her the first time we go to bed together? Any websites or great tips to impart? Any help you can offer would be great.
Thank you Sinclair. You and your words have been helping me get off for ages. Now I'm hoping you can help me got off with a partner.
—Carly
Hi Carly:
As a budding baby dyke, I relied on books. Nothing But the Girl and Best Lesbian Erotica 1998 spring to mind, because in 1998 and 1999 I was obsessed and barely out. I left my boyfriend of six years in August 1999 to move into a crowded little apartment on Capitol Hill in Seattle with a dyke I barely knew, eager to have my own room, my own space, a place for my own desires. It wasn't until April 2000 that I slept with a girl. She was in my nutrition class, and we had the same birthday. "Did you just say it's your birthday?" "Yeah." "It's my birthday today too!" We talked and started sitting together. I put my hand on her knee under the table, and she let me. Kissed me in front of the school after class when we went our separate way. "You're bold, touching my knee like that," she wrote in a note later. "I like bold." She invited me to her house for lunch.
She'd never been with a girl either, but she like me (and you) knew she was interested and had some sexcapade experience. When we started getting undressed (awkward light from my only bedroom window that faced the parking lot, shaded by a fringed grey shall, moon poster up over my bed, feminist books stacked in every spare space), kissing, oh she was a good kisser, I had no idea what to do or what it would be like or how to please her. But when she paused and said, "I don't know what to do," I could feel my relief, at her admission of what we were both feeling, and knowing that she didn't know what would to do meant I could step in and take the (gentle) lead.
Oh, I thought. I know what to do.
I didn't, not really. But I suppose in some ways that was the beginning of me as a service top, taking some limited control and having bodily permission to touch in ways that pleased her. That's all I wanted to do: feel her, please her, touch her in ways that she liked, connect with her.
That's all sex is, really. Sure, the orgasm part is a really nice added bonus—but not everybody comes at all, not everybody is able to get off with a partner, and almost nobody comes with a new person the first time.
Carly, you wrote this to me in March 2012 (and I am so behind on advice/ask me anything questions, this year has been impossible, see: the Making Peace series and the last 18 months of this site), so I presume you weren't waiting on my small piece of advice before you went for it. So hopefully, this advice comes too little too late. Hopefully this is all irrelevant. Hopefully, you'll comment on this saying, Oh! That was me! But I totally forgot I even asked that. I've been fucking for eighteen months now, I have this completely different other question now.
But just in case you haven't, and just in case there are other folks out there who read Sugarbutch and dream about queer sex but maybe haven't had much of it yet, this is my advice to you.
Will she assume that you will go down on her? I have no idea. Depends on the person. Personally, I think going down on someone is an incredibly intimate act, and I wait quite a while after starting to date someone to do it. Also, I am STI-aware and don't go down on someone without a barrier unless we are fluid bonded, which also often happens after a few (or quite a few) dates (or never), depending on our agreements and how in-depth we go into our own STI histories and whether or not we have other partners or whether we're going to go get tested again. I have dealt with this differently with everyone I've dated, but the short answer is, I think, no, you shouldn't assume you will go down on someone on your first date or in the first month or so, and if you decide you want to, it should be after you get to know them more and have some safer sex conversations.
Don't assume anybody is going to come the first time. I believe you are responsible for your own orgasm—in general, not just the first time—so if you want to get off, assume you'll be getting yourself off. And make it totally okay for her to get herself off, too. Offer to watch, if she finds that sexy. Or offer to help, in whatever ways would be helpful (lick her nipples? Kiss her? Hold her down? Whisper sexy things in her ear? Shove your cock in her mouth? To each their own …).
Unless you have a strong power identity established already, and do a bit of negotiating, don't assume who's going to top and who's going to bottom. Just feel each other. You're getting to know each other in a new way: physically, energetically. Go easy, take each other's cues. It's a complicated physical dance.
To get ready for your first girlon-girl time (or whatever—y'all know that I mean to extend that to other genders too, right?): Jerk off a lot. Notice what you do, how you touch yourself, what feels good. Try those out on her body.
And pay a lot of attention to how she responds. If you can talk, ask how to touch her, ask what feels good.
Feel into your own body, and follow the pleasure. What would feel good right now? Tell her that, and ask: "I really want to kiss you right now. Is that okay?" "I have this urge to spank your ass, would that feel good for you?" "I have some soft pretty rope just … right there … I wonder if you'd like it if I used it?" "Can I introduce you to my favorite vibrator?" "I really love using a strap-on, do you like penetration?"
As I have been thinking on this answer, I kept saying to myself, Self … damn. If only there was a Girl Sex 101 primer that I could point Carly to for more tips and tricks and ideas about communication and negotiation and following pleasure and how ladyparts are awesome and different and the same.
And then I realized that maybe there's not a perfect one of those right now, but there's this:
That Allison Moon and KD Diamond are building, and you're just in time to get a copy for yourself by supporting their Kickstarter.
What is it? Well …
Girl Sex 101 is a road trip in a book! Combining fiction & comics with solid sex-education, Girl Sex 101 does what no sex-ed book has done before.

A collaboration between author and sex-educator Allison Moon (the Tales of the Pack novels about lesbian werewolves) and artist kd diamond (founder & editor-in-chief of Salacious Magazine) Girl Sex 101 is loaded with fun, color illustrations and entertaining stories that offer far more than the standard sex-ed fare.
Plus, "Girl Sex 101 is a collaborative effort of over 15 independent educators and artists, featuring fun & informative guest viewpoints by sex-ed superstars" like Megan Andelloux, Tristan Taormino, Jiz Lee, Carol Queen, Julia Serano, Tina Horn, Ignacio Rivera and more!
So clearly you should try that too.
I also recommend these books: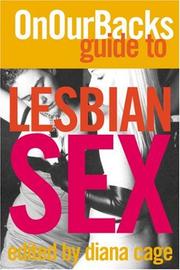 Take a look at the rest of my women & sexuality category on my Amazon A-store, maybe some of those books will resonate?
I wish I knew of other good resources! So I figure this is a great time to ask the readers. Hey, readers! What do you recommend? What books or websites or sources? What are your best tips for queer sex for the first time?
PS: If you asked for advice from me in the past few years, and never received it, I'm sorry. I know many (hundreds, actually) of you have emailed me questions or asked me questions, and I haven't replied. It's because I have not been on top of my shit in the ways I would like to be—it's not because your question wasn't fascinating. It probably was. It's just that I haven't been on a schedule or replying or corresponding in the ways that I want to be. But, I'm sorry you reached out and said something possibly vulnerable or sweet or real, and never got anything back in return.
If that question (or a different question) is still relevant to you, the way to skip the queue and come to the top of the list is to send me a donation or book a 30-60 minute session with me over Skype or over the phone. I'll address your question, and more.
So I have really a lot to say about my experience at the International Ms. Leather contest in San Francisco last weekend—about how it was pretty phenomenal to be in a hotel space filled with leather women (and those who love them), about the BDSM & anal workshop that Tristan Taormino led, about the 10 rules for happy non-monogamy workshop that Andrea Zanin led, and the single tail workshop that had me inspired, and the "parade of colors" and the leather sashes that made me, from the audience, go, "oh my gosh this is such a thing," the royalty that leather title holders have, the awesomeness that are our new titleholders: the butch from Texas is our new IMsL and the femme bootblack is the new IMsBB! I'm thrilled that they're representing this community and I wish them so many amazing adventures and fun travels.
And I kind of don't know where to start, with what to tell you. I am extremely crunched for time these days (turns out, the week that your book comes out is kind of busy, who knew) and I don't want to just give you a play-by-play (though you might be interested in that, I know, ya pervs).
So instead, I just want to send lots of love to IMsL and IMsBB 2012, KD Diamond and Sara Vibes, with this shot of them I snapped while Sara was feeding KD peeps off of her knife.
And yeah, this is just the kind of thing that happened, right in front of me, when I didn't even expect it, all weekend long. If you're kinky and queer and into women, this is one of those gatherings you don't want to miss. You bet your ass I'll be there next year.