Posts Tagged 'gender'
I ran across this short film about depictions of masculinity in Disney films recently and was interested and impressed. Of course there are all sorts of problematic things happening with gender roles in popular media, and Disney films have no shortage of criticism written about them in general, but most often I see those critiques from the perspective of femininity and women, less so with the emphasis on masculinity and men.
I'm glad this work is becoming more commonplace, we really need more revisioning and reclamation of masculinity in our culture.
I am a butch who shaves.
Not my legs, inner thighs, stomach, underarms (though I'll get to those in a moment), but my face. Chin, mustache, sideburns. Every day.
It has taken me years to admit this, to celebrate this. I started shaving my chin about ten years ago, at eighteen, when my-ex-the-boy and I got into a fight and he used it as leverage against me. It was toward the end of our five-year high school relationship and he was increasingly paranoid that I would leave him to come out (which I did), so we used to fight about my perceived dykeness all the time. We were in his car in our driveway, just home from somewhere, yelling at each other. I have no idea what the context was, but I still remember the way he looked over at me and said: "I mean, you have more hair on your chin than me!"
I'm sure I'd noticed the hairs on my chin and upper lip, I'm sure they'd been there for years. I was at that time in denial about most of what my body did, how it looked. I spent as little time as I could with obligatory lipstick and mascara – the only makeup I could master without feeling like a clown, I never could figure out foundation or blush or eye shadow, despite the hundreds of beauty magazines that I studied, attempting to discover and reproduce the secrets of femininity.
It wasn't until he said that, though, that I thought I should pluck, wax, shave, something, anything, so as not to give away my gender deviancy and gender defiance that seemed to be so certain that it would even come through in my biology. I'm a hippie after all – deep down I believe whatever the human body does is 'natural' and that all the hair policing was perpetuating unobtainable standards of beauty for women.
But this wasn't about beauty, suddenly. It was about gender. It was about being revealed, when I didn't even realize I was.
I promptly went upstairs, shut myself in the bathroom, took my razor from the shower, and shaved my chin smooth.
That was 1999.
It was only very recently that I let the hair on my face grow, even for a day or two. I've often seen dykes in the lesbian communities who sport peach fuzz mustaches, goatees, sideburns, but it never really occurred to me that it would happen if I didn't run the razor along my face daily.
It was Callie who mentioned it first. It came up with Datedyke, too. I didn't quite get the appeal at first. It felt gross, even shameful. No, they said. An indication of masculinity.
Oh yeah. Right.
I buy men's razors now. Made for the contours of a face, not the smooth line of a shin bone or inner thigh. I enjoy buying products so masculine. I do it, head high, boldly; I challenge what the clerk thinks. I am not shy about it. It is a small act of gender celebration, gender defiance, gender activism.
Sometimes I even like my five o'clock shadow. I've developed the habit of scratching my chin like the boys do. Feeling when I need a shave. Letting it grow on weekends, on weeks when I don't have work. When I was in Mexico I didn't touch it once. Ten days without shaving, I am sure a personal record. I didn't even know my hair would grow that long, that dark, that thick.
Sometimes, I even like it.
Okay, so, body hair.
Well, here's the deal. I believe hair is a potential enhancer of sex. A sex toy. That it can be used to increase sensation, both tactile and visual. That the key decision about the hair on my head is for a sexual purpose. That running fingertips from ankle to cunt feels different on an unshaved leg – for both the person to whom the hand belongs and the person to whom the leg belongs. That it is different to fuck with a full bush as opposed to a brazillian.
Whether or not one is better than the other is a purely personal preference. Clearly there are some cultural preferences that correspond with gender role and expectation, but when all options have been examined and stripped of their social meaning and compulsory prescription, we can actually have an opinion about what we prefer, and make a choice.
I'll get to femme body hair another time. I want to talk about butch hair, here, a bit more.
I know transmasculine folks who shave and who don't. Who grow their hair long and who buzz it off nearly completely. I know a butch whose hair grows in so light she doesn't have to shave – though she hates body hair, and would if her own wasn't so light. I know a butch who had a contest with her friends to see who could grow their hair the longest.
Sure, I personally have preferences – I keep the hair on my head short, #2 on the sides, two fingers on top. I do this for sex, and for gender: I love the feel of buzzed hair under some girl's fingers. Love how it makes me feel boyish. Love how there's still enough for her to grab and pull on the top, in the back. Love the physical sensation of her desire as she pulls on it suddenly, when I do something and she responds, a physical communication between us.
I don't shave my legs or underarms. I like the cultural masculinity of it. I like the surprise and occasional understanding of strangers. I do "manscape," as the kids are calling it these days. Trim where it grows long, sculpt a little. I figure I sculpt and trim the hair on my head, I can do that for other places too. It is for sexual purposes really. And goodness knows there's a lot I'd invest for sexual benefits.
So: I covered options, now let's talk preferences. What kind of hair do you prefer on your butch? Butches & other transmasculine guys, how do you keep your hair? Au naturale? Waxed? Plucked? Is it leftover compulsory hair depletion from your gender-conformist days, or have you examined all your options and made the choice you prefer? Femmes, do you love it / hate it when a butch shaves? When she buzzes her hair or grows it out? When she keeps a mustache?
[ I know there's a ton to say about femme identity and body hair too - let's keep this to butches, for now. Start thinking, though, the femme equivalent discussion is forthcoming. ]
It took a long (loooong) time, but I finally finished writing an article on Gender 101 for Eden Fantasys.
From the beginning I knew I could do it. I knew I had the information in me. But I had such a hard time organizing it, writing it down, figuring out what to omit and what to include. I got carried away. I went off on tangents that lasted for thousands of words, and were ultimately irrelevant. It took a lot of revision, a lot of thinking, a lot of conversations with all sorts of people – my mom and the Muse and Jesse James and Essin' Em and my writing group all come to mind – before I figured out how to really refine my focus.
Problem was, I'm not talking about gender roles or heterosexism. I'm talking about variations within the gender galaxy, about the many, many finer points of gender identity and presentation.
The benefit to the huge struggle it took to get through writing this article is that now I have a much better idea about where to start, what to cover, and how to write gender 101, and I hope to do more of that in the future.
This is how it starts:
What the heck is all this gender stuff about?

Men and women, right? Boys and girls, males and females? But is there more to it than that? How does it work? If we talk about gender, are we talking about "The Gays," like men who are effeminate, women who are masculine?

Why yes, there is that … oh, but there's so much more. I'm here to give you a brief tutorial on what gender is, and provide an introduction to the studies of gender.

- read it all over at Eden, Gender 101
I'd love your feedback, and if you love the article and think Eden should do more things like this, please do let them know. I may write for them again in the future.
I have in the past thought it kind of funny that girls would ask me to tell them what to wear. My feminist/analytical brain would pipe in with interpretations of beauty, insecurity, self-worth – but I really don't see it that way anymore.
I see it as part of the larger conversation of gender as a fetish, as a performance, as a subversive display of sexualized gender presentation. And I see it as a very specific toppy/bottomy play, more specifically butchtop/femmebottom play.
It has also at times made me uncomfortable when girls wear things – or buy things – specifically for my tastes. I do have a couple particular enjoyments when it comes to femme clothes & shoes, and it is quite a gift when girls work to dress up for me.
I'm not sure why it's hard to accept. Possibly because it's hard for me to accept gifts in general, that giving is easier for me than receiving (I am resisting the connection here to my top identity, though I'm sure you already went there). Possibly also it is hard for my desires, and for me, to really be seen, heard, witnessed, acknowledged, because if I never let you know what I really want, you can never withhold it from me.
But my heart is more open than that old wound and lesson, generally. I like to practice revealing myself. I like to practice being vulnerable, I do find great strength and connection there.
And lately, I've had much better language, palette, for my particular desires. This website has helped that tremendously, as has playing with multiple girls over the past two years. I've been actually trying to notice and articulate when I find myself aroused into a state of desire; to be mindful of when my internal butch cock stirs and to ask why, to take note of the answer.
So when a girl asks me what kind of femininity display I like, I try to tell her. I explain – without pressure or expectation – what really does it for me, what gets me going, turns my crank. Underlying this conversation is also both of our acknowledgment that femininity – and indeed masculinity – is performed for the purpose of attracting and turning on your partner/lover/date.
And taking it a step farther by telling her what to wear is a step saying, this is how to turn me on. This is how to drive me wild all night. This is how our clothes are tools for flirting, this is how gender is subtle cues and clues and a language for sexuality.
It is a top/bottom game, if looked at this way, and I see it as very empowering to a bottom (you know, assuming being told what to wear is a game she likes playing, and doesn't feel like it is controlling or patronizing or condescending behavior).
So, where is a bottom's power? At least in these two places: 1) in enticing desire, and 2) to (actively) giving her power over to her top. In enticing desire, she turns on her top to the point of excruciation, to the point of bottomless desire and power. And when she gives over of her power, she places her power on a silver platter and presents it to her lover on her knees.
(This is why power play is deliberate: the bottom gives her power to the top, the top does not take it without permission. Unless, you know, that's part of the scene, in which case there is still some sort of underlying permission, some level of giving freely.)
So: I (as a butch top) tell you (as a femme bottom) what to wear on our date (a short skirt, bare legs, strappy sandals, something white). You give power to me by giving up your own choice in what you wear, by obeying a request of mine (something that always turns me on), and by wearing something enticing that follows an aesthetic I particularly enjoy.
This is perhaps where power and surrender for the top and/or bottom gets blurred. Who has the power here? She does – the bottom – because all night I am uncomfortable and turned on because I got what I wanted, writhing at the sight of her in those lovely clothes, turned on by our gender and power foreplay. And then comes a turning point in the night where I stop feeling so reactive and (have to) surrender to the power she's giving me, to the power and sexual energy I feel building. I give over to it, let it flow through me, let this be a way to tap into my particular well of it.
I love these kinds of power exchanges. I love the push-pull, giving in, giving back, empowering each other to feel sexy, desired, wanted, powerful, beautiful.
[ What I'm really trying to say here is: I have a blind date with a girl who sent me a wonderful photo of her in strappy sandals, and this was my complicated reaction. ]
I still remember the day I had an awakening about my underwear, much like my butch breasts / bras moment a few weeks back, where I found some girly undies in my drawer and wondered why I even owned any like this anymore.
This was years ago, now, and any time I bought new undies, they were always briefs – not "boy briefs" from the girl's section, but men's briefs. And pretty soon I had a whole drawer full of 'em, save a few that were my favorites. But then I discovered those few favorite pairs, back in the back, lacy or silky or whatever they were, and I realized I hadn't worn them in years, and that I couldn't forsee myself wearing them in the future.
So I got rid of them. I haven't missed them once.
These days, I'm a briefs kind of guy. Yes, sometimes it's awkward to be the only girl ("girl") shopping in the men's section, and I do get looks or stares or scoffs from both other male shoppers and the sales people. That used to bother me, but I've come to the realization that I have just as much right as they do to be there, to be shopping there, to buy clothes that I like on my body, and as I've developed more and more comfort in this gender-bending space, I see their responses as their issue, not mine.
I do like boxers, but generally I wear them as pajamas or kick around the house kind of wear, not so much underneath slacks or jeans, I find them too bulky. And perhaps because I'm not particularly thin, the hybrid boxer-briefs aren't really comfortable either, they tend to ride up and I notice them, I tug at them, they itch, they annoy me. And I don't know about you, but really, my main goal for most of my clothing is that, once I put it on, I don't really notice it again. I'm not so into fashion, though, that I want people to notice my clothing – I would rather someone look at me and think, "Hey, Sinclair, you look great today," rather than, "oh wow, Sinclair I love your shirt." KnowutImean?
So, these are some of my favorite briefs that I've found in recent years. Comfortable, cute styles, affordable – briefs I wouldn't mind wearing on a date. I've had a few questions about where I shop for my underthings lately, so here's the rundown.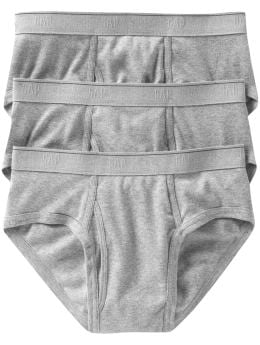 Gap basic briefs
$16 for a 3-pack
White, grey, or black
I don't remember them being this cheap, but that's what the website says – the ones I have are slightly different, grey and white, and I remember them being more in the $12 each range. I like these three-packs, I may have to go pick some up.
Their fabric is very, very soft, that's the best thing about the Gap over other brands.
(Real men wear pink.)
American Apparel Baby Rib Men's Brief
$12 each, 30 colors, XS-XL
Forgive the (cis) boy shot, you know I don't generally do that. But the awesome colors and white lines of the American Apparel briefs make them still some of my very favorites.
Plus, you can get matching tee shirts for pretty much any of the colors that the briefs come in. Once upon a time, I read an article that claimed that these matching briefs-and-tee-shirt combos from AA are pretty much the lingerie of boy wear, meaning that girls kinda go nuts for it.
And I have to say, in my experience? This has pretty much been true.
H&M's men's briefs
Various colors & styles
(photo from andreasmarx on flickr)
H&M is the third store that has my favorite briefs. Unfortunately, they don't have an online store, and they are pretty limited in their stores around the country (I don't think they're on the West Coast at all).
They've got some really excellent patterns, great solids, really cute stuff. The fabric is a bit thinner and feels more synthetic than the other two, but they are still smooth and fit well. They carry a lot of boxer-briefs too, actually many more boxer-briefs than regular briefs, so those of you who dig that style might be particularly fond of this place.
Men's underwear guy has a review of H&M briefs with some decent photos.
So that concludes my brief post (hah) on butch style.
Alright, butches (and other masculine gals) out there: How about you? Boxers or briefs? Where do you buy your undies? Favorite brands or styles?
Femmes (and other folks who date masculine gals), what are your favorite undies to see your boi in? What do you love, what do you hate? What do you always buy your butch for holidays that she never wears? What do you wish she wore? What do you love that she wears?
Seems like I kinda stepped in it with this entire intentional gender thing! Lots of comments and emails about that one.
(Almost as bad as I stepped in it when I suggested something like "I noticed your gender from across the room" as a pickup line. Yes, it sounds ridiculous. But there's just no other way to say that without a) objectifying, and potentially offending or b) assuming a person's gender and potentially offending. Though perhaps that's speaking more to my underlying Issue of not wanting to offend people than it is speaking to getting someone's attention by using gender as a flirtation device. Maybe the more appropriate line for most folks is just, "hey, I think you're hot.")
I think the mention of "unconscious" vs "conscious" gender are more accurate descriptors than "intentional" vs "natural" gender. I've already mentioned this, but: modern gender theory does not believe gender is "natural" at all, it says gender is socially constructed. It can be constructed consciously, or it can be constructed unconsciously.
But there are ways that I can be more conscious about the ways I carry myself. There are ways that I can study and understand how gender works in this highly, highly gendered society, and figure out and choose the ways I operate within it.
So, here's a bit of a story about what that process looked like for me:
I was raised in a very feminist household. The rejection of traditional gender roles was instilled in me from very young, by my mother especially, who didn't take my father's name, never shaves, never wears makeup or dresses or skirts or heels, was primarily the one to mow the lawn and help me with my math homework, etc.
Though this was deep within my family values, I was particularly susceptible to cultural standards as a teenager (I think we all are, and I have some ideas about why I was in particular, but I won't go into that here), and I ended up fairly gender-conformist, nearly married – to a cisgendered guy – for five years. I think I had to prove that for me, the model of grown-up relationships really wouldn't work, that all that society says is actually untrue. Of course, for some people it works just fine to be female-bodied, feminine, and attracted to men – clearly, not so much for me. I think it was precisely because I suspected that this wasn't true that I had to really prove it for myself.
I'm also firmly based in second wave feminism insofar as I believe every person's unique life experience is valid and important. I believe each of us is already an expert on our own gender, our own lives. I believe we all have valuable, thoughtful things to add to the conversation of gender (or sexuality, or relationships) regardless of our supposed credentials or expertise or level of study.
That's the thing about gender – we all have it, we all live in a particularly gendered society, we all have been raised with its influence.
Consciousness-raising groups (in my understanding) started for because there was no formal study of women or the female experience. (I can't really even imagine a culture that assumed that women's experiences were included in the male norm, a culture that had no feminist cannon, such a lack of sources to study and know and experience. Thanks, foremothers, for women studies, for feminist studies, for all the work you did!)
So C-R groups created their own sources, using the experiences of the women in the group themselves, treating each like a text, a source, from which they could learn, from which understanding could arise and blossom and grow.
This is how I see this writing project, this community, and all of you who participate and who engage with me – as part of a large consciousness-raising group, where we are all sharing ideas, resources, and experiences to gain greater understanding of our selves, our communities, and the world as a whole.
This too is where my love for narrative fiction overlaps, where reading someone else's story enhances my understanding of the world, where I feel less separate and more connected and, ultimately, where every story has value, especially the voices to marginalized communities, experiences, bodies, and lives.
So: growing up in a feminist household with rejection of gender roles, then going out into the world and living in a hetero relationship where we were playing out very stereotypical gender roles, then coming out as queer – all this lead me to start studying feminist, queer, and gender theory, seeking out language, concepts, and similar stories to help me explain my own experiences. And within gender theory and studies, I finally found places to get some of my questions – gender roles, gender compulsivity, gender norms, gender within relationships, the intersection of sex & gender – articulated, and then answered.
Such as:
What is gender?
How does it work?
Why are we confined to a binary? Why don't we have three or eight or fifteen genders?
How does the sex/gender binary function?
What purpose does it serve?
Who benefits? Why, how?
How does it get enforced?
How has it changed over the years?
How is it connected with race, class, sexuality, nationality, religion, etc etc?
And once I started getting ideas about how to answer these questions, I started asking more personal questions of myself, and where I fit in to this huge, permeating, practically invisible system of hierarchy, power, and value.
Such as:
How do I feel comfortable?
What makes me feel powerful?
How do I want my hair?
What looks good on my particular body?
What fits with the way I carry myself, how I treat others, how I see myself?
What type of gender am I attracted to?
How does this relate to my sexuality?
I was simultaneously starting to come into my own as butch, partly because of the lesbian initiation process of rejecting femininity and cutting off your hair (which worked for me, though certainly doesn't work for all lesbians who go through this), and partly because I started immediately liking femmes who dated butches and who recognized a sort of masculine 'energy' in me.
Actually claiming the label and identity category of butch was a more difficult quest for me, one I've written about a few times, specifically in terms of masculine posturing and rejecting – as a feminist and lesbian – the things that I see are so problematic with compulsory masculinity in both cisgendered men and in masculine-identified women. (More on that another time.)
Regardless of my questions and hesitations about butch/femme roles and labels, the process was definitely underway. And as it has unfolded deeper and deeper, in more and more aspects of my life, I have found such a home in it, in ways that have been seriously transformative to the ways that I operate in the world.
The basic feminist principles of inherent equality, the wide range of human experience, and celebrating the self as it is are applicable to many, many aspects of gender exploration. But I've found that these principles aren't quite so active in most of the lesbian communities. Yes, there are people doing this work, but we are not the majority – compulsory gender in lesbian communities is usually a sort of gender rejection, an androgyny.
And that works for many people – which is excellent! I will always say you should go with what feels good to you, what makes you feel sexy, powerful, beautiful. For many of us, it is not androgyny that makes us feel good about ourselves, it's another type of gender expression. There's a huge gender galaxy out there, a huge range of expression and celebration, and so much to play with.
I don't pretend that I have all the answers to questions or issues on gender. I have concepts, ideas, and resources, and I have reached some understandings, about both the world and system at large (macro) and my own personal place within it (micro).
I also don't think my answers will necessarily be your answers.
I encourage you to find your own answers. To ask these questions, to decide consciously where you want to be within this pervasive system.
There have been many of you who have emailed me or commented about my recent writings about conscious vs unconscious gender, and here's the part where I start to actually take an opinion on this: I think it's very important to discover, stumble upon, find, or create a conscious gender. Doesn't matter how you come to it, really, but it does matter to me that we do.
What that conscious gender might look like, of course, is highly varied – perhaps all it'll take is a moment's consideration, and a recognition that yeah, I'm where I want to be, that's enough for me. Maybe it'll take years of deep exploration and personal omphaloskepsis and meditation and therapy. Maybe it'll take reading lots of books about the subject, or lots of blogs. Maybe not.
I don't pretend to know what that process looks like for everybody, all I know is how it looks for me – and how important it has been for me to go through that process, which is, obviously, why I am encouraging it in others.
Look, I know not everybody has the interest in this that I do. And I don't think everyone needs to start a blog (that becomes their part-time job) and dedicate a big portion of your free time to studying how gender works and what it means to you personally, but I really do think we would begin to move forward if we have some small moments of awareness about gender, about compulsive behavior and categories, about discriminating against butches or femmes or trans folks or androgyny.
When we understand (at least a little) how the system works so that we can begin to see how we fit inside it, and we can be empowered to make the choices that are in our own best interests, rather than in the best interests of those for whom this system is designed to benefit.
But it's not just that. It's also because when everybody does better, then everybody does better. It's also because sometimes I'm lonely out here doing gendered work with a small handful of community. It's also because, though some small circles of consciousness-raising activists are happening, most gender is still compulsory and not letting up anytime soon. It's because this binary compulsory gendered system hurts us. It's because trans and gay kids are getting beat up and murdered. It's because boys who wear dresses are shamed. It's because tomboys who want to run around shirtless are shamed. It's because women are not safe walking alone on the streets of Manhattan at night. It's because I am not safe walking alone on the streets of Manhattan at night. And we should be able to be safe, I want us to be safe, all of us.
And plus? Underneath some of the hard work here, it's really fun. It's dress-up, it's activism, it's subversion, it's sexy. It's a deep celebration of you, of me, of our interaction with the world, and with each other.
I did not ever mean to attempt that there is some hierarchy in having an "intentional gender" verses a "natural gender." Actually, I'm kind of mad that anything I wrote even sparked those two differentiating terms, I really don't like that distinction.
Contemporary gender theory says that there is no such a thing as "natural" gender, that all gender is a performance of some sort of impression of what gender is, of what physical cues for mating, attraction, sex, and physical communication between people.
Some people spend time studying gender, some do not. One of these things is not better than the other. I am not better because I study gender than someone who does not. It's just something that I do, something others do not do.
I find it to be a fascinating, near endless, relevant, and insightful pursuit. But others may disagree with me – others, still, say that flyfishing, or American football, or taxidermy, are fascinating, near endless, relevant, and insightful pursuits; I don't necessarily find that any of those things resonate with me, so I don't study them.
But in choosing a romantic partner, a sex partner, a (dare I say it) girlfriend, I have some requirements. Yes, I know my standards are probably ridiculously high. But what can I say; I haven't been single all that long (Callie & I broke up just over a year ago – it continues to feel like it's been five years, three years, two years at least!), and I am not in any hurry to get heavily involved (read: monogamous) with someone. One of the requirements that I have – at this point – is that someone I date have things to add about all of this gender stuff that I kick around on a near-daily basis. I'd like those conversations to be collaborative, or at least complimentary. A slow building of an understanding of how this specific language of physical codes and symbols works.
I'm going to say it again, here, just in case it wasn't clear enough: there's nothing wrong with not being "intentional" with one's gender.
I mentioned Penny's lack of intentional gender not with judgment but thinking that this is something that I require in my relationships, and that perhaps it is not an interest she wishes to spend her time on and explore. We are both interested in sex, my interest and expertise is gender, and her interest and expertise is in relationships (she wants to go into couple's counseling). Actually, I probably know about as much about relationships as she does about gender – I know quite a bit, in some ways, I've read many books, I've taken classes, I'm even familiar with much of the psychological theory, but it's less my field of focus. Ditto to her and gender. She's read the books, taken the classes. But it's not necessarily a tool she uses to see the world on a daily basis.
As a small footnote, I had that difficult conversation with her on Friday, and we spent a lovely weekend together. We talked openly, things deepened, we got closer. I was half-expecting things to end, but instead, they got much better.
I'm working on writing up some sex stories from the weekend. I'm increasingly impressed with Penny's kink, eager exploration, drive, and sexy fucken mouth … as a friend of mine said tonight, not only is she keeping up with me, she's giving me a run for my money.
I've returned to earth – mostly – from the altered state of consciousness of the Power, Surrender, & Intimacy workshop by Body Electric that happened here in New York City over the weekend. I have so very much to say about it, but that'll have to wait for now, I need more time.
What I do want to write about is breasts. Specifically, mine – more generally, butch breasts.
Last week, I went for one day without my binder, which is really just a tight sports bra that clasps in the back rather than being a solid over-the-head slip-on. I wanted it laundered for the workshop, since I've been wearing it practically every day since I bought it.
I wore a backup bra that day, and all day long I didn't recognize myself in the mirror, in storefront reflections, in my button-down work clothes, or when I looked down. I remembered how I used to hate the uniboob problem, which many of my friends and lovers deemed unsexy or mannish, and it's not that I like the uniboob look particularly, but as my gender has changed and grown and dropped into itself, the uniboob doesn't look like a uniboob anymore: it looks like a chest.
It is not that I want to do away with my breasts. Don't misunderstand me here: I think breasts are butch, just as I think the menstrual cycle is butch and pregnancy is butch and cunnilingus is butch – everything the female body does can be butch, because butch (in my use of the word*) has to do with masculinity on a female body.
And because I believe that the things a female body does are butch, and because my gender philosophies are deeply rooted in love and acceptance of my body as it is and in not classifying human experiences as owned by one gender or another, I have been holding back my desire to delve farther into my own masculinity. I'm afraid of it. I'm afraid it means I'll be leaving my roots in female-ness behind, I'm afraid of being seen as reproducing the heteronormative paradigm or embodying penis envy. I'm afraid of being rejected by feminist and lesbian communities for being too masculine, for becoming the 'enemy,' for rejecting femininity instead of reclaiming it.
Breasts are a big piece of this fear for me. Mine are not so small – part of why I rarely pass: a 36DD, and have been since middle school. I've said since I was a teenager that a breast reduction is the only surgery I would consider. I read about Jess's surgery – or others' surgeries and body alterations – and I'm jealous.
But I'm afraid of what it means to want that alteration, to want to physically change my body to better fit a gendered idea.
After that day last week of wearing a regular bra, I started wondering: why do I even have this in my closet anymore? Why do I own this? My exploration of my own masculine/butch/boy/male embodiment is young – I've been calling myself butch since 2001, but only in the last three years have I really embraced it and actively, consciously developed it. And now, the farther I get into my explorations of gender, the farther I want to go.
It takes time to cycle through a wardrobe, and I don't quite have the disposable income to go purchase all new bras – but I certainly won't be buying any regular ones anytime soon. I've gone through this with my underwear already, years ago now, have cycled through all the old girl undies and haven't owned any of those in years, only have boxers and briefs now. But that feels less obvious than binders and sports bras – no one can tell I wear only briefs except my lovers, I guess, but everyone can tell I bind my chest.
And see, what's what it is now: my chest. Very different than boobs, breasts, tits. I have those, sure, but they're underneath, they're the other layer, the inner ring, something that now gets protected and covered, not out of shame or denial but simply out of layering, complexities, performance, a rich inner life, a duality, a whole person – me.
* Some say men can be butch, that "butch" is a term for a queer masculinity, or a non-traditional, progressive masculinity. I'm not certain I agree, but we definitely lack language to discuss different types of masculinity, and I have definitely observed some men who have a sense of butch energy.
I haven't been posting much of substance here since the heated discussion On Misperceiving Someone as Femme or Butch and the follow up post. This lack of posts has been intentional. I've been frustrated, dissuaded.
I feel like every time I attempt to go a little farther, get a little deeper into the nuances of these discussions on gender identities and gender self-labeling, I get pulled back to square one by a barrage of emails and comments saying, "But wait! I'm offended! What about this other thing? What about people who don't identify? What about me? What about my expeirence?"
And I want to have individual communications with everybody, to go into each detail of what they're asking and what I'm saying, to break down the moments where I'm being misperceived, to communicate in open discussions about these fascinating issues from various perspectives.
But I can't – mostly, I just don't have time.
This is one of the challenges of a blog format of writing, actually: it's not linear, it's not one chapter building on another, it is be more of a jump-in-anytime type of format. Unfortunately, with a subject as completely personal, as totally misperceived, as dangerously controversial, and as heated as gender identity in lesbian communities, it's very difficult to jump right in without adequate explanation as to where I am coming from in my philosophies and explorations.
I'm working on an Official Disclaimer for my discussions of gender, to put some foundations in place to which I will point. There's so much I want to say about it, and I barely even know where to start. I have began to write this post about why that discussion frustrated me ten times, and I still get overwhelmed and my head gets chaotic when I begin to sit down to write it.
Right now, I want to make a few things in particular abundantly clear:
I do not seek to encourage others to identify as butch or femme. It is not my intention to impose butch/femme gender identities on anyone else, ever.
I seek to break down what it means to be "butch" or "femme." I seek to apply the deconstruction of feminist methods of sexism, gender roles, and gender restrictions to lesbian gender identities, such as "butch" and "femme."
I seek to broaden our ranges of experiences, with the underlying goal of encouraging people to be more comfortable in themselves, to come more fully alive, Yes, it's a lofty goal. But I aim for it, and no less.
If it ever seems otherwise, if it seems like I am saying that someone should identify as butch/femme, or that it's not okay to reject gender roles and identities, or anything along the lines of gender policing or gender enforcing or gender proselytizing, please do ask me about it. I will clarify, as well as I can.
But please keep in mind that I never operate from that space. Please consider giving me the benefit of the doubt, and come from a place of kindness – and perhaps not defensiveness – when you ask me to clarify things I've written.
The very foundation of my beliefs about gender is that our binary compulsive gender system is limiting to our full range of human experiences. I believe we should self-identify, should dress and act how we wish, how we most feel like ourselves, how we are most comfortable and most celebrated.
Period. Always.
And, of course, all of these writings are my own personal experiences, observations, and studies of butch/femme and variations of gender expression. It was a long hard road through the gender police checkpoints to get where I am now; I learned a lot about myself, about queer theory, postmodern theory, and feminist theory on the way to where I'm at, and I seek to share my stories in hopes that they can be helpful.
Crossdressing: Erotic Stories
Edited by Rachel Kramer Bussel
"Some people might call this a fantasy, but it's my deepest truth." – from "Temporary" by Tulsa Brown
Cleis is famous for their smart, sexy smut, and Rachel Kramer Bussel's pansexual anthologies are quickly becoming a huge part of not only my personal smut library, but also most smut collections at bookstores – the girl is constantly producing anthologies full of interesting, new, and complicated stories that turn the reader on – sure, of course they do that, and damn, do they do that – but they do more than that: they're edgy, intellecutal, and affirming.
Crossdressing is one of those anthologies.
It's no secret that I have a bit of a gender fetish. I find the polarized categories of male-and-female fascinating, and I find it all the more enthralling and interesting to adopt the roles for sexual play.
The stories in this book do just that, in more ways than I could've imagined: a gold-star dyke wondering what it'd be like to be with a man, so her girlfriend surprises her in drag with a realistic cock packed underneath slender slacks. A girl who dresses her boyfriend up in drag, shaving his legs and sharing her clothes. A butch in a vintage evening-gown shop, who strikes a deal with the owner for a beautiful Marlene Deitrich tuxedo and eagerly shows it off on the town. A trans woman performer who ends up in the arms of a macho kitchen worker after a night of singing. A man at a business meeting secretly running the show by the power of his silky bra and panties underneath.
If you pick up this book strictly for stories to get you off, it might not quite be what you expect – specifically because of the pansexual array. Most folks I know don't get turned on by just any depiction of gender or crossdressing, for example, and your particular orientation might get in the way of you enjoying many of these stories – I, for example, am not so turned on by the stories of male crossdressing, girls dressing up their boyfriends in drag, etc. But I loved reading those stories anyway, from a gender perspective.
Reading through these stories makes me think about my own experiences with crossdressing, though I don't call it that – I call it part of my gender identity. It's a wide range, of experiences and orentations and gender expression, and it's interesting to read some other ways that people play with gender, play with costuming and clothing and all sorts of ways of expression.
Gender play is still unusual, and can be deeply empowering, and deeply threatening to those who don't understand it. Violence against trans folks often comes under the guise of the "deception" of someone's "real" gender, and violence against queers.
But, at it's core, gender experimentation and presentation is all about connecting with and displaying aspects of our selves which are deeply personal and very real – it's about being able to display a more accurate sense of self, a more comfortable way of moving through the world.
And we all want to be able to do that, right?
Maybe it sounds idealistic, but anthologies like Crossdressing actually make us genderqueer folks feel connected, and a little less alone. The complicated gender discussions are clearly part of the smut, of course – but they are also hidden under the guise of simply turning-you-on or getting-you-off, which, I hope, will prompt all the more folks to pick up this book, and perhaps widen their range of understanding about dressing up and playing with gender, in all sorts of ways.