Posts Tagged 'erotica'
And it's going to be delicious. I can tell already. Mark your calendars! And see the whole schedule over on queerliterarycarnival.com.
Sideshow: The Queer Literary Carnival
Hosted by Cheryl B. & Sinclair Sexsmith
August 10 @ The Phoenix, 447 East 13th Street @ Avenue A
East Village, New York City
Doors, 7:30pm. Reading, 8pm.
Free!
@sideshowseries
August's theme is HEAT WAVE EROTICA, starring:
Tamiko Beyer (Drunken Boat)
Rachel Kramer Bussel (In The Flesh)
Mildred Dred Gerestant (OUTMusic Spirit Award)
Kit Yan (Mr. Transman 2010)
About the performers … Read More
Thanks to Cleis Press and Lambda Literary Foundation, I ended up with two copies of Lesbian Cowboys: Erotic Adventures by Sacchi Green and Rakelle Valencia. My overabundance is your gain, however, so let's have a giveaway.
Take a look at my review of Lesbian Cowboys if you'd like to see the kind of thing you might expect in this book of erotica … it's good. Quite good really. Definitely a lot of role play, a lot of gender play, a lot of hot sexy smut based in other time periods. Really worth reading.
To win: leave a comment on this post with your favorite role play scenario, or one thing that's hot about cowboys (the dyke kind, or another kind, whatever), or the last time you went out west, or something else entirely.
If you're out of the United States, I may ask you to send me a few bucks for shipping if it's way expensive to mail it to you. Otherwise, it'll be on my dime.
I'll close the comments on Friday to give everyone a chance to chime in. Just make sure you leave a valid email address where I can contact you!
"'Cowboy' is a calling, a vocation, not a gender," starts the book Lesbian Cowboys: Erotic Adventures by Sacchi Green and Rakelle Valencia, published by Cleis Press. And the first review of it I saw online (which now of course I can't find) said, "This book has nothing to do with gender."
But of course, I have to disagree. It has everything to do with gender.
I know what they both mean, though—they mean men and women, they mean cowboy does not necessarily mean a cisgender man. But this collection of erotica is full of genderqueer cowboys, dykes, crossdressers, even possibly a trans guy, though the characters in these stories never identify themselves as such, partly because some of the stories are period and set in a time when this language didn't exist. Possibly also because the authors, or even the characters themselves, do not have this kind of language.
None of the stories came across as particularly smart about gender theory or politics or identity, but all of them have specific life experience of what it's like to be different, masculine and a "woman" in a man's world and a man's profession, or feminine and a woman in a man's profession. There are femmes and butches, women who pass and those who don't want to, women who feel the need to prove themselves capable despite their gender, trans male characters who go by he and him as his chosen pronoun, even a leather "phallus" strap-on in a scene in a brothel.
I am quite fond of "The Hired Hand" by Delilah Devlin, which is sexy and tense, about a woman who comes looking for work at a ranch and proves she is just as capable as any man would be. In many of the stories, I like the tough American accents, vaguely southern but also just western, I like the descriptions of the landscapes and rodeo circuits, the mountains and connection to the land.
It's a lovely collection, and if you like gender play (and butches or masculine women) in general, there aren't a lot of lesbian erotica collections exploring those dynamics, and this is definitely one of them.
And, as an exciting side note, this collection won the 2010 Lambda Literary Award in the Lesbian Erotica category!
Pick up Lesbian Cowboys: Erotic Adventures by Sacchi Green and Rakelle Valencia directly through Cleis Press, the publisher, or through your local independent bookstore.
Thanks to Cleis Press and Tristan Taormino, I've got TWO copies of the lovely new erotica anthology called Sometimes She Lets Me: Best Butch Femme Erotica edited by Tristan Taormino (in which I have a short story). More details about the book when I mentioned it a few weeks ago here.
Shall I mail you a copy of it? Just comment on this post and let me know what your favorite written erotica anthology is, or your favorite erotica writer, or that one erotica story that you always get out when you want to get your blood going. Bonus points if you describe what it is you love about the story. Or comment that you've never read erotica, or that you kind of hate it … or something else entirely, the point is just that you comment. I'll pick two comments at random and notify you by email.
If you're outside of the US, that's fine, but I might ask you to kick me a few bucks for shipping. You just have to include a valid email address to enter.
Winners will be picked Friday morning, March 26th.
May 29, 2009 |
dirty stories
| Enter your password to view comments.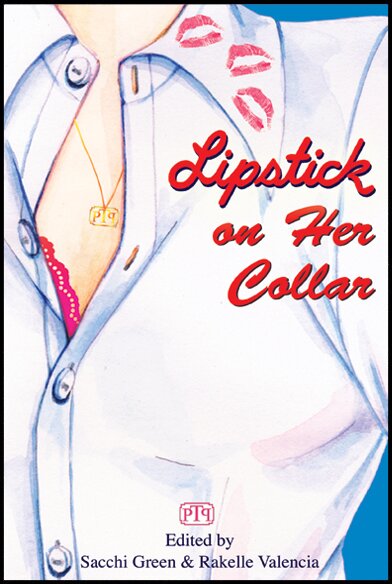 The most recent Pretty Things Press anthology called Lipstick on Her Collar and Other Tales of Lesbian Lust
landed on my desk recently, and I took my time reading through it.
I love lesbian erotica books … I think for many queer women, it's one of the first places where we begin to access the languages of lesbian desire and sexuality, and as such they can be very powerful, transformative books, not just jerk-off material but also an introduction to entirely new concepts and ideas. I'll never forget some of the early books that did that for me, like Breathless: Erotica
by Kitty Tsui and Best Lesbian Erotica 1998
, which became roadmaps and secret-tellers.
I'm a bit picky about my erotica these days, though. There's more and more of it out there, and what turns me on is butchtop/femmebottom aligned writings, fairly exclusively. I can read through other anthologies and appreciate the writing, the characterization, the plot lines (no, seriously!), but I don't tend to find myself putting the book down to go jack off.
This book, though, has an impressive number of butch/femme scenes. This is partially because, I imagine, the anthology includes "lipstick" in its very title, thereby encouraging more of the gendered play than many lesbian erotica anthologies usually include.
Three, in particular, stand out: Kingdom Cum by Scarlett French, about a femme seducing a drag king after a drag show; Femme Princess by Ellen Tevault, about a femme in a bed death relationship who answers a butch's personal ad and reawakens her sexual desire, seeming to uncover her own gender fetish at the same time; and Now and Then by Barrett Bonden, about a butch's return to her long-term femme lover, which ranges from quite smutty and dirty (especially in the dialogue – "Get up on the bed, slut. Hands and knees, ass in the air.") to very sweet and long-term lesbionic.
Don't get me wrong, the whole book is not butch/femme oriented stories. But there are a few great ones, as well as some femme-femme scenes, a decent story dealing with body ability where one of the characters is in a wheelchair (its inclusion made me realize how very little body-ability diversity there is in these types of anthologies, in general), some strangers, some long-term lovers, and a couple of my favorite lesbian authors, including Skian McGuire and Rachel Kramer Bussel.
It seems Alison Tyler is doing some great books with Pretty Things Press, and I'm glad to see a lesbian anthology with more gender included in their catalog.
Post No Bills tagged me. I'm not a big fan of these, but I think she's rad so I'm playing along. Except, I'm going to post 5 instead of 8.Here's the rules.
1. We have to post these rules before we give you the facts.
2. Players start with eight random facts/habits about themselves.
3. People who are tagged need to write their own blog about their eight things and post these rules.
4. At the end of your blog, you need to choose eight people to get tagged and list their names.
5. Don't forget to leave them a comment telling them they're tagged, and to read your blog.
Five Random Facts/Habits About MeLet's keep it interesting & make them sex/relationship/gender facts, shall we?
1. I wasn't really the tomboy type growing up, as I hear is a common narrative for butches. Growing up in a small town in Alaska, though, the gender spectrum is quite different than the urban or suburban or farm spectrum, dictated by the natural environment more than by gender roles
2. I identified as bisexual in high school, but didn't come out & start seriously dating/fucking women until I was 20. I won't rule out dating (or fucking) a man sometime in the future, but he'd have to be quite spectacular in order to get my interest, and phenomenal in order to keep it …
3. The first girl I slept with had the same birthday as me, which is partly how we met. Two of my major loves have also been Aries girls, born within a week of me. All three were born in different years than I was (which was 1979, making me 28)
4. My erotica has, so far, been published in four book anthologies and one (erotic) literary magazine
5. I have slept with eleven people. Hence the "aspiring" part. Let's see if I can't at least hit fifteen by the end of the year, shall we?