Posts Tagged 'butch'
I still remember the day I had an awakening about my underwear, much like my butch breasts / bras moment a few weeks back, where I found some girly undies in my drawer and wondered why I even owned any like this anymore.
This was years ago, now, and any time I bought new undies, they were always briefs – not "boy briefs" from the girl's section, but men's briefs. And pretty soon I had a whole drawer full of 'em, save a few that were my favorites. But then I discovered those few favorite pairs, back in the back, lacy or silky or whatever they were, and I realized I hadn't worn them in years, and that I couldn't forsee myself wearing them in the future.
So I got rid of them. I haven't missed them once.
These days, I'm a briefs kind of guy. Yes, sometimes it's awkward to be the only girl ("girl") shopping in the men's section, and I do get looks or stares or scoffs from both other male shoppers and the sales people. That used to bother me, but I've come to the realization that I have just as much right as they do to be there, to be shopping there, to buy clothes that I like on my body, and as I've developed more and more comfort in this gender-bending space, I see their responses as their issue, not mine.
I do like boxers, but generally I wear them as pajamas or kick around the house kind of wear, not so much underneath slacks or jeans, I find them too bulky. And perhaps because I'm not particularly thin, the hybrid boxer-briefs aren't really comfortable either, they tend to ride up and I notice them, I tug at them, they itch, they annoy me. And I don't know about you, but really, my main goal for most of my clothing is that, once I put it on, I don't really notice it again. I'm not so into fashion, though, that I want people to notice my clothing – I would rather someone look at me and think, "Hey, Sinclair, you look great today," rather than, "oh wow, Sinclair I love your shirt." KnowutImean?
So, these are some of my favorite briefs that I've found in recent years. Comfortable, cute styles, affordable – briefs I wouldn't mind wearing on a date. I've had a few questions about where I shop for my underthings lately, so here's the rundown.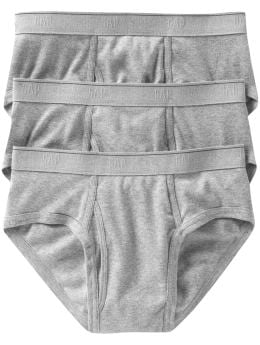 Gap basic briefs
$16 for a 3-pack
White, grey, or black
I don't remember them being this cheap, but that's what the website says – the ones I have are slightly different, grey and white, and I remember them being more in the $12 each range. I like these three-packs, I may have to go pick some up.
Their fabric is very, very soft, that's the best thing about the Gap over other brands.
(Real men wear pink.)
American Apparel Baby Rib Men's Brief
$12 each, 30 colors, XS-XL
Forgive the (cis) boy shot, you know I don't generally do that. But the awesome colors and white lines of the American Apparel briefs make them still some of my very favorites.
Plus, you can get matching tee shirts for pretty much any of the colors that the briefs come in. Once upon a time, I read an article that claimed that these matching briefs-and-tee-shirt combos from AA are pretty much the lingerie of boy wear, meaning that girls kinda go nuts for it.
And I have to say, in my experience? This has pretty much been true.
H&M's men's briefs
Various colors & styles
(photo from andreasmarx on flickr)
H&M is the third store that has my favorite briefs. Unfortunately, they don't have an online store, and they are pretty limited in their stores around the country (I don't think they're on the West Coast at all).
They've got some really excellent patterns, great solids, really cute stuff. The fabric is a bit thinner and feels more synthetic than the other two, but they are still smooth and fit well. They carry a lot of boxer-briefs too, actually many more boxer-briefs than regular briefs, so those of you who dig that style might be particularly fond of this place.
Men's underwear guy has a review of H&M briefs with some decent photos.
So that concludes my brief post (hah) on butch style.
Alright, butches (and other masculine gals) out there: How about you? Boxers or briefs? Where do you buy your undies? Favorite brands or styles?
Femmes (and other folks who date masculine gals), what are your favorite undies to see your boi in? What do you love, what do you hate? What do you always buy your butch for holidays that she never wears? What do you wish she wore? What do you love that she wears?
Ginny from Liverpool, UK writes,
"Sent to brighten my day at work.
But the only one of the photos that was 'work safe.'"
"This lovely buxa – Chicana butch – is E-lo.
She loves to make art, listen to cumbias and norteñas,
and to play butch/femme dress up with me! She's oh soo yummy!"
- from Laura, who also sent in the Womyn in Construction eye candy

The Sugar Butch in the photo is Azaan Kamau – the author and publisher of
In The Midst of My Blackness. Azaan loves jet skiing, writing, boating,
taking photos, and fighting for LGBT Rights! (Photo Credit: Azaan Kamau)
My hot papi Jess of HouseofJero.com. She's bringin' butchly back. – Tina
Tina sent me three shots of her partner Jess because, she said, she couldn't just choose one. It was tough! This one is so smooth. I actually met these two at Curly McDimple's queer blogger weenie roast last summer (and there will be another one!), and I gotta say, they're really sweet together. Tina's quite the eye candy herself. 
And, uh, didja notice that headboard? Looks very … functional.    

"This is my fiancé Lauren. She is the sweetest piece of boy I've ever had.
And the best friend, too." – Desaray
The opening reception for Pink& Bent: Art of Queer Women is tomorrow night here in New York City. One of the contributing photographers, Sophia Wallce, sent me a few of the shots that will be in her show. I love them all, but this one might be my favorite – the colors in the background are so stunning.
I first saw Sophia's work because of her project called Bois and Dykes, which has some beautiful photographs of female masculinity shot in New York City. It was fascinating to look through this project of hers; the photos are just so familiar. She even shot my weekly happy hour watering hole and the barber I see about twice a month.
Here's the information about the exhibit.
Pink& Bent: Art of Queer Women
Curatated by Pilar Gallego & Cora Lambert
Leslie/Lohman Gay Art Foundation presents
Pink & Bent, an exhibition of international artwork by queer women.
Exhibit runs May 21-June 28th
The Leslie/Lohman Gallery
26 Wooster Street
New York, NY 10013
(between Canal & Grand-closer to Grand)
Hours: 12-6pm, Tues-Sat, closed Sat-Sun
Tel. 212-431-2609
Opening reception: Tuesday, May 20, 6-8pm
Panel discussion: Thursday, May 29, 6:30-8pm
Women in the Arts Speak Out
$7 suggested donation at the door
"This is me (with the glasses) and my girlfriend K.
drinking extra dirty martinis at Dances of Vice in New York City." – Mirabai
A couple heated comments about my last post already, and I want to make a couple things clearer.
First:
I believe it is absolutely okay to not identify with the labels of butch or femme – or any label, for that matter. I think identity categories should be chosen by ourselves, not by others, and if a label is not chosen, it should not ever be imposed.
Period.
(Sometimes I feel like that should be written at the top and bottom of every post, just to make it clear. I want to write it in all caps, in bold, in italics, underlined: I support your identity, whatever it may be, even if it isn't mine. And I also expect you to support mine.)
Also:
I'm not trying to say that, when someone is called butch or femme and does not identify that way, that that is not a misperception of your own personal identity – of course it is. That's why the post was called "on misperceiving someone."
It is insulting and difficult to be misperceived, to be misrepresented. As Daisy put it: "the person saying that doesn't understand me, and like I've failed at gender expression." I totally understand that – I hate being misperceived (as Daisy also points out, I said it bugs me when people told me "you're not really butch"), but ultimately, that too is about the other person, not about my own identity. And just because one person misperceives me does not mean that I am not butch, if that is what I am choosing to call myself.
This clarification is important to me because I see many, many folks around me, many readers of this site, many of my friends, who tell me that they deeply want to identify as butch or femme, but are holding back for whatever reasons. Are suspicious of the identities, and are making their way down those paths of understanding how it will play out for them, in their own unique ways. I want to encourage that, when I can, share my knowledge of this identity process, and make it easier for someone else.
Now, on a related sidenote – being misperceived as butch or femme, or as not butch or not femme, is about the social policing of gender. The ways we, as a society and culture, enforce standards of gender on each other, on our friends and communities and lovers and strangers.
Miss Molly commented: "As much as we'd like to say there aren't different rules in the queer community for butches and femmes, there are many of the double standards that exist for straight men and women." Sure – there are standards out there, but they're the same perceived cultural standards that enforce heterosexism and homophobia.
What I find most interesting here is who is doing the enforcing of these double standards. For example, I was in my favorite dyke watering hole not long ago and ordered a vodka cranberry with my usual bartender (who, at this point, calls me "dude" affectionately and shakes my hand when I walk in), and she actually leaned in close to me and said, "Are you sure? That's awfully … sweet, you know."
I cringed. Yes, I usually order beer and whiskey. Yes, the drink I ordered was "girly," and my gender was insulted there, underneath that comment. But: this is about her, not about me. As I joke, sometimes: "I'm man enough to wear pink" – I'm also man enough (ahem, "man" enough, I should say) to order a cosmo or a midori sour or a vanilla vodka cranberry with a cherry if I want one. Yes, I know it's a sweet drink. I'm aware of what I ordered, and I wouldn't have ordered the drink if I didn't want it.
Ultimately, that comment was about the bartender, and her ideas about how gender framework operates, not about me or how I operate. It is not her – or anyone's – responsibility to police what they perceive to be my gender performance, and I'm at a point in my gender process and identity won't let anyone else do it for me.
My point about that is this: Who is it that is making these "double standards?" Who enforces them? I read all sorts of things from all sorts of personal online diaries, articles, personal ads, queer media, books, gay culture – and everywhere I hear the same stories about butch and femme: those who don't identify with butch and femme feel like they are being pushed to do so, and those who do feel like outcasts, like gender freaks who don't fit in.
That's a little heartbreaking to me, every time I get my Google alert with gender keywords in my inbox: yet another email full of "Femme women are noticeably less deviant and have a socially acceptable appearance," and "a rigid and artificial dichotomy of male/butch/top/dominant and female/femme/bottom/submissive" and "the idea of 'butch' and 'femme' is as frakked up as Albuquerque driving" and "all butches want to become men" and "I'm butch I suppose, but I'm no guy" and "all that boy/girl butch/femme crap – it's not real!"
All over the lesbian/queer/dyke communities – my communities – I see people railing against this, from many perspectives. All I'm trying to do here is share my own stories and my own perceptions, illuminate the process a little bit, discuss it, open it up
I want to also echo Lady Brett's comment: "If it does piss you off, it's probably a matter of misperception. So, please, tell me. Give me the chance to fix it before you get offended."
Yes. Please do tell me if I misperceive your identity. Tell anybody, when they misperceive any sort of identity of yours, not just in your gender identity. I'm not trying to blow off the misperception and to encourage you to just let them go on thinking you're butch/femme/whatever – it is insulting! and, ultimately, inaccurate. Which makes us not feel seen, not feel acknowledged, not feel validated.
What I'm really getting at with that last post is the times when someone is misperceived, really in any way, and they are deeply insulted by it. There's more to it than just "you don't see me as I really am" – there's this big set of implications because of those loaded words.
But again, I want to stress, I really believe that any misperception and insult is about the other person, not about me or my identity – and I do believe this goes both ways, being perceived as butch or not butch or femme or not femme or foreign or local or a hippie or a punk or bi or trans or anything that we don't actually identify as.
Maybe I'm getting too Buddhist in my philosophies here. I was just reading Be the Person You Want to Find by Cheri Huber, and I'm feeling those philosophies seeping into my opinions on these subjects.
Identity categories are so personal, so intimate – and the theory around them is so slippery! I mean, if anyone can identify as anything, if social policing means nothing, then what is the real meaning of an identity label? Some theorists would say, ultimately, it's all basically meaningless. I can get there, can understand those arguments – but I also know what it feels like to be inside of these identity categories, and to know precisely how it works for me, how it's given me a beautiful structure in which to tinker and fuck around and play.
These topics are really difficult, and anytime I post something that gets heated and emotional, I always take the comments very seriously, and consider my points even harder. I am not claiming to speak for everyone here – man, that is one of the best things about blogs, is immediate discussion and feedback and comments like this. I'm only speaking from my own perspective about my own experience, with hopes that it occasionally is helpful to others. Speaking of the round-bellied-guy, I want to echo a quote from the Buddha that I've got hanging on my fridge, and was reminded of this week:
Believe nothing, no matter where you read it, or who said it, no matter if I have said it, unless it agrees with your own reason and your own common sense.
I often have conversations with folks who say that they have been perceived femme or butch, and they really don't like it. That tweaks me a bit, for various reasons, not the least of which is that I spent years flat out telling people, "I identify as butch," and I would still get the response, "oh, you're not that butch," or "you're not really butch."
These identities are deeply socially constructed and policed, on all sides – those of us who do claim them, those of us who don't. They're loaded, complex, and largely misperceived.
Calling someone femme or butch is not necessarily intended to be insulting – sometimes, it is meant with much love and praise. But if you don't identify as such, it can feel insulting, regardless of the intention.
This happened again recently, and it got me thinking: here's why it doesn't have to feel insulting, regardless of the intention.
1. This is about them, not you
Maybe you don't identify as "femme" or "butch" at all, maybe you see those labels as confining to who you are and how you want to express yourself. Great! Good for you. Celebrate your whole self, in any way you like, you betcha.
[Hopefully you simultaneously realize that it's possible for others to find liberation and freedom inside of those categories, too, and that you don't force your philosophy of rejecting gender identities onto others. But that still never means that you have to work within that framework.]
This other person calling you these things may simply be working within the framework where they see everyone on the feminine side of the gender galaxy as femme, and everyone on the masculine side as butch.
But ultimately that is not about you – that's about their framework. That doesn't make your framework wrong, and that doesn't make your perspective, presentation, or philosophies any less valid.
This is about them, and their worldview, not about you and yours.
2. Misconception of the terms
My gender-activisty self gets my boxers in a twist, because being called femme or butch is NOT AN INSULT.
These words are loaded – I get that. And sometimes, it can actually be intended as an insult – but we don't have to take it that way.
But think about what we perceive someone else to be implying when they call us butch or femme. Where is that coming from? Who is filling that in?
It's like someone calling you a dyke or a fag or a queer. The person slinging the insult could mean deviant, sinner, immoral, freak, but those of us who have reclaimed these words can look beyond that to laugh it off and say, "yep, that's me. Gotta problem with that?" (Clearly, they do have a problem with that. But that's not your problem, it's theirs.)
Same with butch and femme: these words have deeper, personal meaning to some people, and it's possible to take the time to go inside of the words and figure out what they hold, figure out their power and their detriments. If we knew more about the way these words worked from the inside, perhaps we would get to a place when calling someone – who doesn't identify as one of these terms (more on that in a second) – femme or butch doesn't make us bristle and cringe.
Because it doesn't have to.
Here's my basic thoughts on what we think it means when someone calls us femme or butch:
a) Femme does not mean whiny, controlling, manipulative, vulnerable, stupid, weak. Butch does not mean insensitive, thick-headed, macho, violent, emotionally stunted, controlling. Those are sexist misconceptions, and we don't have to use those categories that way.
b) Just because you look one way one day, doesn't mean you can't look a different way another day. Gender is fluid, identity categories are fluid. Unless you're chosing to identify as one of these categories, no one else can put you into these categories for you.
So, maybe this person calling you "femme" actually does mean that they think you're weak, controlling, etc – well, then, so what? They are inaccurate on two accounts – i) that's not what femme means, and ii) that's not who you are (I am assuming).
They might be implying that they think you're a high-maintenance bitch, or a thick-headed lug, but that doesn't mean that you are. That's just a downright insult couched in genderphobia, and you can call them on their ignorance, not take it so personally, and move on with your life.
3. Identity vs Adjective
We severely lack language to describe gender, and since we largely perceive gender to be a spectrum of masculine/feminine, butch/femme, male/female, calling someone femme or butch is simply an adjective – a way to describe which side of the binary gender scale they are perceived to fall on.
(I wish we had names for all the gender galaxy quadrants and solar systems and orbits and such, but they're almost too big, too multi-faceted, to categorize and map. Goodness knows that won't stop me from trying …)
In my opinion, identity categories can only be chosen by those they are describing. I think this applies in various socially charged identities – race, gender, sexuality, class, nationality.
The only time someone calls me butch and it is an identity, not an adjective, is when I myself have chosen butch as a way to describe me.
Again, the speaker here could actually mean it as an identity – but that's about them, not about me.
Often, describing someone as femme or butch is a simple observation of their physical style – short hair vs long hair, slacks vs a skirt, heels vs boots. (Sometimes it's much more suble, of course, as someone wearing short hair, slacks, and boots can be seen as femme.)
Usually, I've found the use of this word as an adjective is not entirely inaccurate (at least, not at that particular moment). The problem is that it is implying all these other things about behavior and gender performance that are then perceived to be ongoing and permanent within that person, and that's just not true.
This is precisely the reason why I use the words to describe someone that they chose for themselves, and if I don't know how they identify, I don't assume.
So, in conclusion:
It really doesn't have to be an insult, and using those terms as an insult is, in my opinion, a sexist misunderstanding.
Just because someone else doesn't understand these categories, doesn't mean that you don't – even if you reject them. No need to take it personally, no need to educate them in their misconception – just let it go, don't let it bother you, move on.