Posts Tagged 'butch breasts'
Rand Leather (on etsy or on follow on tumblr) is a one-man-show out of Maine where Matthias Rand makes all kinds of leather goods from scratch. In addition to these bondage cuffs and bow ties (which I'll tell you more about in a minute), I've also seen chest harnesses, suspenders, and even leather dresses that he's made.
If you liked that Aslan Leather binder harness that I posted recently, but you want something a little differently shaped, check out Rand Leather's binder harnesses. They are custom built and beautiful.
The cuff and bow tie were the items Rand Leather sent to me to check out.
First: the bondage cuff!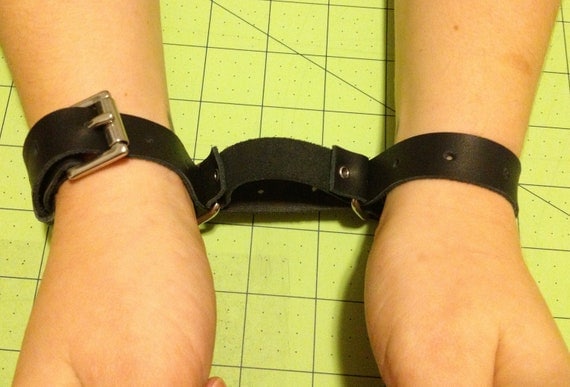 I love it. I wear it often. I love that it is an accessory that is also a toy and tool. See, it unwraps from around the wrist to have two square-rings (what do you call them? Square o-rings? Square metal bits?) along the leather that, when you snake the other end through in an S shape, makes a pair of handcuffs.
It works exactly like a bondage belt, only miniature!
It's become one of my staple outfit pieces at recent leather events and I've worn it at IMsL, Northern Exposure, and Queer Invasion (to name a few this year). (Also, that tells you I've been really behind on reviewing. Sorry!)
Now: the bow tie!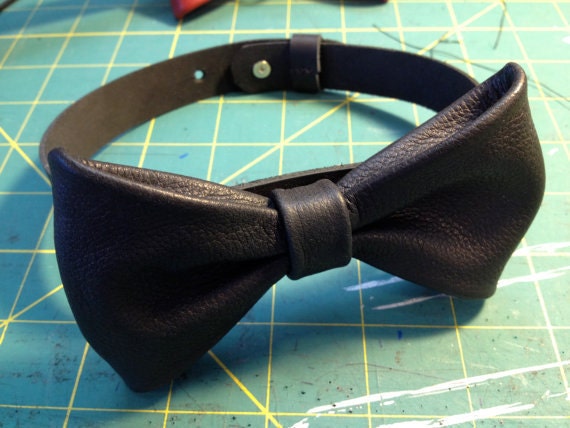 It has not become the staple to my fancy leather dress collection that I would have expected. I think mostly that's because I've discovered that I just don't like wearing bow ties that much. I love the look on other people, and I keep thinking that I could rock it if I just had the right one, but it doesn't quite fit. Too nerdy? I mean, I am pretty nerdy. Maybe it's the proportions.
I think part of it, too, is that I have a pretty large chest and I don't like having things on my neck or upper chest. It's hard enough just binding, which often pushes my breasts up higher in order to flatten them and makes wearing a tie right under my chin really uncomfortable.
The bonus is, it looks really really adorable on rife. So here he is modeling the beautiful leather bow tie.
These pieces are both available on Rand Leather's Etsy store, and both the bondage cuff and the leather bow tie come in other colors!
A few weeks ago, Autostraddle wrote a long post on bras: What the F Should I Do With These Boobs?—particularly, bras for folks who don't really want the standard lace-and-bows versions that are the most common at stores. They linked to one of my old posts, More On Butch Bras, where I talked about getting properly measured and how life-changing that was. I'd like to write more about that—and I still think everybody, EVERYBODY, should go get properly measured, because there actually is a difference between a 34D and a 36C, and if you say you wear either one, you are probably not wearing the most comfortable bra for you that you could.
That's my size, by the way. Or rather, that's the size I thought I was for a long time. Turns out I'm more of a 34DD, though right now, given the amount of biscuits I've consumed in the past year, I'm probably more like a 36DD. Knowing that helped—though that's also assuming that you're buying bras which have separate ribcage measurements and cup sizes, which sports bras generally don't.
I resisted sports bras for a long time. I didn't like the uni-boob look, something I finally identified as left over from my first girlfriend, who used to say that all the time (who has since transitioned and had top surgery, by the way, so I suppose found a solution for that). But when I started doing "drag nights" in college and wearing more button-downs, the advice from my friend was to wear a one-size-too-small sports bra as a binder, and that ace bandages were really not the way to go.
Still, it took a while before I went through my underwear drawer and got rid of ALL of my traditional back-clasp two-cupped bras in favor of more of a binder. I found this Adidas back-clasp sports bra that gave me enough of a bind, and quickly bought four of them, tossing everything else out.
These dozens of suggestions that Autostraddle posted are great, but for larger breasted folks like me, there was not a single bra on there that I would wear. Though perhaps that's not so fair, really, because there's only one that I really wear anyway: the Enell bra (you can get 'em on Amazon too).
There is an Introduction to the Enell bra on YouTube, but it's so cheesy that I can't bear to embed it here. I will however embed the fitting and measuring video so you can see how to wear it:
It has significantly changed the way I look in shirts, and I have yet to find anything better. I used to have a size 1 that I would use for extra-tight binding and a size 2 that I wore for everyday stuff, but I can't fit into the size 1 anymore. Hitting 30 really has changed my body, my metabolism. I'm trying to be more careful about what I eat and hope I can fit back into the size 1 someday … but that's kind of another post.