Posts Tagged 'best of'
This is what I learned at the Femme Conference.
Oh, the Femme Conference. I have so much to say about what happened there, both personally and in relation to this gender work. Oh yeah, and I have some hot stories to tell y'all, too.
First: THANK YOU, everyone who donated money to help me attend. I was able to go because of this website. I may not have gone otherwise because I really can't afford to travel. Thank you.
The theme of the conference was The Architecture of Femme, and as such many of the panels explored the construction, deconstruction, and reconstruction of femme identity. As my background is in social theory and social constructionism, I tend to come from the place that says femme is constructed primarily physically, on the body, that all gender is performative. This means through symbols of femininity – shaving, long hair, skirts/dresses, heels, jewelry, makeup, etc.
One of the major themes I've come across in running Sugarbutch is femmes who feel invisible – that they are not read as queer because lesbians are not feminine, femininity is a constructed gender role within the heteronormative paradigm, and the perceived notion that a femme is really either bi or straight.
This misconception has to do with physical symbols of gender, and required alignment of sexual orientation and gender.
The first keynote speaker at the conference, Leah Lakshmi Piepzna-Samarasinha, said: femmes are not invisible, you don't know how to look.
And this is point number one that I want to make. I'll pause here to let that sink in for you.
Femmes are not invisible, the lesbian community just doesn't know how to look.
That deeply resonated with me. I feel I've been trying to say that to femme friends and lovers for some time now – "well, I found you, didn't I? Do you not go to the clubs, do you not get dates? Of course you're queer."
I know it's not this simple, really – I know there is much difficulty when someone is not recognized by their own community because they are being true to their own sense of gender. That's not an easy contrast to reconcile, and I don't move through the world that way so I can't really speak to the daily experience of what that's like.
Before the conference, I started a conversation about femme eye candy – remember this? I'll get back to that in another post more fully, but the relevance is that Muse & I were discussing requesting photos along with some text about how the femme in the photo queers femininity – how her femme-ness is coming through in any particular way that indicates that she's femme, not straight.
[TO BE CLEAR: this is NOT be about proving queerness whatsoever. I am working on the details of how to write this up, and will explore this much more in-depth in another post soon.]
The point is to use the femme eye candy as a visual lexicon of physical symbols, as an attempt to notice any emerging patterns and begin to record the physical markers of femme identity.
---
DEFINE:
Markers
: physical details which indicate that the person is using their fashion and style to construct a queer identity. Examples of usage: Femme markers, butch markers, queer markers, hippie markers …
---
I have some ideas about what these markers might be – vintage and pinup clothes, hyper-femininity, high contrast, for example – and I must thank Sam and Maggie from Toronto who did a wonderful workshop at the conference on the construction of femme identity through fashion and style, where many of my thoughts on this were refined.
The discussion at the workshop quickly went from "what are some of the femme markers" to "what are ways that femmes construct identity besides through physical markers?"
I kept thinking about these things throughout the weekend at the conference: the markers, and the ways femme is constructed besides markers.
Five things stand out greatly from the discussions as ways to construct femme:
In contrast to butch – the classic in some ways, the stereotype in others. We all talk about how butches lend visibility and how different a femme is perceived and treated alone verses with a butch. The conference brought up the issue of femme history, too, and how hard it is to find femmes, and one of the ways to do so is to find the butches' visible queerness and search for their partners.I think this is an incomplete, problematic, and outdated construction of femme identity generally, but it is relevant historically and it still applies at moments. Plus, for some of us our own sense of identity is so greatly magnified when in contrast to our particular desire orientation – I am not just a butch, for example, but I am a butch who loves, desires, and partners with femmes, and that is also a key component to my identity.
In community – Maggie, the beautiful dancer and wicked smart femme behind the Femme Show (who has a wonderful girlfriend, I was disappointed to hear, as I developed quite the crush on her over the conference) spoke of how when she is in queer spaces, she expects that she should be read as queer. It should just simply be a given. It is not a given that the feminine girl at dyke night is queer, because the lesbian community is still closed off to the ideas that feminine girls are lesbians. I mean, in some ways that is being shattered – maybe that's one good thing the L-Word has done for the lesbian communities – but in practice, many many queer women still don't recognize femmes.(I could also speak to how this is probably engrained in butches especially, in butches who are attracted to femininity, from a young age, because we do tend to go for the straight girl or the L.U.G.s and end up getting our hopes up and our hearts broken when she, inevitably, leaves us for a guy, because, well, she's straight. I still watch butches go through the realization that femmes exist – that femininity exists in a queer context – and wow that sure can be a revolutionary realization. But this is another topic to discuss later, too.)
Through language - Someone commented to say she has no particular physically queer markers, and in fact she prides herself on that, and would rather constantly construct her queer identity by constantly coming out verbally. But even if a femme does see herself as using many queer fashion and style markers, there is still always an element of constructing identities verbally and through language.This brings up one other idea, which is that I think all of these ways of constructing femme identity happen for everyone, that it isn't just one or another, that some are stronger for some femmes than others, that there are many different combinations of them that make up each unique femme expression of each person.
Through fashion and style and through markers. There are hundreds – thousands probably – of ways to construct femme through physical feminine presentation. The conference was amazing that way, to see as many different representations of femme as there were femmes in attendance. I loved seeing the similarities, the differences. There was such an amazing array from the fanciest drag-queen femme to the pencil-skirt-and-glasses femme to the pinup girl femme to the punk rock femme to the tomboy femme to the sundress-and-cardigan femme.And the SHOES! Oh good lord, I could write an entire post on the shoes at the femme conference. (Swoon.)Honestly, I never cared for fashion until I began discovering, uncovering, and creating conscious and intentional butch/femme gender understandings. I wish I had a better grasp on fashion and the history of fashion sometimes, some folks were saying very interesting things about the evolution of women's clothing options during the conference.
Through theory – feminist theory, gender theory, power theory, BDSM and kink theory, postmodern theory, historical contextual theory. The intellectualizing of my own gender has been a key component to constructing my own gender identity, and this resonated strongly at the conference.
I'm going to have to work on the butch version of this idea, the ways butch identity is constructed, though I imagine it is in many ways similar: in contrast to femmes, in community, through language, through markers, through theory. But perhaps there's more to add, perhaps butch and femme are constructed differently? Ill keep thinking on that; please do add your two cents if you've got ideas on this topic.
Two specific questions for you, at the end of this looooong summary of what I learned at the Femme Conference about the architecture of femme:
What are some other tools with which you construct your identity, femme or otherwise?
And what do your markers look like?
Thanks, all, for your thoughtful responses and life stories about butch hair in the last post.
Here's a few of my thoughts about femmes and femininity and hair, and then I'll ask some questions and open it up to whatever you'd like to say about the subject.
I want to distinguish here between options and personal preference – I talk a lot on this site – especially in terms of femmes and femme identity – about what I like, and I want to make it clear that those are usually my personal preferences, and I'm not trying to say that I think that's what all femmes should be or that femmes who are not like that are not valid or are not "real" femmes or any of that crap. I hope that's not how it comes across.
So, let me first say this, about my basic philosophies on hair: hair is a personal choice. It is also a major marker on the physical body used to distinguish gender differentiation in contemporary culture. Short hair on men, long hair on women; shaved legs and underarms on women, hairy men. This of course was not always the case; it used to be seen as very masculine for men to grow their hair long. Hair presentation, length, and social conformity are based largely on culture.
In my (unofficial, limited) cultural observation in the recent years, these differences are just getting more pronounced, although with the inclusion of gay male culture in mainstream men's fashion, the rise of beauty products for men, the addition of "manscaping" and the metrosexualizing of fashion and beauty, beauty standards for men and masculinity are on the rise. It is not unusual for hetero/cis-women to expect their hetero/cis-men to keep their chest hair under control, to get eyebrow waxes, to keep their hair groomed.
But just because the beauty standards for men are raising doesn't mean it's okay for us to keep unobtainable beauty standards for women – or for anyone, for that matter. Honestly I believe we've got to turn the beauty culture inside out on our own personal journeys into our own gender identities, whatever flavor they may be, whatever area of the gender galaxy, to really examine what the culture dictates and unlearn the compulsory standards that can be exhausting, unobtainable, and even harmful to our bodies.
What the body does is natural, normal, acceptible, sexy – where hair grows, the stretchmarks, the veins that show through the skin, the moles and freckles, the thickness of the muscles or the tendons or the thigh or the waist or the hair. All these things are beautiful, and real.
And, in my humble opinion, are also turn-ons: the celebration of the beauty of the human body.
If you've never explored the potential damage and compulsory standards of beauty culture, take a look at:
So: once we start undoing society's standards, and treating every possible option as valid and valuable for different reasons in order to make a true choice, we can start exploring what it is that we personally prefer. What turns us on, how our bodies feel the most sexy, what the soft animal of our body loves.
My initial thoughts about femme hair always go to the hair on your head, and the ways it's worn. Being that I am very attracted to femininity, I do like long hair generally, though I know plenty of femmes who totally rock the chin-length cuts or the boycuts, I've even known a few with shaved heads.
I wrote once upon a time about how much I love it when femmes wear their hair up, and specifically the idea that "a woman's hair is for her husband." I wrote, "I know there are deep problems with this idea of a husband owning a wife's hair, but I love the idea of it being so sexual, such a turn on, when a femme lets her hair down, that it's private, saved for me and me alone." And that's just it exactly.
About body hair on femmes … honestly, my personal preference is basically bare. Very little hair, everywhere. I find shaving sexy, I find the rituals of beauty sexy (when they are done with intention and sexual connotations especially). I like to shave my lover's legs, actually. That's a scene I haven't played out in a long time, but I find that intensely erotic.
I do have some guilt about liking the reproduction of traditional femininity. I know I could write pages about how it's not compulsory, it's resistance, celebratory, and intentional, but still sometimes I wonder if what my block is that I wouldn't find hair particularly attractive. But I suppose I can attempt to justify this by saying that I absolutely think it should be culturally acceptible – I hate that it's dictated as necessary by the beauty rules – but that my personal preference is skin, skin, skin. Is that because of the dominant cultural beauty rules? Yeah, probably. I can't escape it, I was raised in it, I live in it every day. But I recognize that it exists, what it means, how it operates, and I fully support people who reject that rule and who prefer to have their hair wild and free, or trimmed and neat, or completely bare. All options should be valid.
So, now you:
I know you've already got a ton of things to say about femme body hair, but here's some questions to get started:
If you're in the transfeminine area of the gender galaxy:
Do you shave, wax, pluck, shape? Underarms, legs, thighs, stomach, chin? Why or why not?
What was your process in coming to do the hair sculpting and
How do you make choices about your hair? Based on sexual preferences? Cultural standards?What your lovers like?
How do you keep your pubes? Trimmed, waxed, shaved, au naturale?
What comes to mind when you see women who don't shave?
Do you sexualize shaving or body hair removal?
If you are someone who tends to date transfeminine folks:
Do you have personal preferences when it comes to hair on the femmes you date?
Do you sexualize shaving or body hair removal?
Do you prefer hair on her head worn a certain way? Do you tend to be attracted to very specific hair cuts, styles, colors?
I'm also very curious about folks who live outside of the US – clearly my perspectives are very US-centric, and I'm not really sure what gets culturally dictated or compulsorily reproduced in other places. I have impressions, but being an outsider to culture in other places, I won't presume to speak on it.
Please do elaborate however you'd like. And thank you, for reading and for your comments, I really like that we're conversing here more and more, getting input from all kinds of people who live in all kinds of ways.
I am a butch who shaves.
Not my legs, inner thighs, stomach, underarms (though I'll get to those in a moment), but my face. Chin, mustache, sideburns. Every day.
It has taken me years to admit this, to celebrate this. I started shaving my chin about ten years ago, at eighteen, when my-ex-the-boy and I got into a fight and he used it as leverage against me. It was toward the end of our five-year high school relationship and he was increasingly paranoid that I would leave him to come out (which I did), so we used to fight about my perceived dykeness all the time. We were in his car in our driveway, just home from somewhere, yelling at each other. I have no idea what the context was, but I still remember the way he looked over at me and said: "I mean, you have more hair on your chin than me!"
I'm sure I'd noticed the hairs on my chin and upper lip, I'm sure they'd been there for years. I was at that time in denial about most of what my body did, how it looked. I spent as little time as I could with obligatory lipstick and mascara – the only makeup I could master without feeling like a clown, I never could figure out foundation or blush or eye shadow, despite the hundreds of beauty magazines that I studied, attempting to discover and reproduce the secrets of femininity.
It wasn't until he said that, though, that I thought I should pluck, wax, shave, something, anything, so as not to give away my gender deviancy and gender defiance that seemed to be so certain that it would even come through in my biology. I'm a hippie after all – deep down I believe whatever the human body does is 'natural' and that all the hair policing was perpetuating unobtainable standards of beauty for women.
But this wasn't about beauty, suddenly. It was about gender. It was about being revealed, when I didn't even realize I was.
I promptly went upstairs, shut myself in the bathroom, took my razor from the shower, and shaved my chin smooth.
That was 1999.
It was only very recently that I let the hair on my face grow, even for a day or two. I've often seen dykes in the lesbian communities who sport peach fuzz mustaches, goatees, sideburns, but it never really occurred to me that it would happen if I didn't run the razor along my face daily.
It was Callie who mentioned it first. It came up with Datedyke, too. I didn't quite get the appeal at first. It felt gross, even shameful. No, they said. An indication of masculinity.
Oh yeah. Right.
I buy men's razors now. Made for the contours of a face, not the smooth line of a shin bone or inner thigh. I enjoy buying products so masculine. I do it, head high, boldly; I challenge what the clerk thinks. I am not shy about it. It is a small act of gender celebration, gender defiance, gender activism.
Sometimes I even like my five o'clock shadow. I've developed the habit of scratching my chin like the boys do. Feeling when I need a shave. Letting it grow on weekends, on weeks when I don't have work. When I was in Mexico I didn't touch it once. Ten days without shaving, I am sure a personal record. I didn't even know my hair would grow that long, that dark, that thick.
Sometimes, I even like it.
Okay, so, body hair.
Well, here's the deal. I believe hair is a potential enhancer of sex. A sex toy. That it can be used to increase sensation, both tactile and visual. That the key decision about the hair on my head is for a sexual purpose. That running fingertips from ankle to cunt feels different on an unshaved leg – for both the person to whom the hand belongs and the person to whom the leg belongs. That it is different to fuck with a full bush as opposed to a brazillian.
Whether or not one is better than the other is a purely personal preference. Clearly there are some cultural preferences that correspond with gender role and expectation, but when all options have been examined and stripped of their social meaning and compulsory prescription, we can actually have an opinion about what we prefer, and make a choice.
I'll get to femme body hair another time. I want to talk about butch hair, here, a bit more.
I know transmasculine folks who shave and who don't. Who grow their hair long and who buzz it off nearly completely. I know a butch whose hair grows in so light she doesn't have to shave – though she hates body hair, and would if her own wasn't so light. I know a butch who had a contest with her friends to see who could grow their hair the longest.
Sure, I personally have preferences – I keep the hair on my head short, #2 on the sides, two fingers on top. I do this for sex, and for gender: I love the feel of buzzed hair under some girl's fingers. Love how it makes me feel boyish. Love how there's still enough for her to grab and pull on the top, in the back. Love the physical sensation of her desire as she pulls on it suddenly, when I do something and she responds, a physical communication between us.
I don't shave my legs or underarms. I like the cultural masculinity of it. I like the surprise and occasional understanding of strangers. I do "manscape," as the kids are calling it these days. Trim where it grows long, sculpt a little. I figure I sculpt and trim the hair on my head, I can do that for other places too. It is for sexual purposes really. And goodness knows there's a lot I'd invest for sexual benefits.
So: I covered options, now let's talk preferences. What kind of hair do you prefer on your butch? Butches & other transmasculine guys, how do you keep your hair? Au naturale? Waxed? Plucked? Is it leftover compulsory hair depletion from your gender-conformist days, or have you examined all your options and made the choice you prefer? Femmes, do you love it / hate it when a butch shaves? When she buzzes her hair or grows it out? When she keeps a mustache?
[ I know there's a ton to say about femme identity and body hair too - let's keep this to butches, for now. Start thinking, though, the femme equivalent discussion is forthcoming. ]
Part one of three of my review of Spanked
I'm reading erotica and watching porn differently these days. For years – since before I came out – I've been an, uh, active reader of erotica and smut collections, with almost exclusively lesbian content.
Lately I've had the opportunity to review various things through this site, things I wouldn't have otherwise picked up, like Crossdressing and Chemistry 3. Books and films which include various orientations; straight, bi, gay men, lesbians, threesomes.
In the past, I would probably not have even considered reading these collections or watching these films. My brain would think, ewwww, flesh-and-blood penises. That's the "ick factor" right there (more on that in part two). But since I was doing it for research, and for review, I figured I'd give it a go … and it turns out that some of it really turned me on. Sometimes completely unexpectedly.
That was a bit uncomfortable for me, really.
It wasn't until I read Kate Bornstein's excellent article on the film WALL-E that I placed it: especially with erotica, I am able to suspend my reading of biological sex and only read gender. Male pronouns and male body parts don't bother me, even though my orientation is pretty strictly lesbian, because I can get so deeply into the play of gender, I can "suspend heterosexual belief."
Back to that in a moment. First, more about the film WALL-E and Kate's (did I say brilliant? brilliant!) analysis of gender presentation, WALL-E: A Butch/Femme Love Story … or, Silly Rabbit! Robots Have No Gender.
… [A] pair of lesbian robots who fall madly in love with each other. WALL•E is nothing short of hot, dyke Sci Fi action romance, some seven hundred years in the future! Woo-hoo! Isn't that what you saw? No? What movie were you watching? Did you see a heterosexual boy robot fall in love with a heterosexual girl robot? I did… at first. [...] [W]hen I first saw the film, I saw a boy robot and girl robot. My question is this: how and why did most of us jump to that conclusion?
Kate goes on to examine the different ways that we determine both "biological" sex and the robot's heterosexuality:
Is it because of their names? … both names are acronyms for each robot's prime directive and function. Nothing to do with boy or girl there. … Is it simply by looking at the robots, we can tell? … We've got no way to spot those robots as male or female by using secondary sex characteristics. … neither robot has a DNA strand, so there is no way to type them by XX or XY. … Barring hormones – which I didn't get a whiff of during the entire film – that just about exhausts the physiological basis for determining gender.
Examining some of the ways that we determine sex and orientation – hormones, chromosomes, secondary sex characteristics. And there's the whole obsession with Hello, Dolly as the only model WALL-E has for romance; it is a campy presentation of sweet courtship, and a classic musical.
So, Kate keeps asking, what is it that is tipping us off? How can they be portraying these very human, very gendered, characteristics, yet still be robots?
Pixar and Disney … knew we'd see WALL•E as boy and EVE as girl. Both of 'em are gosh-darned CUTE, right? Oh, come on. You know they're SO adorable, right? How can they be that in nearly everyone's eyes… gay or straight? I think the answer is that we shift our mind's criteria for gender when we watch a film or listen to a love song or read a novel. We all blithely switch genders in our minds, the better to identify with the vocalist or character. [Emphasis added]
This is the genius part, in case you missed it. This is the part in the article where I exclaimed aloud, "Dammit, why didn't I write this!"
There are, sometimes, and especially in art – love songs, films, novels – things that trump gender. When art begins speaking the language of emotion, that can transcend orientation or gender presentation and instead we just get the character's attraction to each other, their courtship, their surges of emotion and desire for connection. I think this may be especially true for queers, who often do not see ourselves represented in popular media, so we learn to "suspend heterosexual belief" and instead see only the presentation and language of gender.
Kate gives some examples of other media – a Tegan & Sara song, Marlene Dietrich, Justin Bond. But wait, Kate's not done:
Gender ambiguity — when it's safely positioned onstage or up on a movie screen — is and always has been sexy to damn near all of us, no matter what our gender might be. … What is it that's signaling sexual attraction to an audience with such a wide range of gender identities and sexual desires? I think the answer is that WALL•E is butch, and EVE is femme, two genders defined by the expression of strong, respectful, sexual desire.
I just love butch/femme as "the expression of strong, respectful, sexual desire." That's beautiful.
Butch and Femme are sexy dance steps with unlimited variations. Butch is gallant, femme is gracious. Butch is hail and hardy, femme has wicked cool wiles. Butch is handsome. Femme is pretty. Butch/Femme is all about relating to each other like ladies and gentlemen—no matter our genitals. … Butches can be dominant or submissive, strong or weak, honorable, or complete rats. So can Femmes. Butch and Femme have nothing to do with who makes more money. … There's no perfection in the dance, there's only the totality of self-expression and how that self-expression dovetails with someone else's self-expression.

Yes, EVE is pertly streamlined. EVE's eyes literally sparkle and dance. EVE giggles, for heaven's sake. EVE is kick-ass strong and powerful. EVE is performing Femme. WALL•E is rugged and protective and shy and loyal. WALL•E is a sensitive little thing, held together by sheer will and rubber bands. WALL•E is performing Butch.
… And this is the part that gets me teary. I love that butch is a "sensitive little thing, held together by sheer will and rubber bands." and that femme is kick-ass strong with sparkly eyes. Oh if someone had given me that possible explanation years ago!
Once we begin to look at the characters as Butch and Femme — not male and female — we can assign to them any gender we like. Sure, the film can be about a boy robot and a girl robot. But how about EVE as a sweet femme boy robot, like performer/chanteuse extraordinaire, Justin Bond. And WALL•E is a sweet butch girl robot, with a heart of solid gold, like performer/chanteuse extraordinaire Lea Delaria?
How freakin great is that! I love this way of analyzing popular media. Kate writes, "You're the audience. You get to decide." and goes on to mention a few other Disney films – Mu-lan, Pinocchio, The Little Mermaid. I took a "Feminist Interpretations of Disney" class as a gender studies undergrad, I have watched these films and examined the gender in them in depth.
But I've never thought about it like this. And I love it. (Writing through this has made me really want to see WALL-E, and some of those others, again.)
As someone who has a background in academic gender studies and feminist theory, I do take a certain amount of pleasure in the reading of texts like Disney films as reproducing the heteronormative, gendernormative binary, so in some ways revisioning media this way makes me skeptical. I don't think the critical analysis should be discounted entirely, especially when it has such an affect on girls (this calls to mind the Princess Collection and discussions with feminist/progressive parents of little girls who are close to disgusted in their daughter's obsession with princesses). But I do think it's another fascinating way to look at popular media through the lens of gender presentation and expression.
So: that's how a little love story about two robots can be read as butch/femme. And that's how we can – and already do – suspend heterosexual belief when consuming popular media.
But when we're talking about representations within the sex industry … written erotica, visual porn, or any smut, there tends to be the aspect of sexual anatomy. And for queers especially, it seems, the reality of a wet vagina for gay boys or hard penis – or, worse, a coming penis – for the lesbians actually grosses us out. It's much harder to suspend heterosexual belief when the physicality of the different biological sexes is so prevalent – and, indeed, part of the point.
What is this ick factor? How does it work, and how does it affect us? Also, how do we get over it?
That's part two, coming tomorrow.
What's the difference between romance and chivalry?
Colleen and I had an interesting discussion a while back. The two can look nearly identical, we thought – bringing flowers, pulling out a chair, taking a jacket – but something separates them.
I do think some things are not so chivalrous and are exclusively romantic – candlelight dinner, gazing into each other's eyes, promises of love + affection – but pretty much all the chivalrous actions seem to fall under a romantic umbrella. Like a sub-set of romance.
But see, sometimes chivalry is purely kind and thoughtful, with no romance whatsoever. When I hold the door open for a stranger, or for my mom or sister or a straight girl friend, I do it with no romantic intent.
Ah – so perhaps that's what differentiates the two: intention. That's what Colleen and I concluded.
Chivalrous actions are done purely for the sake of doing the action – kindness, thoughtfulness, observation of something that would assist someone else.
Romantic actions, however, are done with a particular purpose: of wooing the other person. Romance does want something in return, and when the relationship changes to "just friends" or ends, the romantic gestures cease.
So the gestures of romance and chivalry can appear the same, but are given with different intentions.
So (here's the part where I get personal), I've always been a romantic. Big time. Love poems, handmade gifts, mix cds, sweet nothings. (I know, you're shocked.) Lately I have been extremely suspicious of romance and the webs of seduction it spins, but I haven't let go of chivalry. In fact, my chivalrous impulses have gotten stronger.
Trouble here is, I think my chivalry is often misinterpreted as romance. Paying for dinner, holding her door. I'm told these aren't things that many transmasculine folks do, so they can be interpreted as grand gestures, even though honestly that's just how I am.
As with everything else in my dating life, it seems, I need to make my intentions clearer in matters like this. I'm learning, I guess – to have better boundaries, to trust they are in place, to be clear, to listen to others and hear when they are not accepting of the boundaries I have.
Sometimes I feel like the boundaries I have in place are too strong, too much, too thick. Huge cement walls with barbed wire instead of lines in the sand. But the strange thing is, it isn't until my huge cement walls are accepted – really accepted and acknowledged – that I can start putting up a chain link fence instead, then a picket fence, then a hopscotch chalk line.
The curious paradox is that when I accept myself just as I am, then I can change. – Carl Rogers
Update: I also wrote about chivalry on the post for March's masthead, bringing butch back – specifically the ways that I approach chivalry as deeply feminist.
Well, it's that time again … I'm doing another Sugarbutch Star Contest!
Here's the deal:
YOU send in the details for an erotica/smut story
I pick my FIVE finalists, my favorite scenarios
I write up those finalists, one at a time …
When they're all written, readers vote!
Want to be a star on Sugarbutch? This is whachoo gatta do:
Come up with a good scenario for me to write out. And I mean good. Read through last year's, they are elaborate, fun, and hot. The infamous winning entry, The Diner on the Corner, remains one of my favorite smut stories that I've ever written
Include in your scenario outline the characters (who is doing the fucking), the setting (where are we fucking), and the plot (who does what to whom).
Here's the Claire Danes example I used last year:
Characters: Sinclair & Claire Danes. Claire: redhead, petite, great legs. Particularly proud of her pouty mouth, that could be a nice detail somewhere.

Setting: Central Park & Claire's apartment. We are both in the park to watch a free concert and catch each other's eye. Claire approaches Sin, flirting ensues, Claire invites Sin to walk her home.

Story: Claire is very bold and asks Sin up for a nightcap; proceeds to seduce her with jazz music, fingers in Sin's hair, a short skirt. When Claire gets Sin to the bedroom she gives Sin a blowjob and then straddles Sin, fucking until they both get off. Claire then ushers Sin out kinda fast and laughs at her attempt to get her number.
So make it look something like that. The details are key! Especially in the characters, give me some defining clothes they might wear, facial features, hair color, all that, so I can add those details in. But please, make your submission half a page or less.
EMAIL me this description at: aspiringstud at gmail dot com.
Prizes are TBA, but will probably include some good smut books, possibly some sex toys, and maybe even a night out on the town with yours truly.
DEADLINE for entries is Monday, September 1, 2008. Three whole weeks folks …c'mon, give me your best shot.
(You are definitely welcome to reproduce that image on your own blog, and link back here, to www.sugarbutch.net/sugarbutch-star-contest. And hey, thanks!)
Lady Brett has a new post over at her fabulous blog Don't Let's Talk about feminism and housewifery, and I left a rather long-ish comment, and still find myself with strong feelings on the subject.
So hey, why else do I have a blog but to write impromptu non-fiction personal essays about gender and feminist theory?
1. The Value of Domestic Skills
I believe there's nothing inherently unfeminist about keeping a home, doing domestic things, taking care of people you love, cooking, cleaning, decorating. Those are important, learned skills and talents, often very complicated arts, time consuming, and things which make a big difference in the quality of life.
There's been quite a bit of reclamation around "women's work" throughout the second wave and third wave feminist movements, which has revisioned and revalued the work that goes into domesticity as complex, learned skills, difficult, and often incredible works of art.
(See, for example, the art of Judy Chicago, in particular – The Dinner Party in particular, but there's lots more in that vein. Also see the book Manifesta
by Jennifer Baumgartner & Amy Richards. Anyone else have examples? Leave 'em in the comments.)
Domesticity & housewifery can go against feminist principles when it is compulsory: not optional, expected, unrewarded, and unrecognized as hard work or valuable. The problems come in being forced into this role, when you're only doing that if what you're doing feels like what you're "supposed" to do and not what you really want to do. Figuring out what actually suits you best, your particular talents and personality and inclinations – that is subversive, and empowering.
2. Choice Feminism
Recently, there's been a rise of this idea of choice feminism, which claims that being a housewife or househusband, staying home to raise the kids and keep the house, is an option available to people if they so choose, and that there is nothing inherently wrong with this choice.
Makes sense, right? Some people – men or women or butches or femmes or genderqueers or whomever – think it would be great to have the luxury of having a partnership (or triad, or whatever) where enough income was being generated by another person (or another source) that someone could stay home and prepare good food and take care of their living space, take care of the kids or plants or animals. To others, this sounds like nothing they'd want to do themselves, they'd hate to be cooped up all day and would much rather go out into the world and socialize, feel like a 'productive member of society.'
So in theory, it would be great if someone was able to say, hey, I'd really like to be at home, and their partner would say, that's great, because I'd like to go to work and make enough money to support our family. And then the negotiation of details would happen, and wow, everyone has a great time with their lives, yay.
There are so many factors that go into building this as an option to begin with. For one, it takes a certain amount of education (and therefore access to education), economic capability, and stature in order to be in a relationship that can rely on a single income (and/or a lot of thriftiness!). The folks who have the ability to stay home and take care of their domestic life have to have a certain amount of economic privilege, by definition – they are able to survive without having a traditional, typical 40 hour a week job.
Point being, this isn't an option everyone has, so it can't be a "choice" for everyone. Some people cannot ever choose this choice, because of the ways we have been set up inside of economic systems. (If I had more time to research, I would include : all sorts of things on credit card theory, loan sharks, economic poverty, the working poor. Got specific resources for this? Links, books, documentaries? Leave 'em in the comments.)
I bet someone staying home and claiming the housewife/househusband/etc role works really well in some relationships, and that those choices are totally legit and based in love and care and self-knowledge for the relationship, family, themselves, and their partners.
Problem is, there are still real social consequences to choosing the socially unacceptable, rarer, less compulsory choice. And it isn't until both options are empowered with equal weight that we'll be able to actually make these choices fully, and as long as society still deems one choice over the other, presenting it as an "option" sometimes feel so me as more one more way to force people into it compulsorily.
I think it is possible for these particular choices to have equal weight. Both should be equally valued, in my opinion, and it is possible for them to be in the current culture.
Whether or not they do actually have equal weight, however, would largely depend on a person's perspective, family, culture, friends, and social status. Some people would experience rejection, marginalization, othering, belittling, or outcasting, if they decided to stay at home and "only" take care of their family's domestic life. Others would experience peer pressure and gender policing for not doing so, for attempting to say that housewifery is valuable, especially when saying this to someone for whom housewifery was compulsory, and whom resents the lack of choice that she herself had.
Two examples:
A) Mona Lisa Smile
The film Mona Lisa Smile, set in the 1950's at a women's college, has a major theme of choice feminism throughout, as Joan, a student, struggles between pursuing law at Yale or getting married and starting a family. Her art teacher, Katherine, tries to encourage her to examine both options equally, even saying she doesn't have to choose, she can have both.
Quote from the scene where Joan tells her art teacher that she's going to choose to be a housewife:
Joan Brandwyn: It was my choice… not to go. He would have supported it [if I'd chosen to go].
Katherine Watson: But you don't have to choose.
Joan Brandwyn: No, I have to. I want a home; I want a family, that's not something I'll sacrifice.
Katherine Watson: No-one's asking you to sacrifice that, Joan, I just want you to understand you can do both.
Joan Brandwyn: Do you think I'll wake up one morning and regret not being a lawyer?
Katherine Watson: Yes, I'm afraid that you will.
Joan Brandwyn: Not as much as I regret not having a family, not being there to raise them. I know exactly what I'm doing and it doesn't make me any less smart.
[Katherine looks down]
Joan Brandwyn: This must seem terrible to you.
Katherine Watson: I didn't say that.
Joan Brandwyn: Sure you did. You always do. You stand in class and tell us to look beyond the image, but you don't. To you a housewife is someone who sold her soul for a center hall colonial. She has no depth, no intellect, no interests. You're the one who said I could do anything I wanted. This is what I want.
Katherine Watson: [hugs Joan] Congratulations. Be happy.

(source: Wikiquote)
It seems Joan is attempting to make the major point of choice feminism, that Katherine does not think housewifery is a legitimate choice for women. But I'm skeptical of this, because we don't ever see Joan go through an awakening out of the compulsory gender role, realizing and fully understanding the limitations of her socially prescribed feminine/wife/mother role. Without really knowing that, is it possible for her to consider rejecting it as a legitimate option?
B) Sex and the City, season 4 episode 7, Time and Punishment
In the episode Time and Punishment from the fourth season of Sex and the City, Charlotte is newly married, and informs the girls that she's thinking about quitting her job so she can begin her domestic duties. They react with significant glances at each other, though nobody says anything overly disagreeing with Charlotte's news. The next day, Charlotte calls Miranda.
Miranda: Hello?
Charlotte: You were so judgmental at the coffee shop yesterday.
Miranda: Excuse me?
Charlotte: You think I'm one of those women.
Miranda: What? One of what women?
Charlotte: One of those women we hate who just works until she gets married. … The women's movement is supposed to be about choice. And if I choose to quit my job, that is my choice.
Miranda: "The women's movement"? Jesus Christ, I haven't even had coffee yet.
Charlotte: It's my life and my choice.
Miranda: Okay, Charlotte? This isn't about me, this is your stuff.
Charlotte: Admit it! You were being very judgmental.
Miranda: I'm dripping all over my bathroom and you're calling me judgmental. lf you have a problem with quitting your job…maybe you should take it up with your husband.
Charlotte: See, there it is, "your husband." There's nothing wrong with having a husband!
Miranda: Charlotte, I'm hanging up.
Charlotte: Don't you dare hang up! And stop saying Charlotte like that. I am quitting my job to make my life better… and do something worthwhile like have a baby and cure AIDS.
Miranda: Oh! You're gonna cure AlDS? Good for you. Just don't be too disappointed if all you wind up with is a pretty ceramic mug with Trey's name on it.
Charlotte: Take that back!
Miranda: I'm hanging up.
Charlotte: Don't hang up! I'm interviewing girls to replace me… and I really need you to get behind my choice.
Miranda: You get behind your choice.
Charlotte: I am behind my choice. I choose my choice.
Miranda: I don't have time for this. I have to go to work. Some of us still have to go to work.
Charlotte: I choose my choice!

(quoted from script of Time & Punishment.)
Problem for me here is that Charlotte is "the traditional one." The most conservative, the one who blushes at the slightest of sex talk, the one who, throughout the series, is in serious husband-hunting mode. Has she really examined all her choices? Is she buying into the gender role that she's presenting because she "chooses" it, or because it is compulsory for her?
But even though I am skeptical and questioning these women's ability to make their own choices, I do come from the perspective that everyone has their own agency. I try – very hard – to let go of my own judgment about what would or wouldn't be a good choice, and to really believe that another person is the only one who will really know what is in her own best interest.
But while I believe in agency, I also believe in things like laws of self-protection – seat belt laws, helmet laws, fast food regulation laws – because society has proved that people are susceptible, that we do not always make the choice that is in our best interest because of social, political, advertising, or any other number of pressures, and that educators, policy makers, and activists have the responsibility to protect and look out for others. That we are all interdependent, if you will – and that when everyone does better, everyone does better.
So how do we figure out how to have more agency in these complex situations of choice? How do we assure that all options do have equal weight for ourselves, in our own personal lives, even if they do not have equal weight in the eyes of society? How do we take a decision that used to be compulsory – like being a stay at home mom (SAHM, or Shit Ass Ho Motherfucker, if you're a dooce reader) or, to connect it further to the Sugarbutch Chronicles subjects, adopting an exaggerated presentation of gender like butch or femme – and legitimately choose it?
3. Knowledge & Education
How can we make these choices have more equal weight?
Educate yourself. Study feminism. Study the history of compulsory gender roles, compulsory gender presentation, compulsory heterosexuality.
We can't make any of these choices without understanding of where they came from, what they mean, what cultural, historical, and political contexts the choices sit within.
In a society that still has so much compulsory roles for men and women, it's never just as simple as "I choose to be a housewife" or "I choose to work a full-time job outside the home." There are so many factors – economic status, cultural and familial expectations, personal interests and pursuits, background, education, community.
I guess this is the part where we're on our own, where we have to figure out the solution to our own gender problems, where we have to take responsibility for our own enlightenment.
One of my favorite quotes about gender is "femme is knowing what you're doing." My take on that is not that "all femmes know what they're doing all the time," but more like the implications that femme – or femininity, or gender expression in general – becomes an active choice, something that has a context and a history and a cultural understanding for the choices we're making.
And it is possible to learn those things. Read into the history of gender studies, of compulsory gender roles and gender "deviance," gender activism, butch/femme culture and society, the women's and gay liberation movements. Get a sense of yourself & your gender in a larger sociological, historical, political, cultural, geographical context.
I see feminism as quite similar to how I am beginning to understand Buddhism: as philosophies, as world views. That it is a container, a baseline of explanation and understanding for how you see the world, interactions, social hierarchies, marginalized communities, value.
And as such, I really believe that everyone has a place within feminism. That everyone is affected by compulsory gender, by gender policing, by gender roles which oppress and restrict and encourage us to be less than full, open people, with access to the entire range of human experience. And therefore, everyone has the possibility to be liberated by studying the ways that these unspoken rules operate on the very personal, private aspects of our lives.
Here's some suggestions of tools that have helped me along this search for knowledge and understanding. Add your own in the comments if you have further resources that significantly helped your perspective.
Feminism is For Everybody
, bell hooks – amazing basic course in what feminism is, what it means, and where else to start looking. I've bought this for various people over the years. Completely accessible and wonderfully written.
The Feminine Mystique
, Betty Friedan – the classic feminist text about compulsory domesticity. Though it's dated, if this isn't something that you've examined overtly, it might be time to read it.
Creating a Life Worth Living
, Carol Lloyd – an artist workbook that guides you through figuring out what kind of life you want to live, what your values are, how you want to be spending your time, and helps you set goals to do that. Might be helpful & empowering in this particular issue of choosing to be a housewife, in that it might help you see where you particular strengths are, and what ways of spending your day will make you the happiest.
Manifesta
, Jennifer Baumgardner & Amy Richards – I've already mentioned this, but if you haven't read it I highly recommend it. Very accessible and fun to read.
The Dinner Party by Judy Chicago – is an art exhibit currently housed at the Brooklyn Museum in the feminist art wing. Problematic and highly criticized for it's white and western-centric focus, but still an amazing piece of art which elevates traditional female domestic duties such as table settings, needlepoint, and ceramics and presents them in the context of a long history of powerful, strong, capable women.
It's all a long process, right? Of getting to know oneself, of examining the world around us and seeing where we fit in, where we don't, what we like, what we don't. Of becoming self-aware. And, ultimately, of finding the bliss that makes our own lives uniquely worthwhile.
4. Let The Soft Animal of Your Body Love What It Loves
Eventually, this is the integrated goal of this process, I think: to "let the soft animal of your body / love what it loves."
It comes from one of my favorite poems of all time, and is a line I often quote. With care and consciousness, I believe this concept of letting myself love what I love to be at the core of my feminist beliefs. And I believe it's possible to operate from this place, and within a feminist context, with feminist philosophies and outlooks on life.
It isn't until I unpack all the societal gunk that I can really see, really understand, what it is that the soft animal of my body loves, and what it is that I should do with my wild and precious life.

Wild Geese
Mary Oliver

You do not have to be good.
You do not have to walk on your knees
For a hundred miles through the desert repenting.
You only have to let the soft animal of your body
love what it loves.
Tell me about despair, yours, and I will tell you mine.
Meanwhile the world goes on.
Meanwhile the sun and the clear pebbles of the rain
are moving across the landscapes,
over the prairies and the deep trees,
the mountains and the rivers.
Meanwhile the wild geese, high in the clean blue air,
are heading home again.
Whoever you are, no matter how lonely,
the world offers itself to your imagination,
calls to you like the wild geese, harsh and exciting -
over and over announcing your place
in the family of things.
I still remember the day I had an awakening about my underwear, much like my butch breasts / bras moment a few weeks back, where I found some girly undies in my drawer and wondered why I even owned any like this anymore.
This was years ago, now, and any time I bought new undies, they were always briefs – not "boy briefs" from the girl's section, but men's briefs. And pretty soon I had a whole drawer full of 'em, save a few that were my favorites. But then I discovered those few favorite pairs, back in the back, lacy or silky or whatever they were, and I realized I hadn't worn them in years, and that I couldn't forsee myself wearing them in the future.
So I got rid of them. I haven't missed them once.
These days, I'm a briefs kind of guy. Yes, sometimes it's awkward to be the only girl ("girl") shopping in the men's section, and I do get looks or stares or scoffs from both other male shoppers and the sales people. That used to bother me, but I've come to the realization that I have just as much right as they do to be there, to be shopping there, to buy clothes that I like on my body, and as I've developed more and more comfort in this gender-bending space, I see their responses as their issue, not mine.
I do like boxers, but generally I wear them as pajamas or kick around the house kind of wear, not so much underneath slacks or jeans, I find them too bulky. And perhaps because I'm not particularly thin, the hybrid boxer-briefs aren't really comfortable either, they tend to ride up and I notice them, I tug at them, they itch, they annoy me. And I don't know about you, but really, my main goal for most of my clothing is that, once I put it on, I don't really notice it again. I'm not so into fashion, though, that I want people to notice my clothing – I would rather someone look at me and think, "Hey, Sinclair, you look great today," rather than, "oh wow, Sinclair I love your shirt." KnowutImean?
So, these are some of my favorite briefs that I've found in recent years. Comfortable, cute styles, affordable – briefs I wouldn't mind wearing on a date. I've had a few questions about where I shop for my underthings lately, so here's the rundown.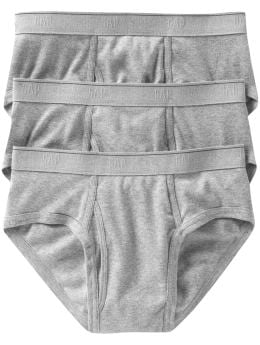 Gap basic briefs
$16 for a 3-pack
White, grey, or black
I don't remember them being this cheap, but that's what the website says – the ones I have are slightly different, grey and white, and I remember them being more in the $12 each range. I like these three-packs, I may have to go pick some up.
Their fabric is very, very soft, that's the best thing about the Gap over other brands.
(Real men wear pink.)
American Apparel Baby Rib Men's Brief
$12 each, 30 colors, XS-XL
Forgive the (cis) boy shot, you know I don't generally do that. But the awesome colors and white lines of the American Apparel briefs make them still some of my very favorites.
Plus, you can get matching tee shirts for pretty much any of the colors that the briefs come in. Once upon a time, I read an article that claimed that these matching briefs-and-tee-shirt combos from AA are pretty much the lingerie of boy wear, meaning that girls kinda go nuts for it.
And I have to say, in my experience? This has pretty much been true.
H&M's men's briefs
Various colors & styles
(photo from andreasmarx on flickr)
H&M is the third store that has my favorite briefs. Unfortunately, they don't have an online store, and they are pretty limited in their stores around the country (I don't think they're on the West Coast at all).
They've got some really excellent patterns, great solids, really cute stuff. The fabric is a bit thinner and feels more synthetic than the other two, but they are still smooth and fit well. They carry a lot of boxer-briefs too, actually many more boxer-briefs than regular briefs, so those of you who dig that style might be particularly fond of this place.
Men's underwear guy has a review of H&M briefs with some decent photos.
So that concludes my brief post (hah) on butch style.
Alright, butches (and other masculine gals) out there: How about you? Boxers or briefs? Where do you buy your undies? Favorite brands or styles?
Femmes (and other folks who date masculine gals), what are your favorite undies to see your boi in? What do you love, what do you hate? What do you always buy your butch for holidays that she never wears? What do you wish she wore? What do you love that she wears?
Seems like I kinda stepped in it with this entire intentional gender thing! Lots of comments and emails about that one.
(Almost as bad as I stepped in it when I suggested something like "I noticed your gender from across the room" as a pickup line. Yes, it sounds ridiculous. But there's just no other way to say that without a) objectifying, and potentially offending or b) assuming a person's gender and potentially offending. Though perhaps that's speaking more to my underlying Issue of not wanting to offend people than it is speaking to getting someone's attention by using gender as a flirtation device. Maybe the more appropriate line for most folks is just, "hey, I think you're hot.")
I think the mention of "unconscious" vs "conscious" gender are more accurate descriptors than "intentional" vs "natural" gender. I've already mentioned this, but: modern gender theory does not believe gender is "natural" at all, it says gender is socially constructed. It can be constructed consciously, or it can be constructed unconsciously.
But there are ways that I can be more conscious about the ways I carry myself. There are ways that I can study and understand how gender works in this highly, highly gendered society, and figure out and choose the ways I operate within it.
So, here's a bit of a story about what that process looked like for me:
I was raised in a very feminist household. The rejection of traditional gender roles was instilled in me from very young, by my mother especially, who didn't take my father's name, never shaves, never wears makeup or dresses or skirts or heels, was primarily the one to mow the lawn and help me with my math homework, etc.
Though this was deep within my family values, I was particularly susceptible to cultural standards as a teenager (I think we all are, and I have some ideas about why I was in particular, but I won't go into that here), and I ended up fairly gender-conformist, nearly married – to a cisgendered guy – for five years. I think I had to prove that for me, the model of grown-up relationships really wouldn't work, that all that society says is actually untrue. Of course, for some people it works just fine to be female-bodied, feminine, and attracted to men – clearly, not so much for me. I think it was precisely because I suspected that this wasn't true that I had to really prove it for myself.
I'm also firmly based in second wave feminism insofar as I believe every person's unique life experience is valid and important. I believe each of us is already an expert on our own gender, our own lives. I believe we all have valuable, thoughtful things to add to the conversation of gender (or sexuality, or relationships) regardless of our supposed credentials or expertise or level of study.
That's the thing about gender – we all have it, we all live in a particularly gendered society, we all have been raised with its influence.
Consciousness-raising groups (in my understanding) started for because there was no formal study of women or the female experience. (I can't really even imagine a culture that assumed that women's experiences were included in the male norm, a culture that had no feminist cannon, such a lack of sources to study and know and experience. Thanks, foremothers, for women studies, for feminist studies, for all the work you did!)
So C-R groups created their own sources, using the experiences of the women in the group themselves, treating each like a text, a source, from which they could learn, from which understanding could arise and blossom and grow.
This is how I see this writing project, this community, and all of you who participate and who engage with me – as part of a large consciousness-raising group, where we are all sharing ideas, resources, and experiences to gain greater understanding of our selves, our communities, and the world as a whole.
This too is where my love for narrative fiction overlaps, where reading someone else's story enhances my understanding of the world, where I feel less separate and more connected and, ultimately, where every story has value, especially the voices to marginalized communities, experiences, bodies, and lives.
So: growing up in a feminist household with rejection of gender roles, then going out into the world and living in a hetero relationship where we were playing out very stereotypical gender roles, then coming out as queer – all this lead me to start studying feminist, queer, and gender theory, seeking out language, concepts, and similar stories to help me explain my own experiences. And within gender theory and studies, I finally found places to get some of my questions – gender roles, gender compulsivity, gender norms, gender within relationships, the intersection of sex & gender – articulated, and then answered.
Such as:
What is gender?
How does it work?
Why are we confined to a binary? Why don't we have three or eight or fifteen genders?
How does the sex/gender binary function?
What purpose does it serve?
Who benefits? Why, how?
How does it get enforced?
How has it changed over the years?
How is it connected with race, class, sexuality, nationality, religion, etc etc?
And once I started getting ideas about how to answer these questions, I started asking more personal questions of myself, and where I fit in to this huge, permeating, practically invisible system of hierarchy, power, and value.
Such as:
How do I feel comfortable?
What makes me feel powerful?
How do I want my hair?
What looks good on my particular body?
What fits with the way I carry myself, how I treat others, how I see myself?
What type of gender am I attracted to?
How does this relate to my sexuality?
I was simultaneously starting to come into my own as butch, partly because of the lesbian initiation process of rejecting femininity and cutting off your hair (which worked for me, though certainly doesn't work for all lesbians who go through this), and partly because I started immediately liking femmes who dated butches and who recognized a sort of masculine 'energy' in me.
Actually claiming the label and identity category of butch was a more difficult quest for me, one I've written about a few times, specifically in terms of masculine posturing and rejecting – as a feminist and lesbian – the things that I see are so problematic with compulsory masculinity in both cisgendered men and in masculine-identified women. (More on that another time.)
Regardless of my questions and hesitations about butch/femme roles and labels, the process was definitely underway. And as it has unfolded deeper and deeper, in more and more aspects of my life, I have found such a home in it, in ways that have been seriously transformative to the ways that I operate in the world.
The basic feminist principles of inherent equality, the wide range of human experience, and celebrating the self as it is are applicable to many, many aspects of gender exploration. But I've found that these principles aren't quite so active in most of the lesbian communities. Yes, there are people doing this work, but we are not the majority – compulsory gender in lesbian communities is usually a sort of gender rejection, an androgyny.
And that works for many people – which is excellent! I will always say you should go with what feels good to you, what makes you feel sexy, powerful, beautiful. For many of us, it is not androgyny that makes us feel good about ourselves, it's another type of gender expression. There's a huge gender galaxy out there, a huge range of expression and celebration, and so much to play with.
I don't pretend that I have all the answers to questions or issues on gender. I have concepts, ideas, and resources, and I have reached some understandings, about both the world and system at large (macro) and my own personal place within it (micro).
I also don't think my answers will necessarily be your answers.
I encourage you to find your own answers. To ask these questions, to decide consciously where you want to be within this pervasive system.
There have been many of you who have emailed me or commented about my recent writings about conscious vs unconscious gender, and here's the part where I start to actually take an opinion on this: I think it's very important to discover, stumble upon, find, or create a conscious gender. Doesn't matter how you come to it, really, but it does matter to me that we do.
What that conscious gender might look like, of course, is highly varied – perhaps all it'll take is a moment's consideration, and a recognition that yeah, I'm where I want to be, that's enough for me. Maybe it'll take years of deep exploration and personal omphaloskepsis and meditation and therapy. Maybe it'll take reading lots of books about the subject, or lots of blogs. Maybe not.
I don't pretend to know what that process looks like for everybody, all I know is how it looks for me – and how important it has been for me to go through that process, which is, obviously, why I am encouraging it in others.
Look, I know not everybody has the interest in this that I do. And I don't think everyone needs to start a blog (that becomes their part-time job) and dedicate a big portion of your free time to studying how gender works and what it means to you personally, but I really do think we would begin to move forward if we have some small moments of awareness about gender, about compulsive behavior and categories, about discriminating against butches or femmes or trans folks or androgyny.
When we understand (at least a little) how the system works so that we can begin to see how we fit inside it, and we can be empowered to make the choices that are in our own best interests, rather than in the best interests of those for whom this system is designed to benefit.
But it's not just that. It's also because when everybody does better, then everybody does better. It's also because sometimes I'm lonely out here doing gendered work with a small handful of community. It's also because, though some small circles of consciousness-raising activists are happening, most gender is still compulsory and not letting up anytime soon. It's because this binary compulsory gendered system hurts us. It's because trans and gay kids are getting beat up and murdered. It's because boys who wear dresses are shamed. It's because tomboys who want to run around shirtless are shamed. It's because women are not safe walking alone on the streets of Manhattan at night. It's because I am not safe walking alone on the streets of Manhattan at night. And we should be able to be safe, I want us to be safe, all of us.
And plus? Underneath some of the hard work here, it's really fun. It's dress-up, it's activism, it's subversion, it's sexy. It's a deep celebration of you, of me, of our interaction with the world, and with each other.
One of my particularly favorite sex toy stores sent me a slew of packing cocks to review – cocks that aren't necessarily hard enough to fuck with, but which you can wear around and feel that weight between your legs, to tuck into jeans and rub up against your honey when you go out dancing, to get a little squeeze on the ride home, to fuck with gender, to feel more complete, to feel more powerful, just for fun.
Even before I begin this review, here are two cocks that Eden sells that I discussed with the fine sex educators at Eden which we decided that were not even worth reviewing because they're awful toys.
The Soft Touch Penis: appears to bend like my favorite Silky, and is realistic, so I was curious. I'm told it is made of awful material which has pthalates (which can cause all sorts of bad things), smells funny, doesn't really bend, and is not harness compatible.
The Blush: Though it has a slew of reviews at 5 stars (?!! Who are these people?), the material – Ultra Realistic – is awful. If it comes into contact with your skin, it can give you yeast infections. Just reading the descriptions of the material makes me nervous: "extremely porous, dirt can easily hide." "Dusted in a powdery material" to keep it soft, but that means it needs constant maintenance. "Store each toy separately in a plastic zip bag or thin sock because the porous surface can absorb dyes from other materials. These materials are also very incompatible with many substances."
The Futuristic Flexi-dong I did receive to review, but it's made with this same substance. As soon as I took it out of its packaging I knew I could never insert it, and I didn't even want to slip it into a harness and see how it packed because I didn't want the material anywhere near my cunt. I didn't even want to hold it in my hand! I stuck it back in its plastic bag, and I've barely even played with it. Sorry, Flexi-dong, but that's a great big FAIL.
Moving on, though, to the fun stuff.
I am reviewing these packing cocks in four different categories: material (of which the above FAILED), packing, playing, and realisticness.
Mr. Limpy – I know, I know, stupid name, it's as if they have to camp-up the fact that people without penises are making their own, you know, because that's a step UP in the hierarchy of gender power. Mr. Limpy is pretty darn cool. This material is Superskin, which, though porous, is non-allergenic and doesn't leak chemicals like the Ultra Realistic. So that's the material.
Mr. Limpy packs excellently. Mwah – it's practically perfect. It's very limp, obviously, but that means it fits so comfortably in just about anything I wore, from tight tight briefs to loose boxers by themselves. I'll speak to packing straps when I talk about Mr. Right, below, but I do want to note that the easiest way to use Mr. Limpy is to just tuck him into some tight briefs. You just have to be slightly cautious if you go to pull your briefs down, for whatever reason – it's possible that Limpy will tumble out, and that wouldn't really be good. Not only might it tumble onto some dirty floor (public restroom), but it also might be very embarrassing to have your penis roll around on the floor.
I love the way this one feels; it's lightweight, but still has enough of a tug when it sits in my briefs that every once in a while, I remember it's there, and I feel … comforted by my little secret tucked away.
This is the packing cock that I reach for most weekends, it's become part of my undergarments, like a binder.
Playing … uh, no. Unless you get a particular enjoyment of receiving blow jobs on a totally flaccid cock, this is not a cock to play with.
Mr. Limpy is realistic, to a degree, but it only comes in this funny cotton-candy pink color. I don't mind the pink terribly, but partially that's because it's fairly close to my beige/caucasian color, close enough that when the lights are low it doesn't look completely detached from my body. Still, people of color would probably be disappointed with the lack of flesh-tone, and some folks who don't like pink (I know you're out there) would probably be put off by that.
Next up is Mr. Right & his packing strap. This is, in many ways, the packing cock that everybody's been waiting for, and of course it was made by the amazing Vixen Creations, who make some of the very best cocks out there, and are very gender-forward.
The material is silicone. That's right, silicone. Silicone is pretty much the gold mine of sex toys, because it can be completely sterilized, it doesn't carry funny leaking chemicals, it can be used with multiple people (because you can sterilize it in between). Aside from Silky, which is not silicone (sadly), I haven't spent money on a cock that wasn't made out of silicone in many years. It's a really great material, it's got a little give to it, though not as much as the ultra-realistic or elastomer or "vixskin," but enough that it's a little bit floppy.
It is very easy to pack with Mr. Right because you can pick up this fantastic packing strap by Aslan leather that was specifically made for Mr. Right. It's elastic around the waist, so it has some give, and the back of the little pouch is leather. The problem with the strap is that the leather backing is quite wide. I prefer my balls to hang fairly low, almost between my legs, and because the leather is wide, it doesn't fit there, it has to be worn higher. That's a bit annoying, I've found.
You don't need the packing strap to pack with Mr. Right, though – you can tuck it into your (semi-tight, I'd recommend) briefs and be good to go.
Also, because Mr. Right is silicone, it doesn't have the give that the Superskin of Mr. Limpy does. I also find that I hang right, by which I mean, my cock tends to get tucked on the right side of my body at the crease of my hip. Mr. Right is much more rigid and can only really comfortably pack the way it looks in the photo, because that's the way it's molded
All that said, though, if you're new to packing, you can probably get used to how Mr. Right feels – it's just because I've been packing with other products and prefer my cock to feel certain ways that I have a bit of a hesitation here. Despite my critique here, though, It's still probably the best packing cock out there, and I wouldn't give it up, I'm so glad to have one in my toybox.
It's kinda hard to play with Mr. Right. Sure, he's a bit harder than Limpy, but he's still not hard. At best, you could probably give/receive a blow job, but I haven't been able to bring myself to ask someone to suck such an unhard cock, even for a review. Sorry, just too awkward and a little ridiculous of a request.
Mr. Right is the most realistic of all the cocks I reviewed. It comes in vanilla (pictured, with a nod to acknowledging the race-hierarchy), caramel, and chocolate colors, which are a pretty good range of human skin-tone. The flexibility isn't perfect – it doesn't have the hardness of Silky or the softness of Limpy – but it's a great middle.
Last, but certainly not least: my buddy the Silky. Those of you who have been reading me a while know how much I love this cock, so it's kind of biased of me to even attempt to review it here, but I'll try to put it in terms of comparison against the other two.
The material is elastomer, which is pthalate-free (whew!) but still porous, and must be used with a condom every time, because it can't be sterilized. Keep it clean, people!
It packs well. It doesn't pack as comfortably as either of the other two cocks, meaning it is bulky in the trousers, and sometimes the base is kind of awkward. It's semi-hard because it has an internal spine, but that's also part of what makes it great. The elastomer material is actually quite squishy and gives a little at a squeeze of a hand or mouth, it's just the spine which makes it a little more awkward to pack with, because it doesn't mold against the body in the same way. The spine, though, means that it can bend in just about any direction that you like, so I can (and often do) hang right and tuck this under whatever harness strap I'm using to hold it on.
Oh, you do kind of have to use Silky in a harness. It wouldn't really sit in your briefs comfortably, and it doesn't fit in packing straps (usually packers are held in packing straps by their balls slipping into a little pouch). I recommend a really small harness like Bare as you Dare because it's such small material under clothes. Many of the leather ones are hot and uncomfortable when wearing under slacks or jeans.
It plays – oh gosh, does Silky play. It can be bent slightly up to have a wonderful g-spot curve, which I like. It's a fabulous size for a blow job cock, not too big, but still significant. I've found that it's a very easy size for most girls to take, not too big, not too small (though for marathon sex days I tend to find that girls want something slightly bigger, eventually).
It's the only cock in this review that you can actually strap on and fuck with. Thank you, oh internal spine of Silky!
Here's the catch though – the elastomer material combined with the internal spine means that the spine breaks, or even, sometimes that it actually rips through the material. I have never had the spine rip through the material, and I've been packing with this cock for about 4 years. I have had the spine break – in fact, I'm currently on my fourth Silky – but I have never had it break during sex. It's broken when I've been packing (probably bending it the same way over & over doesn't help), and broken when I fell asleep wearing it. But don't let this discourage you: at this point, I just accept that the cock will last about a year, and then I'll probably have to replace it. Yes, it's more expensive than a silicone cock which is pretty much a lifetime guarantee, but you can't pack-n-play with a silicone cock like you can with Silky.
There's just nothing else out there that is comparable.
Silky is only somewhat realistic – it is fairly realistically shaped, I like the ridges on the cock, the head. But it has no balls (boo), and it only comes in funky colors – Eden carries blue and purple only. It also has a teeny little smiley face on the underside of the head, which I forget is there and tend to completely ignore. I've seen that commonly in from toys made in Japan.
Alright folks, there you have it – six cocks, three useless, three on a very nice scale of pack-to-play, all having their own pluses and minuses. Any questions?
If you pack, what do you use? If you decide to buy one of these to test out, leave a comment or write it up on your blog and share how it goes. We could use more discussion of this type of stuff in the genderqueer sex-positive blogosphere.