Posts Tagged 'advice'
Hi Sinclair,
I'm in a bit of a pickle. I've been out for ages, but for reasons not worth getting into (for instance mostly due to lack of opportunity, not lack of interest or any deep seated issues) I'm still completely inexperienced when it comes to girl-on-girl sex. I have however had a fair amount of boy-girl sexcapades.
But now I have the opportunity to get some girl-on-girl action and I don't want to tell her it's my first time. I know I should, but I'm too embarrassed to admit that despite years of being out I'm a 28 year old queer virgin. I want to be a good partner and please her in bed but I need some direction. Will she expect me to go down on her the first time we go to bed together? Any websites or great tips to impart? Any help you can offer would be great.
Thank you Sinclair. You and your words have been helping me get off for ages. Now I'm hoping you can help me got off with a partner.
—Carly
Hi Carly:
As a budding baby dyke, I relied on books. Nothing But the Girl and Best Lesbian Erotica 1998 spring to mind, because in 1998 and 1999 I was obsessed and barely out. I left my boyfriend of six years in August 1999 to move into a crowded little apartment on Capitol Hill in Seattle with a dyke I barely knew, eager to have my own room, my own space, a place for my own desires. It wasn't until April 2000 that I slept with a girl. She was in my nutrition class, and we had the same birthday. "Did you just say it's your birthday?" "Yeah." "It's my birthday today too!" We talked and started sitting together. I put my hand on her knee under the table, and she let me. Kissed me in front of the school after class when we went our separate way. "You're bold, touching my knee like that," she wrote in a note later. "I like bold." She invited me to her house for lunch.
She'd never been with a girl either, but she like me (and you) knew she was interested and had some sexcapade experience. When we started getting undressed (awkward light from my only bedroom window that faced the parking lot, shaded by a fringed grey shall, moon poster up over my bed, feminist books stacked in every spare space), kissing, oh she was a good kisser, I had no idea what to do or what it would be like or how to please her. But when she paused and said, "I don't know what to do," I could feel my relief, at her admission of what we were both feeling, and knowing that she didn't know what would to do meant I could step in and take the (gentle) lead.
Oh, I thought. I know what to do.
I didn't, not really. But I suppose in some ways that was the beginning of me as a service top, taking some limited control and having bodily permission to touch in ways that pleased her. That's all I wanted to do: feel her, please her, touch her in ways that she liked, connect with her.
That's all sex is, really. Sure, the orgasm part is a really nice added bonus—but not everybody comes at all, not everybody is able to get off with a partner, and almost nobody comes with a new person the first time.
Carly, you wrote this to me in March 2012 (and I am so behind on advice/ask me anything questions, this year has been impossible, see: the Making Peace series and the last 18 months of this site), so I presume you weren't waiting on my small piece of advice before you went for it. So hopefully, this advice comes too little too late. Hopefully this is all irrelevant. Hopefully, you'll comment on this saying, Oh! That was me! But I totally forgot I even asked that. I've been fucking for eighteen months now, I have this completely different other question now.
But just in case you haven't, and just in case there are other folks out there who read Sugarbutch and dream about queer sex but maybe haven't had much of it yet, this is my advice to you.
Will she assume that you will go down on her? I have no idea. Depends on the person. Personally, I think going down on someone is an incredibly intimate act, and I wait quite a while after starting to date someone to do it. Also, I am STI-aware and don't go down on someone without a barrier unless we are fluid bonded, which also often happens after a few (or quite a few) dates (or never), depending on our agreements and how in-depth we go into our own STI histories and whether or not we have other partners or whether we're going to go get tested again. I have dealt with this differently with everyone I've dated, but the short answer is, I think, no, you shouldn't assume you will go down on someone on your first date or in the first month or so, and if you decide you want to, it should be after you get to know them more and have some safer sex conversations.
Don't assume anybody is going to come the first time. I believe you are responsible for your own orgasm—in general, not just the first time—so if you want to get off, assume you'll be getting yourself off. And make it totally okay for her to get herself off, too. Offer to watch, if she finds that sexy. Or offer to help, in whatever ways would be helpful (lick her nipples? Kiss her? Hold her down? Whisper sexy things in her ear? Shove your cock in her mouth? To each their own …).
Unless you have a strong power identity established already, and do a bit of negotiating, don't assume who's going to top and who's going to bottom. Just feel each other. You're getting to know each other in a new way: physically, energetically. Go easy, take each other's cues. It's a complicated physical dance.
To get ready for your first girlon-girl time (or whatever—y'all know that I mean to extend that to other genders too, right?): Jerk off a lot. Notice what you do, how you touch yourself, what feels good. Try those out on her body.
And pay a lot of attention to how she responds. If you can talk, ask how to touch her, ask what feels good.
Feel into your own body, and follow the pleasure. What would feel good right now? Tell her that, and ask: "I really want to kiss you right now. Is that okay?" "I have this urge to spank your ass, would that feel good for you?" "I have some soft pretty rope just … right there … I wonder if you'd like it if I used it?" "Can I introduce you to my favorite vibrator?" "I really love using a strap-on, do you like penetration?"
As I have been thinking on this answer, I kept saying to myself, Self … damn. If only there was a Girl Sex 101 primer that I could point Carly to for more tips and tricks and ideas about communication and negotiation and following pleasure and how ladyparts are awesome and different and the same.
And then I realized that maybe there's not a perfect one of those right now, but there's this:
That Allison Moon and KD Diamond are building, and you're just in time to get a copy for yourself by supporting their Kickstarter.
What is it? Well …
Girl Sex 101 is a road trip in a book! Combining fiction & comics with solid sex-education, Girl Sex 101 does what no sex-ed book has done before.

A collaboration between author and sex-educator Allison Moon (the Tales of the Pack novels about lesbian werewolves) and artist kd diamond (founder & editor-in-chief of Salacious Magazine) Girl Sex 101 is loaded with fun, color illustrations and entertaining stories that offer far more than the standard sex-ed fare.
Plus, "Girl Sex 101 is a collaborative effort of over 15 independent educators and artists, featuring fun & informative guest viewpoints by sex-ed superstars" like Megan Andelloux, Tristan Taormino, Jiz Lee, Carol Queen, Julia Serano, Tina Horn, Ignacio Rivera and more!
So clearly you should try that too.
I also recommend these books: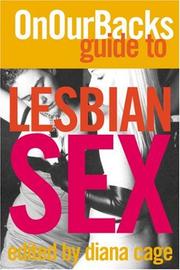 Take a look at the rest of my women & sexuality category on my Amazon A-store, maybe some of those books will resonate?
I wish I knew of other good resources! So I figure this is a great time to ask the readers. Hey, readers! What do you recommend? What books or websites or sources? What are your best tips for queer sex for the first time?
PS: If you asked for advice from me in the past few years, and never received it, I'm sorry. I know many (hundreds, actually) of you have emailed me questions or asked me questions, and I haven't replied. It's because I have not been on top of my shit in the ways I would like to be—it's not because your question wasn't fascinating. It probably was. It's just that I haven't been on a schedule or replying or corresponding in the ways that I want to be. But, I'm sorry you reached out and said something possibly vulnerable or sweet or real, and never got anything back in return.
If that question (or a different question) is still relevant to you, the way to skip the queue and come to the top of the list is to send me a donation or book a 30-60 minute session with me over Skype or over the phone. I'll address your question, and more.
Hello Sinclair,
My girlfriend and I have been looking for a decent pack 'n' play cock but can't seem to find any that seem decent, and it's hard to choose over the internet.
I read your 101 on packing cocks, which was useful and helped me know what to look for. Unfortunately, all your recommendations have been discontinued.
Do you have any more recent cocks you could recommend? (If it's a UK website, that would be a huge plus as postage can be really expensive to get it over here.)
Thanks very much. Regards,
Sian
In recent years, there have been generally three cocks that are considered "pack and play": The Silky (aka the Bendy), the Goodfella, and the Tantus VIP Supersoft. All of those are outlined in my Cock Confidence: Pack & Play article here.
However …
Not to be all dramatic about it, except that OMG IT IS JUST BASICALLY THE BEST THING THAT HAPPENED TO PACK AND PLAY COCKS EVER, a company called New York Toy Collective rolled onto the scene in 2011 and they are producing a brand new pack n play silicone cock called the Shilo.
And it is really, really good.
I think it's so good, in fact, that I have teamed up with NYTC and I have a few of their cocks that I carry around with me and sell myself. That started because I kept RAVING about them in my workshops, but they weren't in toy stores yet. Now, they're in many stores, like Good Vibes and Babeland and Smitten Kitten. I don't know if they're in the UK yet, though (I don't think so).
So, wait, backing up. Let me introduce you to the Shilo:
Made out of silicone, with a "proprietary core" (which apparently means "we can't tell you what's in it, but it has layers of silicone and other plastics") that makes it bendable. BENDABLE. So you can tuck it down into your pants and then bend it back up straight and fuck with it well. I mean well.
It is 6 inches of insertable length, and 1.5 inches in girth. Which is a great size. A really really good size. A slightly larger than average size when it comes to cis penises, but perhaps slightly on the small side when it comes to strap-on cocks. Let me assure you that it is excellent for a) blow jobs, b) anal sex, and c) um all the other holes and fucking too. I often switch to a slightly (or massively) bigger cock when I want to really go at it for a while, but it is excellent for fucking. And because it's very bendable, you can get it right to the g-spot or p-spot really easily.
Clean it like you'd clean any silicone: place in boiling water or on the top shelf of the dishwasher (no soap!) or wipe down with a 10% bleach solution.
Shilo is available in 4 skin tone colors, because more choices help you pick a shade that is closer to your skin tone. AND it now comes in blue/black, pink/blue and fierce pink!
So you can buy them online from various stores now, or from nytoycollective.com, or you can buy them right from ME. I'm selling them for $135, and I would much prefer to sell them in person, but I am willing to mail them to you. That'll be $135 plus shipping (which varies depending on where you live. If you're in the US, it'll be flat rate priority mail).
Email me, mrsexsmith@gmail.com, if you want one with the color and your address, and I will bill you via Paypal.
Or, of course, you can pick it up at your local queer feminist sex-positive sex toy store, which hopefully you already patronize frequently and support in many ways, or online from NY Toy Collective directly.