they call it 'stout' for a reason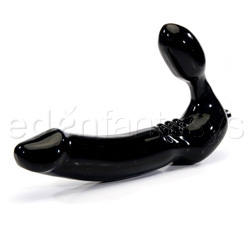 Finally finished my review for Eden Fantasys of the Feeldoe stout double dildo … perhaps you would guess, but I'm actually not quite as impressed as I expected. It's missing a) control b) precision c) did I mention control?
There's just nothing sexy about wondering where my cock is going, how it's behaving, what angle it's at … even on the cocks that I know really well, I still often keep my hand on it (or under it, or next to it) in order to continue to feel precisely how and where it's moving. For the same reasons, I keep my harnesses quite tight: much more control that way.
Still, on occasion, I could see the Feeldoe having a very welcome place in my tool box. Pulling it out on a lazy morning in bed, slipping it in and rolling her on top of me … yeah, I'll have one of those, thanks.
Well, until that happens, I've got a few new products to review to keep me busy. Did I mention Eden just got some packing cocks? Aw yeah.
comment on this
---
Related Posts
Want more? You're insatiable.
monthly(ish) newsletter
for just the highlights, announcements, workshops, and sometimes even exclusive smut. Plus, get the password for protected posts.
e-mail digest
Do you love following Sugarbutch, but don't check this site regularly, or can't check from work because it's too dirty? Easy! Just subscribe below and receive the new Sugarbutch posts directly to your email inbox once a day.
---
7 Comments
---
Trackbacks
Leave a Reply