Archive for December, 2007
My Butch/Femme Holiday Gift List is getting out of control. I have four pages of notes in my journal, multiple notepad files with links and images. And I just can't seem to polish it up enough to finish, and fuck, time is running out.
So, I'm going to pick five.
Gifts for the butch-leaning gal in your life:
Engraved hidden message collar stays
From Red EnvelopeI'm always losing collar stays in the wash, and these are super sweet, with messages like "You're so handsome." Awww.

Men's accessories box
From Red EnvelopeBecause we still have watches, leather cuffs, chains, collar stays, rings, pocketwatches, cuff links … so of course, we must have somewhere fabulous to hold it all!

Red Envelope has many other excellent gifts, check em out.

Ties that Don't Suck – by Cyberoptix TieLab on EtsyThese ties are so badass. Some of them are kinda spendy, but they're beautiful, and so high quality.

For someone slightly more punk rock, consider Tomcat Threads for some awesome one-of-a-kind vintage silkscreened ties. I have one of these with a microphone on it, and it's my favorite tie of all.

Look for somewhat slim, skinny, narrow ties, especially for female-bodied folks who are slender. Cyberoptix has many options in the narrow-tie style.

Whiskey Glasses
Via AmazonHandblown glass remake of a classic whiskey tumbler. Perfect for other refined liquors, even if she's not a bourbon/whiskey/scotch kinda guy. Also consider a flask – even better if it's engraved with some memorable phrase or image she will love. I wouldn't recommend something like "to my sweetie, love, me" – it'll be much more timeless with a personal touch, but not a personalization.

Tiffany Classic Money Clip
From Tiffany & CoEven if she's more of a wallet kind of guy, a money clip is a good thing to have in the accessory box … and Tiffany's engraves. Gorgeous, classic.

Also consider Cufflinks from Tiffany, there are some fantastic classic, plain, smooth sets that would be such a great gift.
Gifts for the femme-leaning gal in your life:
Perfume BottleI wouldn't really presume to buy her her favorite perfume, or a new perfume, unless she asks for it (or hints at it!) specifically, but antique perfume bottles are so beautiful on a dresser or vanity, and hold the scents that she picks out.

LingerieOh, I know. It's a tough one. You gotta know her size, and have an idea of what she likes – and what you like. Browse around through Princess Tamtam and Agent Provocateur for inspiring ideas.

(Yes, that's Maggie Gyllanhall over there, modeling Agent Provocateur lingerie. Many other photos of her at the site.)

Shoes. Oh my god, shoes.Shoes are another tough one. I can recommend some good sites, but probably not specific shoes: the Red Door Store has a fantastic selection, as does Endless (and, as a sidenote, I really geek out on the navigation and interface for Endless. Gorgeous).

The Red Door Store has lingerie, costumes, and bondage gear, too …

Vintage Brush & Hand Mirror setThese are kinda hard to find; I bought a set on eBay as a gift for the Unholy ex last year (you may remember that, if you've been around. I can't find the post on it) and I thought it was a brilliant suggestion. The beauty of these items alone, even if they are not used or functional, is such a lovely addition to a vanity or dresser top.
JewelryMan, I feel like I'm going with very cliche femme gifts. Perfume, jewelry, shoes, lingerie? Really, Sinclair? Somebody help me out here, leave more suggestions in the comments, please. Good thing I don't have anybody special to buy for this year.

Meanwhile: I adore this necklace from Janet Jewelry. You can customize some text to go onto it, or choose some excellent phrases that Janet has already made, like "The best revenge is living well" or "whatever doesn't kill you makes you stronger." Super sexy.

More Jewelry … rings, this timeRings are loaded, I know, but if you can go for it, these rings from Amy Peters Studio are amazing and lovely. I want a set for myself, someday.It's a ring set, three rings with different words on each one: Believe Dream Hope Wish / In About For For / Peace Magic Love Happiness. So they make a little sentence as they rotate on your finger.

I also really love her Message in a bottle pendants and double sided necklaces
I got some great comments from femmes about what they wanted for the holidays, so I'll direct you over there for some more ideas. The iBuzz vibrator for two was suggested, and one last particular mention comes from a reader via email:
I am a submissive, by choice and nature. And though my butch is quite accomodating, there are some things I can't even imagine her doing unless asked. Brushing my hair, painting my toenails, wearing a sleeveless tee, baggy jeans with a hint of boxers revealed, and Tims, donning toolbelt, hammering and drilling at my command, sweating and…wait, I'm getting ahead of myself. You get my point. In a nutshell, I want a day of servitude from my butch…anything I want for a whole day.
Sounds like a fabulous gift, to me.
Don't tell that seriously hot piece of ass, DateDyke, but just between us, my confidence is slipping. She's got double the votes so far, but aside from that … when I get around another top – a particularly skilled top, if discussion so far is any indication – it makes me all the more bottomy, all the more submissive. I become eager to observe her skills, and eager not to fuck up.
This is probably more about my psychology than my sex play.
Don't mistake me; I do enjoy pain, I do enjoy submitting, I always have. I've never wanted to be the one who tops all the time. And in a one-time (or two-time, or maybe five-time) scenario, I would gladly negotiate bottoming. In the longer-term, though, I want to top most of the time.
It's like that theory about relationships – if you talk 30% of the time, and listen 70% of the time, you just gotta find someone who talks 70% of the time, and listens 30% of the time.
Same thing applies to sex play, I think. I don't really know what my topping/bottom ratio is, but probably something like 80/20 or maybe even 90/10. One in ten times, I'll get under the flogger for you. One out of ten times, I'll give you my ass. Sounds about right.
Here's the interesting thing about what DD is doing, though – she knows how to treat me like a boy and a bottom at the same time, and the ways she treats me like a boy are expanding me, and so sexy, and I feel so matched and validated and complimented, that I'm all the more willing and eager to be and do as she wishes. Submitting is not in conflict with my identities when I'm treated boyishly. It totally makes sense – I just never quite realized that most of my submitting and bottoming experience was with the boy I dated for all those high school years. When I started dating women, I got more and more toppy.
I've never bottomed with a cock on, for example. I've never played with gender and submission quite in that way, and I want to.
She's not gonna get away with not bottoming to me, sometime. I am salivating at the idea of that slow, hard fuck she's gonna get. Hopefully it'll be the return flight, though I'm not sure that's guaranteed yet.
The other secret, if I may entrust you with it, is that I'd much rather bottom on the way up, because that means I have a higher chance of topping for the second playdate … though perhaps I shouldn't admit that, quite this early on in negotiations. Never show weakness, right?
Yeah, that's not quite my style. My heart may be newly behind barbed wire, but it's still on my sleeve, regardless.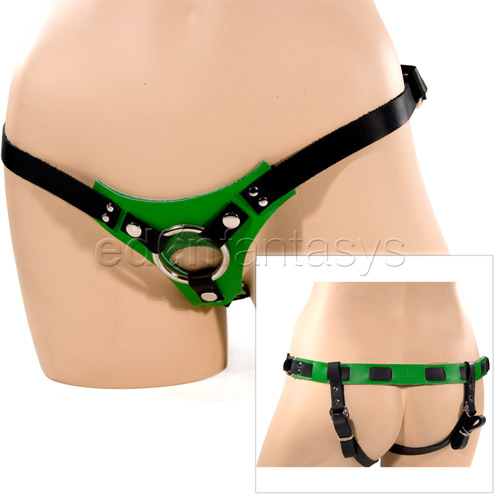 The Mia-Z Harness by Outlaw Leather, out of Seattle.
I'll entice you with the one key little detail here, then you should head on over to Eden Fantasys and read my full review.
Here's the thing about this harness. It's gorgeous & comfortable, and you can strap a cock on, la la la, just like you usually would, but then … then? The way the front leather triangle is built, you can add a second cock that will slip right inside the harness wearer (assuming the wearer is female bodied).
It's like an instant double, with any of the two cocks you choose.
I discount my own penetration pretty easily … but this reminded me how different orgasms are when my own cunt has something to grip.
Take a look at more photos, specs, and my full review …
Because I still haven't finished the Butch/Femme Holiday Gift Guide for this year (dammit), I offer you these holiday wishes from The Wet Spots.
If she wins (i.e., gets to top me) by more than thirty votes, I have agreed that she gets to fuck my ass, too.
That's the new deal.
Uh, so, you're gonna help me win, right?
It has also been pointed out to me that I didn't sell my topping her all that well in that last post. That is probably because I still have this vision of her ordering an entire roomful of people around while I was in Seattle, and, for whatever reason, I wanted to be kneeling in front of her with my hands on her leather boots, saying, "yes, ma'am."
Now, though, I am telling her I want her in lingerie, garters and a bra and a thong, tall tall boots, blindfolded. Waiting for me on that hotel bed.
At that, she laughed. "I don't think that's what your readers want."
Have I mentioned that she's a grassroots organizer? She's threatened to organize a voting block.
And yeah, I am hard and wanting with the ideas of submitting to her. A new place to be in, I don't ever remember getting this worked up at the idea of bottoming to a femme. Yowza.
But, underneath it, all this talk just makes me want to take her down all the more.
I want to twist her arm around her back and shove her against a wall, kick her legs apart, fuck her until she comes, dripping down her legs and leaving a mess on the concrete at our feet. (I hear she's a gusher.)
I want to feel my cock at the back of her throat as she swallows it in the car in the parking lot at the sketchy by-the-hour hotel.
I want to finger her while she blows me.
I want a fistful of her hair.
I want to split her open with that huge new cock of mine.
Like a watermelon, she wrote.
I want that look in her eyes, on her face, when she wallows in it, gives her body over to me, drops, opens. I want that stroking of her skin, after, when she's shaken.
I don't want her to be disappointed.
"I promise to go along with whatever your blog audience wants," she wrote.
Our ongoing flirtation is continuing, and last night, I realized I would actually be in Seattle again this weekend, but only for a three-hour layover on my way to Alaska, where I was born & raised, where my parents still live, for the holidays.
I mentioned this, while discussing fisting and lube and condom sizes and butches who were not delivering, while playing with my newest addition to my cock collection, to the ridiculously hot DateDyke while we chatted last night.
Three hours is just about the perfect amount of time.
She wrote: "I would get a hotel room on international boulevard, pick you up, take you to the hotel, drop you off in time to go thru security, say hi to your sister, and you'd get on the plane. Maybe I'd feed you. Maybe not. You would be required to: 1) show up packing, 2) tell me how hot i am in my skirt, 3) beg me to be availableon the 29th [the return layover], 4) bite my shoulder while you're unhooking my garter belt."
"Those are not very high demands," I wrote. "Anything else?"
"What are yours?"
"I was going to say garter belt, and packing of course, but you covered those. I don't know what else. I'm awfully curious about you. I feel like many things could be on the table that I wouldn't usually seek out."
"What do you mean?"
"I mean, you seem to be a bit of a top. We've discussed that before."
"I'm a solid top. That is true. I get off on that. And I'm a sick bottom … it all depends. What if I sent you back in the security line, stretched out, sore, chapped lips and unsatisfied?"
"Ohh, fucking hell. That'd be … frustrating. To say the least."
"Well, if I only had 3 hours with you I'd take advantage of what I wanted."
"Though if I behaved extra well, it may increase my chances of seeing you on the return trip, yes?"
"I have high standards, but I suspect you are eager to please … I'd love to tie you up, get on top of you, use you for what I wanted, and stick you back in line."
"I'd be eager to take you down. It'd be hard to resist taking control. That'd be a tough inner battle."
"We could flip a coin? We could: 1. arm wrestle, 2. trade layovers, 3. ask for a blog vote …"
The idea of bottoming to her is increasingly appealing, I must say. There is something about her that makes me want to get on my knees … and I have never actually sucked femme cock.
"Maybe it's time for you to open some new doors," she concluded.
For my vote, I think I want her to top me on the trip up, and then I'll get to have my revenge on the way back.
"I'm a bit of an exhibitionist," she wrote. "Okay, I'm a big one. Ask your readers. I promise to go along with whatever they want."
So … what should I do with this girl? What should she do with me?
[UPDATE: some of you can't see the embedded javascript code, sorry about that. I think it has to do with the wordpress platform, still getting used to it. look at the URL up top and make sure it doesn't have a "/#" at the end - if it does, delete it, so it just loads with www.sugarbutch.net, and that should make the poll load. That seems to work for me. If it doesn't, sorry! I'm not sure how to fix it! Advice is welcome ... ]
Excerpt from a letter I just wrote to one of my best friends in Seattle, after some conversations we had about butch & trans identities. I'm having a small (miniscule, tiny) gender crisis, and my week in Seattle opened up some very interesting ideas for me. I'll be writing about it slowly here, as things get clearer.I've been turning that conversation about butches & trans guys over in my head, especially the question of, what's the difference between us? I guess I find it easy to understand that there are very few differences between you & me, specifically, because of the ways we get along & get each other, but when it comes to the broader categories of butches vs trans guys, I feel like there must be something different about those identities. I'd never given it that much thought, but it seems like I had always assumed that trans had more to do with this disconnection from the female body – but I guess it's moreso a disconnection from the "female experience"? Butches have that too, I suppose, but perhaps in a different way.
So what the heck is the difference, then?
I feel like steps 1-10 of "how I became butch" are match steps 1-10 for "how I became trans" when I've compared the identity development process between myself and my trans guy friends, but then that crutial step 11 for them is "and then I'm trans," and mine is, "and then I'm butch."
So what is the difference? Why the different conclusions to the same process?
Also, when you asked me if I'd ever considered transitioning … man, I've been tripping on that for a week now. Honestly, I've almost never considered it. I feel like it's just something I "knew" about myself – "oh, transitioning, that's cool, but that's not me" – without really questioning it or thinking too deeply about it.
It's only in the past year or so that I've considered my own genderqueerness to be a sort of trans identity, this masculinity on a female body, and the ways I'm claiming it anew have made it feel like a deliberate crossing of boundaries and gender lines, which I really like. Funny, 'cause I feel like I've been writing about this for a long time, but am still just now really figuring it out and owning it.
Four of my closest friends and very favorite people ever in Seattle – you included – are masculine-identified in some form, ranging from boi to butch to trans, which is interesting because I'm really surrounded by femmes in New York City. I gotta make some more butch/FTM friends here.
Point being, I went away from my visit to Seattle with my brain just spinning with identities and masculinity, and I've been in a bit of a mini-teeny gender crisis since.
That sounds dramatic.
What I'm thinking about is bodies, and how much the body you have affects the way you move through the world, access, privilege, how people respond and treat you, all of that. It's amazing how much we know about the ways our bodies work now, we can basically have the body we want, if we want to be blonde & blue eyed, we can do it, if we want to be a size 0, we can do it – I mean it takes a hellofa lot of work (or surgery), but it's possible.
And gender, of course, we can change the way we present entirely. Given how much happens on and to the body, I think we should consciously choose the body we want to have, and work toward it, in whatever way is best for us.
But then … what is the body that I want? I have in the past noticed how some of my (masculine-identitified, female bodied, though not necessarily self-identifying as) butch friends covet male bodies, the little "bubble boy butt" for example, and I just never noticed male bodies with any sort of interest really, I guess I've always been pretty female-focused. I remember thinking, when these friends have said those things, "huh, interesting, I've never noticed that, I've never thought of guy's pecs or biceps or thighs or butt" and wondering what that meant, for my own gender. I guess now I think it means that I've just never given it that much thought.
but now that I'm actively thinking about it, I think I would like some more masculine characteristics to my body. Which freaks me out and totally excites me at the same time.

I have returned from Seattle, and there is much to write about. Most of my closest friends in Seattle are very masculine-identified, some of them have transitioned, and I have returned with some new ideas about butches, masculinity, transfolks, my own body, my own sense of self.Also, I got a tattoo. That white star on the underside of my right wrist that I've been talking about for a long time. It's visible especially when shaking someone's hand. I love it.
I still want the birds. They'll be next.
The Sugarbutch Star contest is so close to done, I can practically taste it. I'll have a roundup post coming, with excerpts from each entry and links to the full thing, to remind you of them, before we start voting. I'm hoping to to a reading ("Sinclair's" first real appearance) of the finalists and announce the winner.
The best of this week's blogs by the bloggers who blog them. Highlighting the top 3 posts as chosen by Sugasm participants.
This Week's Picks
From virgin cocksucker to blowjob queen" I love to play and tease with my hand and tongue, lightly licking, sometimes using my panties or another soft fabric to run across the shaft."
Interlopers"Oh yes, I've seen it all before, I know what you're here for."
Old Friends"His cultured voice warm, approving, promising; it makes me wet every time, an uncontrollable Pavlovian response."
Mr. Sugasm Himself The Count
Editor's Choice Hot and Cold
More Sugasm Join the Sugasm See also: Fleshbot's Sex Blog Roundup each Tuesday and Friday.